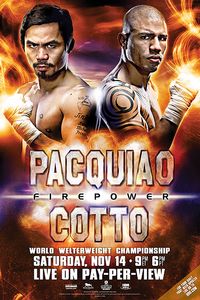 Welcome to SportsNation! On Wednesday, we'll go inside the boxing ring when welterweight Manny Pacquiao stops by to chat about his upcoming fight.
Pacquiao (49-3-2) squares off with Miguel Cotto (34-1) in a welterweight title bout Saturday live from the MGM Grand in Las Vegas on HBO PPV at 9 p.m. ET/6 p.m. PT.
Manny is coming off of an electrifying second-round knockout win against former IBF jr. welterweight and WBA welterweight world champion Ricky Hatton in his last fight on May 2. Pacquiao is currently ranked the No. 1 pound-for-pound boxer in the world by Ring Magazine with Miguel Cotto ranking No. 7.
Send in your questions now and then join Pacquiao at 2 p.m. ET Wednesday!
More Special Guests: Previous chats | SportsNation
Buzzmaster
(2:12 PM)
As you know, the life of a boxer the week of a fight is very hectic ...we're trying to track down Pacquiao now.
Manny Pacquiao
(2:24 PM)
I invite all my fans all over the world to watch my fight Saturday against Miguel Cotto. I never predict whether I win or lose but I can say that I will fight my best.
Tyler C. (Salt Lake City, UT)
Manny, How are you going to account for Cotto's strong left hook?
Manny Pacquiao
(2:25 PM)
We've been training in the gym to overcome and counteract his strength. I think I'm the faster and quicker fighter so it all depends on who lands it fight. We have a good game plan to overcome Cotto.
Tim (Pittsburgh,PA)
Manny, do you feel that this is the toughest fight of your career?
Manny Pacquiao
(2:26 PM)
I look at every fight as my toughest. They are all different. I do think think this is a tough fight because I am coming in as a challenger trying to take away his belt.
SteveFitz (Cicero, IL)
Pound for pound you're the best fighter out there. What fighter from the past would you have loved to have faced?
Manny Pacquiao
(2:28 PM)
Mike Tyson, Sugar Ray Leonard, Roberto Duran ...these guys would have been great to fight because they are all great. But I think fighting Tyson would have been fun, if I was a heavyweight.
Matt (Omaha)
What is the one thing about Freddie Roach that most people don't know?
Manny Pacquiao
(2:29 PM)
I think Freddie so popular now that people know everything about him.
Dwayne (Toronto Canada)
Hi Manny, What plans do you have post your boxing career? Good luck this Saturday! Canada is behind you all the way!
Manny Pacquiao
(2:31 PM)
Thank you very much, I appreciate all my fans from Canada! I want to continue to help the people in the Philippines. Maybe get into politics but definitely I want to help the people because I know what it is like being poor and depressed.
Jeremy (Rio Rancho, NM)
You were really strong against Oscar at 147, why not fight Cotto at 147 as well?
Manny Pacquiao
(2:33 PM)
I weighed in for the Del la Hoya fight at 142 and I think Oscar came in at 141 or 142. My camp recommended that I fight at 145 for this fight. Cotto was also training to fight at 145 pounds.
Paula (Tampa,FL)
Manny, how many fights do you feel you will have in your career?
Manny Pacquiao
(2:34 PM)
I'll fight until I'm ready to give it up. I love fighting and I will fight anybody anywhere.
Ian (Dallas)
What worries you the most about Miguel Cotto?
Manny Pacquiao
(2:34 PM)
I never worry about my opponent, that's Freddie's job as a trainer. He looks at the film and tells me what I need to do to prepare and I do what I need to do in to give myself the best chance to win.
Manny Pacquiao
(2:38 PM)
Thank you for the chat. I hope that everyone tunes in on Saturday as I take on Miguel Cotto. I hope to not only make the Filipino community happy but all boxing fans around the world. I hope to give a good fight and impress fans worldwide.