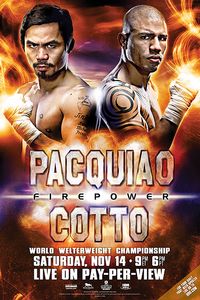 Welcome to SportsNation! On Friday, we'll go inside the boxing ring when legendary boxing writer Bert Sugar stops by to chat about Saturday's Manny Pacquiao and Miguel Cotto bout.
Pacquiao (49-3-2) and Cotto (34-1) square off at the MGM Grand in Las Vegas at 9 p.m. ET/6 p.m. PT live on HBO Pay-Per-View.
Sugar has written over 80 books and from 1979-83 he served as editor-in-chief of The Ring. Sugar also, according to his bio on HBO.com, founded Fight Game magazine in 1998. Sugar has also appeared in a few movies, including "Rocky Balboa," the final chapter of Sylvester Stallone's Rocky boxing movies.
Send your questions now and join Sugar Friday at 1 p.m. ET!
More Bert Sugar: Chats | Search | Boxing index | SportsNation
Buzzmaster
(12:39 PM)
Legendary boxing writer Bert Sugar joins the 'Nation at 1 p.m. ET to chat about Saturday's big Pacquiao-Cotto fight live from the MGM Grand in Las Vegas.
Buzzmaster
(12:57 PM)
Bert is here!
Paul (silverspring md)
sir i really have to know were does PACMAN rank all time IF he wins tommorow night?
Bert Sugar
(1:00 PM)
Well, having done several books, including Boxing's Greatest Fighters, Manny Pacquiao gets a large, large place in it, top 20 if not higher. IF he beats Cotto and wins his seventh belt, it's only comparable to Armstrong winning three of the 8 weight classes. Manny Pacquiao, with 17 divisions now, will come close to equaling Armstrong's unprecedented feat. As much as I've ranked Armstrong the second greatest fighter of all time, Pacquiao deserves a second look at how I ranked the top 10. Maybe he ranks higher in the pantheon of greats.
D (Brooklyn, NY)
If Pac wins how would a potential matchup between Manny and Floyd play out?
Bert Sugar
(1:02 PM)
Well, obviously, the potential Super Bowl of boxing is Mayweather-Pacquiao (or Pacquiao-Mayweather). Or maybe the Super Bowl will say that it's next Super Bowl will be the Mayweather-Pacquiao of football. However, there may be some issues in negotiation, with each wanting 60 percent. Now, I'm not a math expert, but I reckon, but 60 and 60 add up to more than 100. So there will be a helluva lot of arm pulling to get to the final contract. In fact, it might be as good a fight as the fight itself. So, we're more than a far way away from that showdown.
Nelson Ocasio (Yonkers, NY)
Hi Burt,Does Cotto have a chance to win this fight?
Bert Sugar
(1:03 PM)
Cotto has been marginalized by the press, which is unfair to him. If he can come out and get to the body of Pacquiao and slow him down, he has one heckuva chance to win. Pacquiao can not fight inside, which is Cotto's game. It all depends on the first three rounds and weather Cotto can slow him down, who always looks like he just took a four-way cold tablet and has to run three ways to catch up.
Mark (Brooksville, Fla.)
I hope this doesn't seem like a simplistic question BUT can you share with us how you score a round? There always seems to be some controversies in close fights and I'd appreciate hearing your view on how to score a fight accurately and fairly. Thanks!
Bert Sugar
(1:06 PM)
There are so many guages and standards to scoring a bout that everyone seems to have a method. Most of them are madness. I've heard "effective ring generalship." I've heard about aggression and I don't know what they're talking about (the people who like aggression would give the round to Goliath for falling forward against David). What I look for is how, when and how long in a round a fighter imposes his fight on his opponent. Whether that's by punching and LANDING or cutting off the ring more effectively or, like Pernell Whitaker, brilliantly defending himself and not being hit, these are ways a fighter imposes his will on another fighter. That's what I look for. Of course, I've tried to talk to judges after fights and I trip over their seeing eye dogs.
Marc (Charlotte)
Bert, at 25, am I too young to wear a Fedora?
Bert Sugar
(1:09 PM)
My hat's off to you, Marc, for a good question. No, hats belong on men as a fashion statement, or in my case a non-fashion statement. They used to be all the rage, in fact the term "hat trick" comes from fans throwing their hats on the ice after a player scoring his third goal and was once the mark of a well-dressed man. All of that stopped when John F. Kennedy didn't wear a hat to his inauguration in 1961. To me, it's also the mark of a newspaper writer. In the old days, when type was set on linotype machines and the newsroom was on the floor beneath the linotype machines, the filament not used in the machines would seep through the floorboards and drizzle on the heads of the writers below and the writers would wear the hats to prevent the drizzle on their heads. Therefore, writers wore their hats indoors, which I totally subscribe to. As it is now, the only person I take my hat off to is my barber and he doesn't have much to work with when I get my hairS cut.
dave ((detroit))
Bert, what's it like in Vegas right now? How does it compare with previous fights (mayweather/marques, pacquiao/hatton)?
Bert Sugar
(1:10 PM)
Well, a normal build up to a fight of this magnitude, and here I would put this as much an event as a fight, the excitement continues to build up right to fight time. Yesterday, there were so many people in the press room that I began to think to myself that I've seen better organized prison riots. This fight is far less noisy and chaotic than any fight with any 20,000 Brits signing for Ricky Hatton. And, as a plus for the MGM Grand, they didn't run out of Guinness beer this time around as they did for the Hatton fight.
Brian (Brooklyn)
Manny was outboxed by Morales and Marquez, Cotta has outboxed Mosley. Can't you legitimatley say that not only is Cotto the stronger fighter, but the better boxer?
Bert Sugar
(1:12 PM)
What you can deduct from those fights is that Pacquiao sometimes has trouble with counterpunches and witnessing Cotto's last fight against Clottey, he turned into a counterpuncher in the last rounds, which he won. Cotto's counterpunching might prove a problem for Pacquiao.
Jose (Miami)
Who do you have on this fight? What are your predictions?
Bert Sugar
(1:14 PM)
I think you're going to be able to see how it turns out in the first three rounds. Cotto needs to go to the body early to slow down Pacquiao. Pacquiao needs to set the pace. If he can slow down Pacquiao early, then he not only has a good chance for a win and an upset, but could easily pull it off. If he can't Pacquiao will have his way with him. That said, no matter what happens, I've never seen Pacquiao in an unexciting fight. Look for one Saturday night.
emilio guevara (Tucson Az)
Bert, do you think Pacquiao might be a little over rated? not as a fighter, he already showed everybody he can fight, but as a welterweight, I think we are all expecting too much from him against a Naturally bigger guy
Bert Sugar
(1:16 PM)
There's going to come a point at which it's a "bridge too far" for Pacquiao. We don't know where that is yet. But there is a chance. According to Newton's law, the bigger the man, the harder he hits and the less your hits effect him, that Cotto as a full fledged welterweight might be too big for Pacquiao. We don't know where that bridge is yet, but he's certainly taking on another challenge in his march up the weight ladder. He may, just may, be biting off more than he can chew (that was not a reference to Mike Tyson in that last sentence).
BO ((NYC))
Bert, thanks for doing this chat! Manny didn't seem to overwhelm De La Hoya with his power, so I don't see how Cotto will be hurt by it, either. Once he learns he can deal with Manny's power, he will adjust to his speed and win the late rounds. Wrong?
Bert Sugar
(1:19 PM)
I don't think Manny's power is the major consideration in his offense, it's speed. He gets his power from speed. I don't see Manny Pacquiao tiring. He never has before. What might turn this fight in Cotto's favore is that Pacquiao has never been in trouble. What happens if he does? The closest he's been to being put off his game plan was against Morales when he suffered a cut and for a round and a half he didn't know how to deal with it. We will see Pacquiao's potentil all time greatness when he comes back from a rocky time in a fight. If it's Saturday night, we'll see.
Karl (new york)
Bert, have you ever seen a fighter as happy as Manny? In many photos he's got a big smile on his face as he's punching his opponent in the head.
Bert Sugar
(1:20 PM)
I think Manny Pacquiao is having one heckuva fun time. And it's refreshing. At the press conference Wednesday, he and Cotto did the obligatory face to face stare down. And he broke down laughing, making Cotto laugh. I like it. He is a unique fighter and bringing a fresh approach to boxing, which could use one. I endorse fighters to have fun, I've had fun covering the sport my whole life, why not the fighters?
Nelson (Norristown, Pa)
Do you believe Miguel Cotto has a chance of winning by knockout?
Bert Sugar
(1:21 PM)
Oh yes. Miguel is the harder, single puncher. If there is a knockout, where the ref counts 10, I would say it is Miguel who would have that potential.
Bert Sugar
(1:22 PM)
As for a stoppage, stoppage, I think Manny has a greater potentil because of the great number of punches he can rain on someone (witness De La Hoya). But yes, Miguel has the potential of knocking out Pacquiao.
Christopher (Linz,Austria)
Hi Bert! Now that we've talked about scoring a fight, how did you score the Valuev-Haye fight?
Bert Sugar
(1:23 PM)
I don't know. I fell asleep. Did someone land a punch before the last round? I must have missed it.
jason (ny)
I say pac-man should win by knouckout in about the 7th... is that accurate?
Bert Sugar
(1:24 PM)
I don't see a knockout, I see a potential stoppage, again see the De La Hoya fight. I don't think he can knockout the bigger Cotto. But I didn't see the Hatton knockout coming, the most devastating knockout I've seen since Marciano-Wolcott. Anything's possible and that's why I love boxing.
Dan (Brooklyn, NY)
Sir Bert Sugar -- What is the one x-factor no one is talking about in this fight (Pac-Man v Cotto)?
Bert Sugar
(1:26 PM)
I think Freddie Roach's battle plan is one of them. But on the Cotto side, I would think that his being able to counterpunch and not go out and wing it as he has in so many other fights (See Judah), but to counterpunch and make Pacquiao think twice about throwing punches. Remember, Pacquiao has had trouble with counterpunches. Cotto has changed his styles in previous fights. I think that's one of the elements that we must look for.
Jorge Casillas (valencia, ca)
Cotto seems not to have a good defense, Do you think that manny can consistently throw punches for 12 rounds vs a welterweight?
Bert Sugar
(1:27 PM)
Cotto doesn't have a defense when he goes all out, but when he doesn't and waits and counters, he does have a defense. It depends on what style he goes into the fight planning on using. I can't make a generalization that he has no defense. But, again, it will depend on what fight he brings and the battle plan he has.
Tyler (Atlanta, GA)
Hi Bert, Manny is a great boxer already, if he wins it is historic. But if Cotto pulls this win off, do you see critics downplaying his win by he was fighting "a smaller" fighter? Ti me it seems that Cotto doesn;t get his due of repsect from the media right now
Bert Sugar
(1:29 PM)
We're now in a culture of criticism so there will always be someone to say something that takes away from someone's achievement. I've seen plenty of fights that so and so didn't beat him, he lost the fight... Let it be known that this just isn't in boxing, it's in every field. However, I think if Pacquiao or Cotto wins, it'd be hard to downplay it. But it's sociey where it's the norm where people have to have a criticism of everything. You know what? I'm tired of it.
Bert Sugar
(1:30 PM)
It's been wonderful chatting with you. I look forward to doing this again. It's been fun. Enjoy the fight. Now where's the bar?