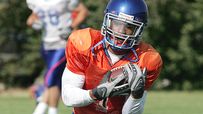 Scouts Inc. ranks Wilson as one of the top 10 CBs.
Welcome to SportsNation! On Thursday, cornerback Kyle Wilson of the No. 6 ranked and undefeated Boise State Broncos (9-0) stops by to chat about the final weeks of the college football season.
Wilson has 26 tackles and two INTs on the season - returning one for a TD - giving him 10 picks for his career. He's also averaging over 10 yards per punt return this year. Mel Kiper ranks Wilson as the second-best senior cornerback.
The Broncos face Idaho Saturday at 3:30 p.m. ET on ESPNU as Boise State tries to remain one of the six undefeated teams on the season.
Send your questions now and join Wilson Thursday at 12:30 p.m. ET!
More Special Guests: Previous chats | SportsNation
AR (MN)
What would you say to those that don't believe that your team is worthy of going to a BCS bowl game?
Kyle Wilson
(12:31 PM)
I wish we could settle this out on the field. It could be settled with a good game of football.
Superchief (PWAY, NJ)
Kyle, you played with Malcolm Jenkins, OSU god, Thorpe winner, and #14 pick overall in last year's draft. Many people agree with your high school stats that say you were a much better player on offense and defense. Is that true?
Kyle Wilson
(12:32 PM)
Of course. The film doesn't lie. Malcolm is a great player but the film doesn't lie.
Jason (Ellicott City, MD)
How odd is it playing on the smurf turf?
Kyle Wilson
(12:34 PM)
It's not that odd at all. I don't really notice it. The only difference is when you watch it on TV, it's a lot brighter then it is in person. We practice on it everyday so I don't really see the difference.
Ben (Boise)
What factor was most important in your decision to return for your senior season at Boise State?
Kyle Wilson
(12:35 PM)
The biggest factor was having no regrets about college. I also wanted to get a degree. I didn't want to look back and regret anything down the line. I've worked harder than ever before this season and I'm happy with my decision.
Andrew L (Fishers, IN)
How do you mentally prepare before each game?
Kyle Wilson
(12:37 PM)
Usually listen to some music, it really puts me in my zone. I listen to a bunch of artist but I mainly listen to Jay-Z. I don't talk a whole bunch, I just go out and work hard all week all the way up until game time.
RUPD (Piscataway NJ)
Kyle, what are your REAL feelings about Rutgers University. You were born and raised in Piscataway(location of Rutgers.) Why aren't you a Scarlet Knight?
Kyle Wilson
(12:38 PM)
(Laughing) I didn't feel as is I was a strong interest for Rutgers. I see them on TV and I wish them well but I didn't feel as is they really wanted me there.
s. bundles (new jersey)
Kyle, we know you are a modest,humble, and hard working guy.But we must ask...are you the best cornerback in the nation?
Kyle Wilson
(12:39 PM)
I think I am. I strive to be the best at everything that I do. I feel I'm second to none and I'm very confident in my abilities on the football field.
Eric (Virginia Beach)
You're from NJ, what made you choose to go all the way to Boise, Idaho? What do you like about the area?
Kyle Wilson
(12:41 PM)
The main thing was taking the opportunity. I knew they we would have a pretty good team and that they had a plan for me when I got here. It's definitely not like New Jersey but it's not cornfields either.
R DeKlotz (Twin Falls, ID)
How important was it to you to get your college degree?
Kyle Wilson
(12:43 PM)
Definitely important, that's one of the main reasons I came back. I know it would be important to me down the line and I know my parents wanted to be get a degree and I want to make my parents happy. I'll get it in December right when the season is over.
Hayden (Logan, Utah)
What WAC team scares you the most?
Kyle Wilson
(12:44 PM)
No team in particular, just the whole conference. Every team is dangerous. They are conference teams so you play them every year. You get to know other teams just like they get to know your team. They can get the best of you on any given day if you let them.
Oscar (Parma, ID)
How do you feel about rivalry week and about the vandals?
Kyle Wilson
(12:46 PM)
(Laughing) I love this game. Each year it seems to get better and better. These games a always memorable. Fans as well as players are always into it. Everybody is excited for this one and we can't wait to play this weekend.
Zach (Chicago)
What are some of the challenges you face being the lone senior on Bronco defense that is very young? And one more quick thing, why did you drop #22 after the Fiesta Bowl?
Kyle Wilson
(12:48 PM)
I don't think there is a big difference being the lone senior on the defense. They only thing is that we're are just young. I had No. 22 since high school and I just wanted something new. No. 1 was the perfect number so I just took it and ran with it.
Hayden (Logan, Utah)
how do you celebrate a victory?
Kyle Wilson
(12:49 PM)
I usually go see my parents after the game. I just enjoy hanging with my family and putting a smile on their faces.
vincent wilson (piscataway)
Kyle, are you the fastest Wilson Brother?
Kyle Wilson
(12:51 PM)
(laughing) Yes I am. One of my brothers has the fastest hand time but I have the fastest SAT time and that's all that matters! If you ask me and my two brothers that question, you'll get three different answers.
Kyle Wilson
(12:51 PM)
Thank you for the opportunity to chat. I enjoyed it.