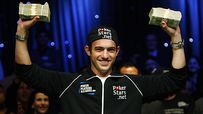 Welcome to SportsNation! On Thursday, professional poker player Joe Cada stops by to chat about winning the 2009 World Series of Poker main event, and with it, the $8.5 million prize.
At 21, the Michigan native is the youngest player to ever win the main event. By the time Cada began college, he was playing online poker quite often and after two semesters, he withdrew from school to become a full-time poker player.
Cada recently signed an agreement to be sponsored by PokerStars.net, the world's largest online poker site.
Send your questions now and join Cada Thursday at 1:30 p.m. ET!
More Special Guests: Previous chats | SportsNation
Buzzmaster
(1:30 PM)
Joe will be here shortly, everyone!
Joe Cada
(1:34 PM)
Hey, how's it going?
Ben (NYC)
Dude, you are living the dream. What's the first thing you bought with some of your prize money?
Joe Cada
(1:34 PM)
I haven't had the chance to buy anything yet. I've just been doing tons of media stuff. Maybe a pack of gum.
Kevin (Lower Brule)
First off, congratulations on winning the Main Event! Joe, what were the first thoughts to go through your head when you pushed with pocket 2's against J's and pocket 3's against Q's?
Joe Cada
(1:35 PM)
The pocket jacks vs. pocket threes, I was short-handed and Schulman was opening a lot of hands. I would have chippe din about 20 percent if he had folded. They don't show you all the hands where you go all-in and a guy folds. I got stuck with the hand and I got lucky.
Mike (Milwaukee,Wisconsin)
Joe, Congrats on winning the main event.Other then the last hand, which one was the most important one in the tourney for you and why?
Joe Cada
(1:36 PM)
The Jacks vs. Threes, because I was short-stacked the whole time, and at that point I actually had some chips to play with.
Harrison (New Jersey)
How do you think Ivey played at the Final Table? Were you surprised by how tight he was?
Joe Cada
(1:36 PM)
I don't like how he played at the final table. I think he could have played better. I think Antoine probably played the best at the final table.
Chris (Grand Rapids MI)
how long were you playing online before you went "pro"? And, what stakes were you playing?
Joe Cada
(1:37 PM)
I started off playing .25/.50, and worked my way to 25/50 Heads Up at the age of 19, through the course of a year and a half. I stayed at those stakes until the main event.
Zach (Iowa)
I have trouble online staying focused and watching the action when I'm out of the hand. What advice can you give on staying focused and what should I be looking for?
Joe Cada
(1:38 PM)
Mostly you should be looking at how players play certain hands, and what type of hands players are raising with or coming into the hand with pre-flop.
Mikey (Amazon Room)
JOEY JOEY JOEY I was watching live at the final table was it hard to concentrate with the football like atmoshpere?
Joe Cada
(1:38 PM)
It helped me stay motivated and focused. I didn't want to let a lot of fans down.
Mark (Da Burgh)
Is Phil Helmuth like how they portray him on tv or a better guy than we see? It seems like he might be doing a character sometimes.
Joe Cada
(1:39 PM)
He's kind of like that in real life. He's a good guy but can definitely be a bit out of line at certain points. It's not a character on TV.
Brandon Smith (Binghamton, NY)
Hey Joe,It seems like you've had an incredibly busy and tiring week since winning the Main Event. When all the hype dies down and the interviews stop, what's the first thing you plan to do?
Joe Cada
(1:40 PM)
I'm planning to get back to playing poker again. My next stop is the PokerStars Carribean Adventure in the Bahamas, and also the Five Diamond Classic in the Bellagio.
Rich (NY)
How did you get involved with Sheets & Bax? Did they contact you or did you approacxh them?
Joe Cada
(1:40 PM)
I had a friend who was backed by them, and he put in a good word for me. They looked at my tournament results and my hand history.
Mike (CT)
What is your favorite hotel and Casino in Vegas?
Joe Cada
(1:41 PM)
Probably the Bellagio. Or at least it was the Bellagio, now it's the Rio.
Ricky (New York)
Joe, first of all, congratulations to you! My question is, if you were just starting out and a bit strapped for cash, would you recommend getting as much experience as you can in online freerolls? Find a local game and get involved as much as possible there? Or perhaps both? Thanks!!
Joe Cada
(1:42 PM)
I'd definitely say both. Online is a great tool for learning because you can see more hands, and live helps because it works on your live game too.
Marc (Big D)
How was your Letterman appearance?
Joe Cada
(1:42 PM)
It was fun! A little more nerve-wracking than the final table.
Matt (Grand Rapids)
Joe, congrats on the win! Can you even put into words what it was like when that final river came?
Joe Cada
(1:43 PM)
Dream come true.
Mikey (Amazon Room)
It seemed like there wasnt very much small ball going on at the final table?
Joe Cada
(1:44 PM)
It depends if you were actually at the final table or not. It lasted seventeen hours, which is the longest final table in WSOP history.
Kevin (Cleveland)
Have a favorite NFL team?
Joe Cada
(1:45 PM)
Yeah, the Lions.
Marc (Big D)
Have you had a chance to see your bank account with all those zeroes? Would have to be surreal.
Joe Cada
(1:45 PM)
I definitely got the chance. It hit me a lot more once I saw that.
Mike (Omaha)
Congradulations as well Joe. Seems I've been on a down turn lately, (two weeks), what is your longest down turn and what did you do to get out of it?
Joe Cada
(1:46 PM)
Before coming to the main event, I was on a $150k downswing, but I ended up getting back in time for the final table.
Joe Cada
(1:47 PM)
Thanks for all the questions!