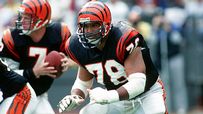 Anthony Munoz played 185 games for the Bengals.
Welcome to SportsNation! On Friday, NFL HOFamer Anthony Munoz stops by to chat about the NFL season.
Munoz played 13 years in the NFL, retiring in 1993 after knee and shoulder injuries forced him from the field. As the No. 3 overall pick in the 1980 draft, Munoz spent his entire career with the Cincinnati Bengals. He was an 11-time Pro Bowler and a member of the NFL's 75th Anniversary Team, as well as the 1998 Hall of Fame class.
Munoz and his Anthony Munoz Foundation through the help of Payless ShoeSource and its Payless Gives Shoes 4 Kids program helped give out shoes to local Cincinnati children. Payless' national program, with the help of local charities, is giving out $1.2 million of shoes.
Send your questions now and join Munoz Friday at 1:30 p.m. ET!
More Special Guests: Previous chats | SportsNation
Anthony Munoz
(1:28 PM)
Looking forward to interacting with the people. Let's get started!
Sammy (Cleveland, OH)
What made you want to start your own foundation?
Anthony Munoz
(1:30 PM)
I have a passion for young people and helping them out through education and recognition. I just had a bunch of ideas that I wanted to put together and through my foundation, I was able to do that.
Will (Denver)
How did your foundation and Payless team up? Have you worked with them before?
Anthony Munoz
(1:33 PM)
I have not worked with them before. A friend of mine who is a co-founder of my foundation contacted Payless and told me that I should contact them because of all the work they do with young people. Today we took 20 kids to get free shoes. We picked them up in limos and had lunch at Chick-fil-a. Overall, have provided over 300 pairs of shoes for kids at Taft Elementary in Cincinnati. A school that we have worked with a lot over the years.
Evan (Dallas, TX)
Do you attend any of the games? How exciting is it to see the Bengals finally winning?
Anthony Munoz
(1:35 PM)
I have season tickets to the Bengals home games so I go just about every weekend. It's exciting because it's been a while since they've been a winning squard. Cincinnati is a sports city and I know the fans are excited to see the team finally winning again. I'm excited about the coaches, players and the whole organization. They are doing a great job.
Joy (Cinncy)
How far do you see the Bengals making it this season?
Anthony Munoz
(1:37 PM)
I'm pretty optimistic. If they stay healthy, they can go far into the playoffs. Hopefully Cedric Benson isn't too hurt with the hip. My optimism says that they will end the season in Miami with the way that they have been playing so far.
Darius (New York)
Who's your pick to win the Super Bowl?
Anthony Munoz
(1:37 PM)
I'm going to go with the Bengals over the Saints.
cappelljr (Cincinnati)
Who do you think are the best offensive tackles playing right now?
Anthony Munoz
(1:38 PM)
Right now Joe Thomas of Cleveland is at the top of my list.
Cincyfan (Cincinnati)
What's your greatest memory from playing with the Bengals? Who-Dey!
Anthony Munoz
(1:39 PM)
I have to say the two Super Bowls. We had home field advantage in both those games. So not only were the playoff games at home but both the championship games as well. Great times for Bengals fans.
Ramell (Ohio)
What do you think about Chad Ochocinco ...distraction or good for the NFL/Bengals?
Anthony Munoz
(1:41 PM)
(Laughing) Before this year, a distraction but hopefully now he understands that he can not be a distraction for this team to be successful. I'm old school and I don't see this being good for the NFL. It's a team first sport; all the individual stuff is secondary.
Cynthia (Washington, D.C.)
Which team do you think has the best offensive line?
Anthony Munoz
(1:42 PM)
Minnesota is one of my favorite offensive lines. From tackle to tackle, they are my favorite to watch.
Reggie (Boston)
Who's the nastiest defensive end you ever played against?
Anthony Munoz
(1:43 PM)
I guess when I think about nastiest, I think of the best. The best all-around defensive end had to be Bruce Smith of the Buffalo Bills.
Michael (Ohio)
Have you every thought about coaching? If so, what level?
Anthony Munoz
(1:45 PM)
I have thought about coaching. I've come very close to coaching. I've coached high school football for three years, trained college players getting ready for the NFL and worked some camps. I've had offers from both the college and pro levels but just never got into it full time.
scott (st. louis)
didn't your son used to wrestle at ok st. whats he up to now?
Anthony Munoz
(1:46 PM)
No, he didn't. My son played football at the University of Tennessee where he was a four year starter at tackle. He now works for Procter and Gamble.
Steph (Cincinnati)
Anthony - you are the only Bengal in the HOF. Which of your former teammates do you think deserve to be in the Hall with you?
Anthony Munoz
(1:47 PM)
Kenny Anderson, Ken Reilly, Max Montoya and Isaac Curtis.
Dave (LV)
So Anthony, exactly how cold was it in the AFCCG against the Chargers?
Anthony Munoz
(1:48 PM)
(Laughing) It was painfully cold!
Anthony Munoz
(1:49 PM)
There was no way that we could warm up during the game.
David (Baltimore, MD)
What was your favorite part about playing in the NFL?
Anthony Munoz
(1:50 PM)
The competition is up there but also the guys that I've played with made it all a great experience.
Frank (Ohio)
Be honest now....after last season, did you think the Bengals would be this good this year?
Anthony Munoz
(1:51 PM)
I'll be honest ...I did not think they would be this good. I do the preseason games and I thought they would be better than last season but I didn't think that they would be this good.
Anthony Munoz
(1:52 PM)
Thanks for all the questions and interest. Who-Dey ...Go Bengals!