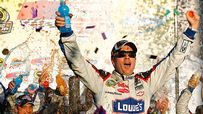 We'll be chatting with four-time NASCAR Cup champ Jimmie Johnson on Monday.
Welcome to SportsNation! On Monday, we will have the 2009 NASCAR Sprint Cup champ Jimmie Johnson stopping by to chat.
Johnson finished fifth in Sunday's race, securing his fourth straight Cup championship, making him the first driver to ever accomplish the feat. In winning his fourth career title, Johnson tied Hendrick Motorsports teammate Jeff Gordon for the second most titles. Dale Earnhardt and Richard Petty are tied for the most with seven.
Send your questions now and join Johnson Monday at 12:30 p.m. ET!
More Special Guests: Previous chats | SportsNation
Buzzmaster
(12:24 PM)
Jimmie will be here to chat in a few minutes!
Buzzmaster
(12:28 PM)
Jimmie is here!
Mike (NJ)
so what time did the party end this morning?
Jimmie Johnson
(12:33 PM)
Is it over?
Mike (Arizona)
Congrats on #4 Jimmie... Your whole team is such a class act! How did you celebrate last night?
Jimmie Johnson
(12:34 PM)
There was a lot of great media obligations following the race. Our sponsor Lowe's had a little toast for the team. From there, took the guys out and had some drinks. IT was great to celebrate with all of them. Everything that we put into this.
Shannon (Cornelius, NC)
How does winning your fourth championship compare to winning your previous three?
Jimmie Johnson
(12:35 PM)
To make history is awfully special. It's still setting in, but they're all different and special in their own ways.
Mike Klingenberg (De Smet, SD)
Jimmy do u think u would have 4 in a row without the chase format
Jimmie Johnson
(12:35 PM)
Yeah. Yeah, I would be curious to see how the points would work regardless of system. It's not the world we live in and we won the last four.
Mojo (Houston)
Will you be running the Rolex 24 in 2010? And what are your offseason plans - no golf car surfing!
Jimmie Johnson
(12:37 PM)
Come on now? What's wrong with golf cart surfing. Yes, I plan on running the Rolex 24. Offseason plans are to just celebrate what we accomplished.
Jason (Ellicott City, MD)
Are you running out of shelf space for all of your trophies?
Jimmie Johnson
(12:37 PM)
No way. I'll build some more shelves.
Roller (Kentucky)
Congrats! Great job dude, is Chad gonna get a new contract to be there next year or is it that time yet? I think you can make it 5 in a row, but no pressure. ha
Jimmie Johnson
(12:38 PM)
Truthfully, the deal was inked Saturday. It's just a timing thing. We wanted to take advantage of the weekend to announce the relationship with Hendrick and myself. Chad's announcement will follow.
Leo (Connecticut)
Congrats, Jimmie. Have you commemorated any of your titles by treating yourself to any new toys -- cars, motorcycles, boats, etc? What do you enjoy driving when you're not racing the 48?
Jimmie Johnson
(12:39 PM)
No. No. It's really been about the banquet and celebrating with the team and sharing a lot of great moments and events and parties and things like that. Nothing that I've specifically bought for myself.
Pat (Syracuse, Ny)
Do you think there should be changes to your sport and if so what changes would you like to see?
Jimmie Johnson
(12:40 PM)
I don't know. It's tough to say. Our sport has worked really well over the years. I guess there's an arugable point to fine tune somethings, but in general everything's working well.
jimmyohyeah (MA)
First off, I'm a fan. Nascar has the same races in the same order and you seem to do well at most of the Chase races. Do you think Nascar should adjust the order of the races through the years to try to make it fair for those driver's who don't necessarily do as well at the last ten racetracks?
Jimmie Johnson
(12:41 PM)
Truthfully, any 10 races, I'll be there and ready. It doesn't matter.
Misty (Michigan)
Great Job!! My 8 year old now thinks my husband should quit his job and go work at Lowes.
Jimmie Johnson
(12:41 PM)
Agreed.
Leila (Glassboro, NJ)
Now that you've won four in a row, could you see yourself hosting Saturday Night Live?
Jimmie Johnson
(12:42 PM)
My phobia of public speaking might stand in the way of that.
Mojo (Houston)
What was your biggest win this year - personally? I wish more people could see you as your fans do, especially this last year. No vanilla there!
Jimmie Johnson
(12:42 PM)
Individual win would be the Brickyard. I would say the key one of the year for me and the team was Dover in the Chase. It gave us confidence for the remaining races for the year.
Trey Brennan (Ocean Springs Mississippi)
Hey I am a huge Jimmie Johnson fan I wanna know what thrives you and keeps you going?
Jimmie Johnson
(12:43 PM)
I appreciate you being a fan. I race. It's what I do. I feel like I have a lot of great working years ahead of me. I want to keep racing and winning.
Adam (Colorado)
Do any tracks "scare" you?
Jimmie Johnson
(12:44 PM)
I'd say Darlington really gets your attention. After you hit a few walls, the fear factor goes down, but the sense of speed at Darlington is so high. The track was designed for cars to run 120 not 180. It really gets your attention when you run a lap there.
Mark (Iraq)
It was great to actually watch a race here in Iraq Congrats on #4. Did you ever think that you were going to win 4 in a row
Jimmie Johnson
(12:46 PM)
It didn't feel that there was a chance for four in a row until late in the season this year. We certainly hoped for it, but we did feel the opportunity was there. And a big thank you for all that you do for us. I'm glad that you were able to watch from far and wide.
Jeff (FL)
Are there any special songs that you listen to that get you pumped up and ready to race?
Jimmie Johnson
(12:46 PM)
I do more to try and relax. THe adrenaline kicks in and it's more about controlling the emotions than getting pumped up. Jack Johnson is always a good way to mellow out.
Jason (Birmingham, Alabama)
How much did Mark Martins Seniority help in team meetings, Im sure it was extra icing on the cake to have a Nascar legend on the team.
Jimmie Johnson
(12:47 PM)
He's been a huge help to the company. He's raised the bar at Hendrick and has added so much to the whole company. Amazing man and can only imagine how difficult he's going to be to deal with next year.
Jeremy Eakin (Columbus, MS)
is it true that if you're not first, you're last?
Jimmie Johnson
(12:48 PM)
To simplify things, yes.
Kevin (NC)
How nervous where you after the hiccup at Texas?
Jimmie Johnson
(12:49 PM)
Very. I was very worried about it. It was just proof that how much you can lose in a race. It was a good lesson to learn to keep our guard up for the final two races.
Nick (Chicago)
How does the competition stack up after every championship so far? Does it feel harder to obtain the top prize year after year?
Jimmie Johnson
(12:49 PM)
It does. It's one thing to win a championship, but to maintain at that level is really tough. It's all the sweeter to know that we've maintained.
John (Minneapolis, MN)
Are you surpised at your success at the top level, given the short time you spent in the Nationwide Series?
Jimmie Johnson
(12:50 PM)
I am. I've only been in a stockcar for 12 years now. When I think about the amount of time I've been in a stock car, it's really short compared to the amount of time of the other guys.
Chris (Weston, FL)
Where would you place your fourth straight Cup championship on resent sports dominance? between the bulls of the 90's the Yankees of the 90's or the Pats earlier this decade considering the odds of a different champion in you sports are a lot higher?
Jimmie Johnson
(12:51 PM)
Not my place to rank myself. I think the fact that we've ranked something in the sport that's never been done, I'll let everyone ponder on that thought.
Jake (Dallas)
How do you plan on improving your road racing skills?
Jimmie Johnson
(12:52 PM)
We've been trying for years. We're making small gains year after year. Our Sonoma and Watkins Glen reflected that this year. We're looking forward to our first road course win.
Farmdog (Detroit,MI)
JJ,Congrats! What would you tell your doubters that don't value your championships under the new points system...Many of the purists still take more stock under the old system and not consider it otherwise.
Jimmie Johnson
(12:53 PM)
We're all playing by the same rules. Every other driver, including the one that you're probably a fan of has the same opportunity. I wish for my old resume, I had one under the old system, but I won't have the chance to do that. I'm very proud of what I've done.
Chuck (Syracuse, NY)
Since you have been very successful with it, what are your thoughts on the COT (the car of today) and how do you think nascar could improve it? If at all?
Jimmie Johnson
(12:54 PM)
It has closed the gap amongst the teams and put more weight back in the drivers' hands. So as much as I've disliked aspects of the new car, it's also given me a lot of opportunities to separate myself from the other guys.
Jimmie Johnson
(12:54 PM)
Just a big thank you for your support. It's a special time for us. I can't thank you enough for your support.