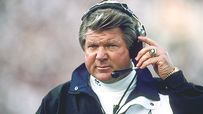 Johnson coached Oklahoma State and Miami in college and Dallas and Miami in the NFL.
Welcome to SportsNation! On Tuesday, Fox NFL analyst Jimmy Johnson will stop by to chat about Week 12 in the NFL.
Before taking on duties in Fox's Sunday NFL studio show, Johnson was an NFL and college head coach. He is the only person to win a college national title both as a player and coach, as well as coach a Super Bowl win. In nine years as a NFL head coach, Johnson had a 80-64 record, including 9-4 in the playoffs.
This holiday season, Johnson is working with Crown Royal and its "Safe Rides Home" designated driver program, which will provide free and safe rides home to Dallas adults on Thanksgiving eve. Johnson is also a part of Crown Royal's programs to create awareness of responsible drinking.
Send your questions now and join Johnson Tuesday at noon ET!
More Special Guests: Previous chats | SportsNation
Buzzmaster
(11:53 AM)
Former NFL head coach Jimmy Johnson will be here in a few minutes to take your questions!
Dave (Boston)
How did you get involved with Crown Royal?
Jimmy Johnson
(12:03 PM)
I actually teamed up with Crown Royal this summer. I did a public service announcement for responsible drinking. It's a continuing effort with Crown Royal. It's a safe driving effort here in Dallas. They have Crown Royal vans and they can take individuals home at night from 8p-1a. I think the biggest message that Crown Royal wants to put out there is that you need to have a plan, to have a safe and fun holidays and practicing responsible drinking.
Bob (Phoenix, AZ)
Coach Johnson - your old OC Norv Turner is impressing me this year coaching San Diego. I think he has a full handle on his team in his third year - your thoughts please.
Jimmy Johnson
(12:04 PM)
Well, there's no question that Norv is an outstanding coordinator and playcaller. The one downfall of the Chargers has been they haven't been strong defensively. It looks like they've picked it up on defense. That's the big key.
Fred (Florida)
Jimmy, now that the other Jimmie Johnson has made history with his fourth NASCAR title, how often do you get mistaken for him?
Jimmy Johnson
(12:05 PM)
Oh, not that often. Every now and then I'll get a mailing at the house for Jimmie. I've visited with him on the Fox set. And I think I'll see him in the next couple of weeks.
Matt J (San Diego)
Jimmy, do you see the Packers making the playoffs. If so how far will they go. Could it be a possible Favre vs. Rodgers NFC Championship game!
Jimmy Johnson
(12:05 PM)
Well, I think the Packers took a blow when they lost a couple of their top defensive players. I like what Rodgers is doing throwing the football. I'm concerned about him holding on to the ball and the sacks. I think it will be close. If they can get hot at the end of the year, they have a chance.
Mike (Ohio)
Coach, I've posed this question to Howie before and now I'm wondering your thoughts: To you guys really get along on the Fox set as well as it seems? You guys seem like you're having a lot of fun.
Jimmy Johnson
(12:07 PM)
We really have great chemistry and we have fun. Terry Bradshaw is one of my best friends. We stay together and watch college football on Saturday. We all do things together and stay together. It's not like we just show up on the set. Terry comes down to my place in the Keys. We go fishing. We actually do like each other.
Joe (Chattanooga)
Jimmy,Big Cowboys fan here...I really miss the days when you were the head coach in Big D--it hasn't been the same since. How far do you think the Cowboys can go this year? Are they a superbowl contender or pretender?
Jimmy Johnson
(12:07 PM)
It's going to be interesting to see who takes control of the NFC East. The key game will be a week from Sunday when the Cowboys go to New York. The big thing for the Cowboys is they need bigger plays from their WRs.
Chad (Las Vegas)
What do you think are the possibilities of an 18-0 NO vs 18-0 Indy in the SB and seeing Mercury Morris' head explode on national tv?
Jimmy Johnson
(12:08 PM)
Oooh, I would say that's pretty slim. As injuries develop and teams prepare for those teams, it will be hard. I think the key is to keep the teams healthy and ready for the playoffs.
Jimmy Johnson
(12:09 PM)
The main thing for everyone with the holiday season coming up is make sure you drink responsibly. When you go out at night, have a plan.
Buzzmaster
(12:09 PM)
Thanks for chatting Jimmy!