Chat with Teresa Weatherspoon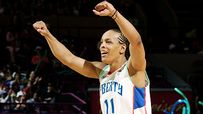 Weatherspoon's No. 11 jersey is retired by Louisiana Tech.
Welcome to SportsNation! On Wednesday, Louisiana Tech women's basketball coach, and one of the best women's basketball players to ever play, Teresa Weatherspoon stops by to chat.
Weatherspoon, winner of two Olympic medals - one gold, one bronze - took over the Lady Techsters program in February as an interim coach. Following the season, the interim label was removed and she was named the newest head coach. She coached 11 games in the 2008-09 season, finishing with a 9-2 record. So far this season, Louisiana Tech is 3-1.
As a player, Weatherspoon was one of the original WNBA players, entering the league in 1997. She started with the New York Liberty, before playing her final two seasons with the Los Angeles Sparks and retiring in 2004. She still ranks as the No. 2 all-time assists leader in the WNBA. She will be inducted into the Women's Basketball Hall of Fame as a member of the 2010 class.
Send your questions now and join Weatherspoon Wednesday at 3 p.m. ET!
More Special Guests: Previous chats | SportsNation
Buzzmaster
(3:09 PM)
Coach Weatherspoon is handling some of her coaching responsibilities right now. She'll be here to chat at 4 p.m. ET
Teresa Weatherspoon
(4:03 PM)
Hit me with your best shot ...you never know what I might say!
Leah (Orlando, FL)
In one word, how would you describe you career?
Teresa Weatherspoon
(4:04 PM)
Significant. The reason is in order to be successful in anything you have to hope to do something significant in somebody's life. Just being positive.
MR (NY)
With two teams folding in The WNBA do you feel the league is may be in trouble?
Teresa Weatherspoon
(4:06 PM)
I wouldn't say they have folded. Detroit moved to Oklahoma and Sacramento is looking to move to the Bay Area. The WNBA is a great league with great talent.
Lesley (houston)
How did u feel after you made that shot against Houston in the playoffs?
Teresa Weatherspoon
(4:09 PM)
Oh my goodness, what a feeling. I was just exciting to get the opportunity to play another game. The biggest thing was the Houston went up on us the play before and the arena was rocking. Once the shot went in it turned into a library. Nobody every asked me how I felt under the pile once my teammates jumped on me and started celebrating.
pilight (macon, ga)
What's the biggest difference between coaching and playing?
Teresa Weatherspoon
(4:11 PM)
A lot of responsibly. As a player I worked hard at being good at what I do and coaching is the same way. I work hard to help these young ladies be good at what they do.
Mike S (CT)
Teresa, how impressed are you by Becky Hammon's maturation into one of the WNBA's top guards? I remember watching you guys play when she was an undrafted rookie and its remarkable to see how much talent was on your Liberty teams.
Teresa Weatherspoon
(4:13 PM)
Becky, she's amazing to watch. She has improved a lot since she first started with the Liberty and that's all do to the hard work that she has put in. Going against her in practice everyday, I hope that I had something to do with her getting better each and every year. Becky is like a little sister to me.
Teresa Weatherspoon
(4:13 PM)
We did have a lot of talent on those Liberty team. I wouldn't want to go to battle with anyone other than them. They are a great bunch of young ladies.
Susan (Charlotte, NC)
As a long time Techsters fan, my hope is to see us reenter the NCAA Tournament. What is the team's ultimate goal for the season?
Teresa Weatherspoon
(4:15 PM)
The ultimate goal is to play hard and give give effort every night. Of course we want to be WAC champions but there are things that need to be do9ne first. We need to take it step-by-step and game-by-game.
Ben C. (Ruston, LA)
T-Spoon. What the girls did against LSU last night was awesome to see. What a hard fight. How will the Techsters stack up against Baylor this weekend?
Teresa Weatherspoon
(4:17 PM)
Playing against LSU was a great experience for us, a great measuring stick and a great confidence builder for us. Against Baylor we must play almost a flawless game. They are a great team that is very well coached. They are coached by two people that coached me here at Tech. We have to go out and compete hard every night no matter who we are playing.
john (North Carolina)
You almost beat LSU...was that personal
Teresa Weatherspoon
(4:17 PM)
No it's not personal.
Teresa Weatherspoon
(4:18 PM)
We were playing against a really good basketball team and unfortunately we didn't win. In defeat, there was a lesson learned.
Justin (Ruston)
Louisiana Tech has had a MAJOR turnaround since you took over back in February and we have the same core of players. What did you do to get this done?
Teresa Weatherspoon
(4:20 PM)
First thing was to change their mindset and the words that they were using. Change the way they spoke about themselves. You have to be positive. It's not what I expected of them, it's what I demanded of them. Just give the effort. Give the effort.
Jean Gilbert (Northern California)
How do you motivate your players? What works and what doesn't work?
Teresa Weatherspoon
(4:22 PM)
Motivation is positive thoughts. You must tell kids what the CAN do. You must believe and it's just that simple. You either play to win or play to lose and in my system we play to win. It's just that simple.
pilight (macon, ga)
Do you think Marion Jones can make it in the W?
Teresa Weatherspoon
(4:23 PM)
She was a great athlete at North Carolina and nobody can take that away from her. To me, if somebody whats to do something and they believe they can do it then they should go for it.
Leah (Orlando, FL)
0-4 against the Comets in the WNBA Finals ...i know that had to be tough. How great were Coop, Swoops, and Thompson?
Teresa Weatherspoon
(4:23 PM)
Oh Leah ...why did you bring up such memories for me! (laughing)
Teresa Weatherspoon
(4:25 PM)
Yes Leah, it was tough and it still is. Those three young ladies are great players. Cooper is a great player and their will never be another one like her. Swoopes a great defender and Thompson is Ms. Everything. They also had Kim Perrot one of my best best friends. You have to play a flawless game to beat them. They had a great squad.
Dee Brown (Houston)
What is the most valuable skill you are utilizing now with your team that you gained from your own extensive and very successful basketball career as a player? You have always been my favourite player and I believe will continue to be so...Keep up the amazing work you are doing.
Teresa Weatherspoon
(4:29 PM)
I've had the opportunity to play this game for a long time and my most valuable skill is my experience. I think sharing the successful stories of my career has helped and will continue to help the Lady Techsters basketball program grow.
Teresa Weatherspoon
(4:33 PM)
Thanks for considering me as your favorite players. MUAH ...much love.
victor (monroe,louisiana)
Congratulations to you on going to the hall of fame
Ronald Barlow (Pineland, Texas)
Congratulations on your upcoming hall of fame induction(s). I'm going to see that your hometown is well represented in Natchitoches for the Louisiana Sports Hall of Fame induction in June.
Techguy09 (Shreveport)
I just wanted to say, Thank you T-Spoon. You have lit a fire under our girl's program that has been missing for a while. Keep up the good work.
Phillip Many
Spoon: First congrats on your success thus far at Tech. Do you think Tech can once again compete with the top programs in the recruiting circles and do you feel confident that we will be able to sign any top 100 H.S. players in the next two years?
Teresa Weatherspoon
(4:36 PM)
Thank you so much for the well wishes. Thank you for your time. I love you and appreciate you. Happy Holidays to all.