Chat with Paul Malignaggi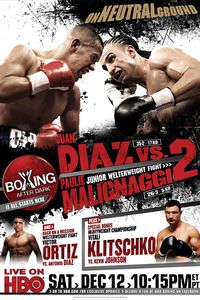 Welcome to SportsNation! On Tuesday, we'll go inside the boxing ring when junior welterweight Paul Malignaggi stops by to chat about his upcoming fight.
Malignaggi (26-3, 5 KOs) squares off with Juan Diaz (35-2, 17 KOs)in a junior welterweight title rematch Saturday live from the UIC Pavillion in Chicago on HBO's Boxing After Dark at 10:15 p.m. ET.
Known as "The Magic Man", Malignaggi is coming off of a tough light welterweight loss to Diaz. Unofficial HBO scorer Harold Lederman scored the fight 115-113 for Malignaggi but none of the three judges saw the fight that way and Malignaggi ended up losing by unanimous decision. After the fight, Paul was furious and stated that he would only continue to fight because of the good pay day.
Send in your questions now and then join Malignaggi at 4 p.m. ET Tuesday!
More Special Guests: Previous chats | SportsNation
Buzzmaster
(4:01 PM)
We've got Paulie!
Tim (Pittsburgh,PA)
Paulie, what do you feel you have to do in this fight to put no doubt in the judges minds that you won?
Paulie Malignaggi
(4:02 PM)
Just do what I did last fight, but at a more consistent level. I think the committee will have no doubt for sure. I think the last fight I was not consistent.
Peter (San Antonio)
Obviously you were robbed the first time...are you going for the knockout this time? And keep speaking your mind!!!
Paulie Malignaggi
(4:03 PM)
I'm going to adapt to what's in front of me. If I get the feeling that I could stop him, I will go for it. We'll go from Round 1 and see what happens in the end. I believe that I'm so sharp right now that a KO is not out of the realm of possibility.
joe gibbons (albuquerque nm)
how will you approach this second fight, since you got robbed in the first one, are you going to have a differant fight stargady?
Paulie Malignaggi
(4:04 PM)
It's just business as usual. It's not my first picnic, so to speak. I've fought guys before early in my career and as an amateur that I had fought before. I'm just putting in my work and beating him convincingly this time, so there is no doubt.
Dan and jen (Chicago, IL)
Me and my girlfriend are huge fans of you paulie!Besides speed, what is an advantage you have over Juan Diaz?p.swill be at your fight! goodluck!
Paulie Malignaggi
(4:05 PM)
My reflexes. My ability to adapt to what's in front of me. I don't believe Diaz has the ability to adjust. My reflexes and natural abilities are better than his. And, honestly, I think I have a better trainer.
Tony Signoret (Palm Springs)
After reviewing the first fight with Diaz, what did you see in yourself that you didn't do well and how are you going to adjust?
Paulie Malignaggi
(4:06 PM)
Early on, I basically altered rounds. I had to slow the pace down early in the fight. I basically fought every other round. I don't think it was anything he did the first time around.
David (Houston)
I believe you got totally robbed in the last fight and i worry now good fighters will never want to come to houston again. Anyway i wanted to ask how are your hands holding up these days?
Paulie Malignaggi
(4:06 PM)
My hands are good. It was just some slight bruising. I can deal with some bruising. It's natural. If you punch someone for 12 rounds, you'll deal with bruising. But I'll take that with a smile on my face.
Michael Carpenter Harris (Charleston West Virginia)
How many miles are you running a day in preparation for this fight?
Paulie Malignaggi
(4:07 PM)
I alternate 6 miles one day, 3 miles one day and off the next. With the three miles, I run with weights in my hands. My conditioning was never an issue. I have been working with a strength trainer. I don't worry about conditioning at all.
Mark (Florida)
What do you see as Diaz's biggest weakness in the ring- and how are you going to use it against him?
Paulie Malignaggi
(4:08 PM)
The fact that he's one-dimensional. He walks into a lot of punches. But he's basically fighting to my style. You have a guy specializing in fighting going back and fighting going forward. Whoever is the best at their style wins.
jack (los angeles)
Paulie, anything special planned for your entrance?
Paulie Malignaggi
(4:09 PM)
No, just a regular entrance. I don't see boxing as much fun as it used to be. That stuff I don't see as exciting as it used to be, ring entrances and stuff like that.
sidney cello (Los Angeles,CA)
what's up Paulie? Mayweather vs Pacquiao, who you picking??
Paulie Malignaggi
(4:10 PM)
I root for Floyd, but my comments about Pacquiao have made a splash. About how I don't think he's done this naturally. I'll be rooting for Floyd, but if nothing changes, I think Pacquiao wins.
Brian (San Diego, CA)
Hey Palie. Since there's been alot of obsurd scores from judges recently, are you worried about something like that happening again for this fight? Oh and good luck.
Paulie Malignaggi
(4:11 PM)
It is always in your back of your mind. You can't really get too caught up in that too much because it could take away from your mental focus. I don't have any complaints about who the officials are going into this fight. It doesn't seem as bad as the first time. We'll see what happens.
Victor (Downey, Cali)
What does a win against Diaz mean? Can we forecast a tie breaker or do you have someone else in radar whom you want to fight?
Paulie Malignaggi
(4:12 PM)
Ultimately, if I had it my way, I'd go on to other things. If I win on Saturday night, in my mind I'll have two wins over him. The only reason I took the fight was because of the controversy around the first fight. I'll move on to other things. I just want an opportunity to get other things. Alexander, Bradley, they have title belts. The opportunities are endless.
Brad (Detroit)
How would you rate Baby Bull's punching power, compared to some of the other guys you have recently tangled with? Can he do anything in the ring to hurt you, or is it more about just boxing your fight?
Paulie Malignaggi
(4:13 PM)
Juan Diaz is one of the better fighters I've fought. His punching power, he might be one of the two or three lightest punchers I've fought.
B (Boston)
Are your trunks going to stay up this time?
Paulie Malignaggi
(4:13 PM)
My trunks will stay up this time!
Cameron (memphis, tn)
Paulie, great heart and determination against Diaz, you clearly out boxed him last fight and will look for you to do the same in a neutral setting this Saturday. If you could choose one fight to fight again who would it be, the Cotto fight or Hatton?
Paulie Malignaggi
(4:14 PM)
The Hatton fight absolutely. The Cotto fight was a tough fight for me, always will be. But the Hatton fight, I am convinced I could make that an easy fight for me.
joe (fresno, ca)
any inside word on punch-out two and did you do anything different preparing for this fight as opposed to the first one with diaz
Paulie Malignaggi
(4:15 PM)
The main thing we did was we sparred this time around. The last time I had an injury and couldn't spar.
Michael Carpenter Harris (Charleston WV)
If Paulie Malignaggi could fight one boxer on earth who would it be? Could you beat them and how would you do so?
Paulie Malignaggi
(4:15 PM)
Rickey Hatton. That's the guy I want more than anything else.
Paulie Malignaggi
(4:17 PM)
I just want to thank all my fans supporting me especially for this rematch. I think the fans are a big part of why HBO got me this rematch. My skills helped me get this rematch, my mouth helped get me this rematch, but without you, I wouldn't have gotten this rematch.