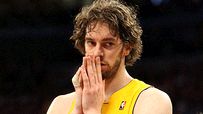 Gasol started his NBA career with Memphis.
Welcome to SportsNation! On Monday, we're going to help launch ESPNLosAngeles.com with style befitting the City of Angels when Los Angeles Laker Pau Gasol stops by to chat.
After being traded to the Lakers during the 2007-08 season, Gasol has quickly established himself as a key player in Los Angeles. He averaged 18.9 points while starting 81 games last season during the Lakers' run to the NBA title. This season he is shooting 54.6 percent and is averaging 17.1 points per game.
Gasol is one of the players up for selection to the NBA All-Star game, to be played on Sunday, Feb. 14. Go here to vote!
Send your questions now and join Gasol Monday at 4 p.m. PT/7 p.m. ET!
More ESPNLosAngeles.com: Index | Previous chats | SportsNation
Buzzmaster
(6:48 PM)
Pau will be here at 7 p.m. ET/4 p.m. PT to take your questions!
Buzzmaster
(7:19 PM)
We've got Pau!
Darryl (Hyattsville, MD)
Pau, what was your initial reaction once you got the news that you were being traded to the laker's?
Pau Gasol
(7:20 PM)
My initial reaction was shock. I was shocked to hear that I was getting traded. It took me a while to understand what was going on and digest what was happening around me.
Steve (LA)
Why should I vote for you for the All star game?
Pau Gasol
(7:21 PM)
I think you should vote for me because you want to see me as a starter in the all star game and you like the way I play better than others. That's pretty much it.
Mark (Oakland)
Your rebounding has been incredible this year. Is one of your goals to average a double double this season?
Pau Gasol
(7:22 PM)
It was my goal to continue to get better in any way I could. Last year during the playoffs, I proved to myself that I could average double digits. I think I averaged 11.8 for the playoffs. That's why I'm picking that up.
AR (MN)
I am a Minnesota Timberwolves fan. What should I know about Spanish sensation Ricky Rubio that not many others know?
Pau Gasol
(7:23 PM)
He's a very special basketball player. He's got a huge talent to play this game. He's a natural leader. Exciting to watch. At some point soon, he'll be with the Timberwolves playing basketball and you'll be able to enjoy his game.
steve (lakeport,ca)
Do you think Spain will win the World Cup next year?
Pau Gasol
(7:23 PM)
I hope so! I don't know if they will. It's very tough to actually become a world champion in that tournament. I hope they do and finally become world champions in soccer.
Veronica (Los Angeles)
Pau, you've been in this city for almost two years now. Does it still surprise you that you're here, or have you gotten used to the grit and glamour of L.A.?
Pau Gasol
(7:24 PM)
I appreciate a lot living in Los Angeles. And the kind of city that it is. It has a lot going on. A little glamour too. Playing in Los Angeles, I feel fortunate that I'm playing and living here.
Fred (NY)
With Bynum being healthy up to this point does it make it easier on you rather than being the only big man when he's hurt?
Pau Gasol
(7:25 PM)
In a way, it does. Then I'm able to spend more minutes at the power forward position instead of the center position. And it gives us more strength and power inside. It's a big plus that Andrew is playing and is healthy.
Anthony (Tampa)
Pau you are the most underrated player in the league. Does it ever bother you that you don't get much attention?
Pau Gasol
(7:26 PM)
Well, I can't do too much about it other than to just play. That's what I try to do. My game and numbers and results speak for themselves. I let people make the judgements that they need to make. If I don't get enough credit or value with it, then I don't know what else I can do. Little by little, I think I'm earning the credit that I deserve and hopefully I'll continue to do that.
Rob (Los Angeles)
What about Kobe's game impressed you most when you got here and what do you think impressed him most about yours?
Pau Gasol
(7:27 PM)
His determination. His spirit of being the best and how hard he works at it to be the best, every single night. His desire to win also is extremely impressive. He's a guy you definitely want on your side.
Aram Namavar (Westwood)
Who's a better futbol player? You or Kobe?
Pau Gasol
(7:28 PM)
Well, I don't know. We never played futbol or soccer together. It should be fun. Maybe one day we should get together in our off time and see how we do.
Alexis (Arizona)
What do you feel you improved on in the 2009 finals as suppose to the 2008 finals, in order to be champions?
Pau Gasol
(7:29 PM)
I think we understood what it took better. We had the experience of 2008 and we didn't want to have the same outcome as in 2008 in 2009. We were healthier and that helped a lot.
Miguel (los angeles )
How is your relationship with ron artest?
Pau Gasol
(7:30 PM)
Our relationship is really good. He brings a lot to the table. Very good defender. Very unselfish player. He brings physicality to our team. He's hungry. Hungry to win and win championships. He came to the right team.
Jennifer (Oxnard, CA)
What is your favorite thing to do in LA?
Pau Gasol
(7:31 PM)
I guess I enjoy the shows, the concerts that go on here. Different concerts, different musicals, different operas. There's so much going on that when I get a chance, that's what I like to do.
Erin (Barcelona)
What do you think about FC Barcelona winning their 6th Trophy of the Year?
Pau Gasol
(7:31 PM)
I think it's incredible. It's been an unbelievable season. Truly historical season for the soccer team FC Barcelona. I'm really happy for them because they seem like a really great group of guys. It's been truly fantastic for what they've done.
Dennis (LA)
Pau, do you think the NBA could expand a franchise to Spain one day?
Pau Gasol
(7:32 PM)
Maybe. Maybe. But I don't see it happening any time soon. It might happen down the road. We'll see if it does happen.
Pau Gasol
(7:32 PM)
I really hope that it does.
Pau Gasol
(7:33 PM)
It's been a pleasure chatting with you. I say hello to the others that I didn't get a chance to answer. Thanks for your support. Enjoy watching us play!
THIS WEEK'S CHATS (All Times PT)