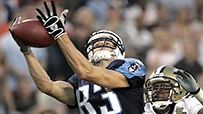 In 2004, Bennett had 1,247 receiving yards and 11 TDs.
Welcome to SportsNation! On Monday, First Take NFL analyst Drew Bennett will stop by to chat about this past weekend's games.
Bennett, who went undrafted in 2001, played eight seasons in the NFL before having his career cut short by injuries. He spent the first six years of his career with the Tennessee Titans and played the last two with the St. Louis Rams. He had signed on with the Baltimore Ravens in July 2009, however a knee injury caused him to retire shortly after signing his contract. For his career, he caught 307 passes for 4,412 yards and 28 TDs.
Bennett appear every Monday on ESPN2's First Take from 10 a.m. to noon ET.
Send your questions now and join Bennett Monday at noon ET!
More Special Guests: Previous chats | SportsNation
Buzzmaster
(11:57 AM)
Drew will be here in a couple of minutes!
Drew Bennett
(11:58 AM)
Happy New Year! Let's go!
Ray A. (San Francisco, CA)
How do you feel about the 49ers chances in 2010? Any free agents that you think they should pursue?
Drew Bennett
(11:59 AM)
I don't know of any good DT free agents up this year. Anybody that could make Patrick Willis any better than he is now would be quite an addition.
Dean M. (Portland)
Have the Patriots called you yet? If not, can Edelman fill Welker's shoes?
Drew Bennett
(12:00 PM)
I wish. But those guys are way too quick for me. Edelman could definitely fill in for Welker. I don't think he's quite the player that Welker is, but in that system, he can be just as successful and exploit the same matchups.
Jason (Ellicott City, MD)
How happy are you that you aren't on the Rams any more?
Drew Bennett
(12:00 PM)
Very.
Anthony Powell (Boynton Beach, Florida)
Drew are the Packers the best team in the NFC and do you think they will represent the NFC in the Super Bowl and win it I think they are perhaps the most complete team in the NFL?
Drew Bennett
(12:02 PM)
I love the way the Packers are playing right now. It's always hard to win three games on the road, but now that they're finally protecting Rodgers, it's not out of the question. They're going to face some good offenses if they're going to make it to the Super Bowl and I think pass rush is the only weakness on their team.
Dean M. (Portland)
This tourney seems wide open to me. Is there any team that can't win the Super Bowl?
Drew Bennett
(12:03 PM)
I can't see Mark Sanchez leading his team to three road victories. He might be the QB of the future there and I like his arm strength, but I don't think he's consistent enough yet to win three in row in the playoffs in January.
Tony (Green Bay, WI)
Do you think GB tipped its hand in the game against Arizona this weekend and now has a disadvantage in their playoff game?
Drew Bennett
(12:04 PM)
When you play a team the last week of the season and first week in the playoffs, you get a true coaches matchup. Which team's coach got more information and can utilize it better the following week? It's always very apparent in who wins the second matchup. We'll see this weekend.
Jeff (Boston)
Drew, how much of a loss will it be for the Patriots not having Welker?
Drew Bennett
(12:05 PM)
It's definitely a big loss, but I still think they have a good replacement for Welker. A guy that can still exploit the same matchups. He just needs to make sure he catches the ball as consistently as Welker did.
Kyle (VA)
Drew, how quickly after that last game ends for non playoff teams before players have their lockers emptied for the offseason?
Drew Bennett
(12:06 PM)
30 seconds after the last word the coach speaks in the postseason meeting, there's not a person in the lockerroom.
Steve (Philly)
How difficult is it for a player on a team that's not going to the playoffs to finish out the season that last game? What about if it's obvious several weeks before the season ends?
Drew Bennett
(12:07 PM)
I've been on some really bad teams, including one 0-8 team, and it's really really hard to not look towards January and February. You have to just rely on your competitive nature once you get on the field. You also have to realize you're playing for your job, since obviously your team sucks and people are always looking to make changes.
Tim W. (Troutdale, Or)
Is Marc Bulger done?
Drew Bennett
(12:08 PM)
I think that's a real 50-50 question. I wouldn't bet one way or the other. St. Louis has so many needs they might save their draft pick for a different position and give him one more year.
Geoff (NYC)
Who's the favorite in the NFC?
Drew Bennett
(12:08 PM)
The Vikings finished 12-4 and smashed the Giants. I like their chances.
Dave G. (Portland)
Is Isaac Bruce a first ballot HOF'er?
Drew Bennett
(12:09 PM)
I think it would be hard to argue against a guy that's second in all-time yards.
Holly (Miami)
The Saints and Colts both limp into the playoffs. Do you think they're still the favorites?
Drew Bennett
(12:10 PM)
Any team that has Peyton Manning and homefield advantage has to be a favorite. However, the fact that they lost their last two and the fashion in which they did so let's me think the magic of their season is over.
Dave (Austin, TX)
The Colts go into the playoffs with two straight losses and now don't play for another week, after basically taking this past week off. They pretty much won't play for 3 straight weeks. Should I be worried as a fan? Because I feel very worried right now.
Drew Bennett
(12:10 PM)
I would be worried.
Dave (Chicago)
Drew, do you think a coaching change is needed in Chicago? Prior to these last couple of games, many people thought so. I just hope these last two meaningless games don't change peoples' minds.
Drew Bennett
(12:11 PM)
I'm on the fence on whether to fire Lovie Smith. He wasn't the one out there throwing interceptions and I think his GM has created an over the hill offensive line that didn't let him implement his game plan of run first and sit on your defense.
Jordan (Dallas)
Cowboys and Eagles again next week. Will we see a repeat of yesterday?
Drew Bennett
(12:12 PM)
It would be hard to be against the Cowboys the way they've played the last three weeks, but they are the Cowboys and it is the first round of the playoffs.
Sam (San Diego)
Good move for the Redskins to fire Zorn?
Drew Bennett
(12:13 PM)
Absolutely. Washington is loaded with talent, if you just look at the skill level of each player at each position. I think they need to move on from Campbell and get a coach in there that will utilize the ability of the big name players.
Greg (Denver)
Did Marshall play his last game in Denver!
Drew Bennett
(12:14 PM)
Not if next year is an uncapped year. He is still a restricted free agent if that happens. If not, I definitely think Brandon Marshall looks to go elsewhere and start fresh with a better QB.
Tim (MD)
How much time do players take off after the season ends, especially if they're not in the playoffs?
Drew Bennett
(12:15 PM)
I would say about 30% of the players don't do anything until they're required to by the team in late March. 30% probably take off a week or two and then start training again. Me, personally, along with the rest, probably take off 3-5 weeks before training again.
Will Lucas (Swanzey, NH)
All i have to say is that it will be colts/ Saints in the super Bowl. I DONT CARE about how bad the colts have been the last two weeks it all comes down to one thing...Peyton Manning...Keep him healthy they are unstoppable!
Drew Bennett
(12:16 PM)
Only time will tell. For your sake, I hope you're right.
Dan (Philly)
Did seeing your boy Volek playing yesterday bring back any memories of that ridiculous stretch you had with him a few years back.
Drew Bennett
(12:17 PM)
It was very nostalgic yesterday watching Billy V. throwing the football. All I needed was a tall, skinny white receiver.
Casey H. (Milwaukee)
Is it time for the Raiders to cut ties with JaMarcus and let him join the Ryan Leaf all stars of 1st round draft busts?
Drew Bennett
(12:18 PM)
The time has come and gone when this team should have cut ties with Russell. Al Davis' ego and stuborness has cost them this far. Let's see if he can finally admit fault and get rid of him.
Kevin Christensen (Houston Texas)
The teams in the AFC are real lucky the bengals got thromped against the Jets cause the Texans are a real dangerous team with offesive fire power, and with that they have a chance at winning every game.
Drew Bennett
(12:18 PM)
I don't think anybody would have wanted to face the Texans. It's a shame they couldn't slip in. I think they're a better team than the Jets.
Matty (Enola, PA)
Drew, If the Steelers get Troy back and get a decent corner back can you see them back in Super Bowl contention next year?
Drew Bennett
(12:19 PM)
I was shocked at how much of an influence Troy Polamalu has over this defense. They were not hte same team without him at all. I definitely think with a healthy Troy Polamalu, we're looking a different Steelers team this year and next year.
Squall (Balamb Garden)
Are the Chargers unstoppable, or can the Colts regain the momentum they lost by resting starters? (I agree with John Clayton that nobody else in the AFC has a real shot at taking down those two.)
Drew Bennett
(12:20 PM)
I definitely think the two most dangerous teams are the Colts and Chargers, but just because of the last decade, I can't bet against the Patriots in any playoff situation. For one game, winner take all, it's hard to go against Tom Brady and Bill Belichick.
Matt (Enola. PA)
Drew, are you impressed the way your old team the Titans fought back and finished 8-8 after the 0-6 start?
Drew Bennett
(12:21 PM)
Absolutely. I'm also very impressed with the way Fisher was able to keep composure in the lockerroom. Starting 0-6, usually people start finger pointing and blaming others. This team stayed together and played hard even when they knew they were out of the playoffs.
Ray (NOLA)
Drew do you think the Saints are the worst team going in the playoff ? Since everyone about two write them off.
Drew Bennett
(12:23 PM)
I hope nobody is saying the Saints are the worst team in the NFC playoff picture. This team went 13-3 and has home field advantage. Their RBs and defense will be healthier than they were at the end of the season, with their first round bye. I think the Saints will be very tough to beat.
Matt (Spokane, WA)
The Jets ran for over 200 yards and play good defense. The Texans can say neither of those things.
Drew Bennett
(12:24 PM)
I'll take the Schaub-Johnson combo any day over Sanchez-Edwards. But I hear your argument.
Joe (NYC)
Can we give a shoutout to Chris Johnson for becoming only the 6th player to rush for 2,000 yards and breaking the record for yards from scrimmage.
Drew Bennett
(12:24 PM)
He's a beast.
Charles (Gastonia)
What do you think of the Chargers chances to make it to the Super Bowl?
Drew Bennett
(12:25 PM)
People have said this the last three years when the Chargers went undefeated in December. Is this year really going to be different?
Ryan Goretski (Hartford Wisconsin)
Hey drew, lets say the packers and the Vikings go against each other in the playoffs if they both make it there. Who do you think would win?
Drew Bennett
(12:26 PM)
Just for the story line, I can't help but think that Rodgers would pull one out against Favre. After all the years of being overshadowed and all of the of the comparisons after Favre left, it would only be fitting for Rodgers to pull one out.
joe (NYC)
why all the jet hatred? number 1 D and rushing attack. isnt that what the playoffs are all about??
Drew Bennett
(12:27 PM)
No hatred, just can't buy Sanchez winning three road games.
Josh (Lincoln, NE)
Are you dropping that pass in the picture at the top of the page? It kinda looks like it's going through your hands.
Drew Bennett
(12:28 PM)
A receiver will never admit a drop.
Dean M. (Portland)
Do you have any interest in coaching?
Drew Bennett
(12:28 PM)
I would love to be a coach, but I'm scared of the hours I saw them all put in. All of the receivers coaches that I played for literally did not see daylight at their house from August to December.
Charles (Gastonia)
Drew do you feel Chris Johnson of the Titans is going to be big enough to take the pounding of carrying the rock 380 times a year for 5 or 6 years?
Drew Bennett
(12:29 PM)
That's always the question for guy who carries the ball that many times in the season. Chris Johnson, although powerful, seems to not really take that many big hits and is very good at protecting himself when he gets tackled. He doesn't have the bruising style of Eddie George or Mike Alstott. We'll see.
Drew Bennett
(12:30 PM)
Happy New Year! Thanks for the questions!