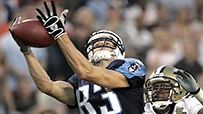 In 2004, Bennett had 1,247 receiving yards and 11 TDs.
Welcome to SportsNation! On Monday, First Take NFL analyst Drew Bennett will stop by to chat about this past weekend's games.
Bennett, who went undrafted in 2001, played eight seasons in the NFL before having his career cut short by injuries. He spent the first six years of his career with the Tennessee Titans and played the last two with the St. Louis Rams. He had signed on with the Baltimore Ravens in July 2009, however a knee injury caused him to retire shortly after signing his contract. For his career, he caught 307 passes for 4,412 yards and 28 TDs.
Bennett appear every Monday on ESPN2's First Take from 10 a.m. to noon ET.
Send your questions now and join Bennett Monday at noon ET!
More Special Guests: Previous chats | SportsNation
Drew Bennett
(11:58 AM)
Welcome back. Let's begin.
Brandon Beasley (Livingston Tn)
MR.Bennet are you satisfyed with the Titans season.
Drew Bennett
(11:59 AM)
Nobody should be satisfied with a season when you don't make the playoffs. But at least there's a promising side to the season. Vince Young has proven that he can be the future QB in Tennessee. There's no better running back than Chris Johnson. They have a bright future.
Radar (Kentucky)
Woul you put Brian Westbrook on your Fantasy playoff lineup?
Drew Bennett
(11:59 AM)
Too fragile. Can't trust him to be there every week.
Rocky (Steubenville)
Drew, Who do you think has the best chance to represent their respective conference in the Super Bowl this year? I say its going to be Chargers vs. Cowboys
Drew Bennett
(12:01 PM)
That's a safe bet. I think this is going to be a quirky year. I do like the way Dallas is playing right now. But the Cardinals did the same thing last year, playing poorly at the end of the season and then surprising everyone to make it to the Super Bowl. The storybook ending is there for Brett Favre, so I'm saying Vikings?? Maybe Ravens.
Shawn (DC)
So Pete Carroll is all about hired, but in order to finalize the deal the Seahawks need to interview a minority candidate (Leslie Frazier) to comply with the Rooney Rule. Why would Frazier agree to interview knowing he has no chance for the job, and how is this no in violation of the Rooney Rule? The purpose is to allow minority candidates a credible change at a heading coaching job. If anything, Seattle blatantly violated this rule essentially interviewing and hiring only Carroll.
Drew Bennett
(12:02 PM)
We debated this in the Green Room this morning before First Take. Is it worth Frazier getting the experience of the interview or is it disrespectful? I say it's a waste of his time.
Justin (wisconsin)
will the colts win the superbowl?
Drew Bennett
(12:03 PM)
I say no. They've been off for a month and history shows that when they sit their team at the end of the season, they lose early in the playoffs. I think by giving up on the perfect season, they've lost that magic and confidence you need to go to the Super Bowl.
Dave W. (Ukiah, Ca)
Drew, I saw in a previous chat that you are a Golden State Warrior fan. As a big Warrior fan myself, I know your pain but keep the faith...they can't be bad forever!!! As for football, what is the reasoning to have the Pro Bowl BEFORE the Super Bowl? I can not imagine a player playing in the Pro Bowl if he has the Super Bowl the following week. Your thought's?
Drew Bennett
(12:04 PM)
Go Warriors! Obviously the guys who are playing in the Super Bowl aren't going to play in the Pro Bowl. I'm on the fence as far as the Pro Bowl being the week before in Miami. It will increase publicity, but part of the appeal of the Pro Bowl was that it was also an amazing vacation to Hawaii.
Dave (NYC)
Drew, what happened with the Patriots? They looked outmanned in every area yesterday.
Drew Bennett
(12:06 PM)
I think Bill Belichick thinking the system was bigger than any player finally came back and bit him. To get rid of Seymour the same year you lose Bruschi and Harrison and trade Vrabel, is putting way too much pressure on young guys who don't have that much experience. Tom Brady's good, but he's not a one man show. Moss is not the same receiver that he has been in years past. It looked like the Patriots expected to win because they were the Patriots. The Ravens had way more energy.
Frank (Arizona)
Drew, it's been a real pleasure watching Kurt Warner ressurect the Cardinals out here. Where do you think he ranks among the best QBs playing now? Of all-time?
Drew Bennett
(12:07 PM)
I think a lot of Kurt Warner's legacy depends on how he finishes out this year. Right now, I think he's a top 10 QB of all time, but not top 5. If he can add one more championship to his resume, then I think he should be talked about in the top 5 QBs. As far as this season, I think he's the fourth best QB, behind Peyton, Brees and Favre.
Dean M. (Portland)
If the Chargers play the Cardinals or Saints in the Super Bowl, might we see a 150 point game?
Drew Bennett
(12:08 PM)
Absolutely. I wonder if the Cardinals are even going to practice defense this week.
Steve (Cincy)
How does an NFL team win with their QB only going 4-10 throwing the ball?
Drew Bennett
(12:08 PM)
Ray Rice, Ray Rice, Ray Rice. And defense. This is very similar to how Baltimore won it in 2001.
Dan (Orlando)
Which team that played this weekend looked the best?
Drew Bennett
(12:09 PM)
The Cowboys. They had no deficiencies in their game. All three phases dominated and Romo is now becoming one of those guys who wills his team to win.
Ryan (Denver)
Which team that had a bye this week are you worried about the most because they had the week off?
Drew Bennett
(12:10 PM)
I think the Colts lose this week. History proves when they rest, they lose. As I said earlier in the chat, I think the magic of their season is over.
Evan (Houston)
Which team that won is in the worst shape?
Drew Bennett
(12:11 PM)
I think Sanchez is going to be a great QB, but he's going to be called on to do a lot more offensively in San Diego and I don't know if he's ready for that. I think they're in trouble.
Jeff (Georgia)
I am a Pats fan. I hate that they lost, but should I not be that upset? They were going to lose prior to the Super Bowl this year anyway, right? So they weren't going to win it all this year.
Drew Bennett
(12:11 PM)
God's a fair man. You can't marry a supermodel, have a baby and win a Super Bowl all in one year.
Ed (San Diego)
Drew! The Jets looked great this weekend but the Bengals dont have the offensive options the Chargers have. Who do you like this weekend?
Drew Bennett
(12:12 PM)
I have the Chargers. They have too many weapons on offense. They're going to make Sanchez throw a lot more than the Bengals did.
Bryan (Arizona)
hey Drew how 'bout them Cardinals, were they the bigger surprise or was it the Jets
Drew Bennett
(12:13 PM)
Very similar to last year's Super Bowl run, without the defense. I hope for your sake it was a defensive fluke and they actually show up for the game this weekend.
Steve (Ann Arbor)
Drew- what do you see your old team, the Titans, doing this offseason? There are alot of players who are potential free agents, and with a franchise who doesnt usually dole out big contracts, do you see them retaining/going after free agents, or rebuilding?
Drew Bennett
(12:14 PM)
I'll be real interested to see what they do with Keith Bulluck. His contract is up and he tore his ACL. He's been a staple there for 10 years and has been very underrated the whole time. They seem to have replaced Albert Haynesworth OK. Maybe they should go after a big, tough MLB or someone to replace Bulluck if they're not going to resign him.
nate (school)
do you think the cowboys have a real chance to go through the NFC and make it to the superbowl?
Drew Bennett
(12:15 PM)
No one's playing better right now. Can Romo hold it together?
Nate (Madison)
You're a former WR. When did it become legal for a WR to plow over a DB during his route? Fitzgerald did it on both his TD's yesterday, to Woodson, had that been the other way around you know a flag would have been thrown (meaning Woodson knocking Fitz down)
Drew Bennett
(12:16 PM)
If his name wasn't Larry Fitzgerald, he would have been called probably for both, definitely the second touchdown. I don't know how they could watch that second TD and just let him do that.
Hayden (Logan, Utah)
is carroll running from NCAA sanctions? Can he do that?
Drew Bennett
(12:17 PM)
As a Bruin, he's definitely running from sanctions headed that way. As shady as it is, I don't know what the answer is to protect from coaches doing this. See Calipari at Kentucky.
Chad (Las Vegas)
How's that Philly pick working out for you?
Drew Bennett
(12:18 PM)
You got me pegged. Although after I saw them play that last game of the season, I changed my pick. Dallas is definitely the better team.
Bryan (Arizona)
Drew alot was said about Arron Rodgers cool composure on the telecast i think he may need to show a little more passion during the game when a sense of urgency is needed. what about you
Drew Bennett
(12:19 PM)
I know Aaron, that's just his demeanor. I know he demands a lot of his players without being boistrous. I don't think he needs to change anything. 422 yards speaks for itself.
Chris A (Bella Vista, AR)
Who throws less passes: Sanchez or Flacco?
Drew Bennett
(12:19 PM)
Warner had more TDs yesterday than Flacco had completions. Let's hope they don't meet, because the game will only last an hour and a half and be 3-0.
MEGAN (OHIO)
drew, do you see mike holmgrn making a big difference to the browns?
Drew Bennett
(12:20 PM)
Cleveland is a major project. So, maybe not an instant fix, but I think Holmgren is obviously a great mind and can change the current losing trend up there.
Chris (Vermont)
Can Dallas continue their recent success with all of the penalties? Thanks..
Drew Bennett
(12:21 PM)
I think the way Dallas is winning even with the penalties, winning won't be a problem.
Rob (NY)
is josh cribbs greedy or does he deserve what he wants
Drew Bennett
(12:22 PM)
I think there are a few times in the NFL when players have the leverage. This is one and I think he deserves to be paid accordingly. I don't think it's fair that they discount what he accomplished or how dangerous he is.
Ray (NOLA)
Drew, do how you feel about the saints/ cards games?
Drew Bennett
(12:23 PM)
Since everyone, including myself, thinks this will be a track meet, the final score will probably 14-10. I have to imagine with this much time off, Sean Payton has designed a game plan that will be successful against the Cardinals. There has to be some sort of hangover from such a difficult, long game against the Pack.
Jason (Ellicott City, MD)
I know the NBA is notorious for inflating players' sizes, does the NFL do this with WRs and DBs?
Drew Bennett
(12:24 PM)
Very random question. I like it. I'd say the average is a half an inch in height and the weight is pretty much right on.
marley (va)
who do u think should have won the mvp
Drew Bennett
(12:25 PM)
I think Peyton Manning deserved it, but I think it's shocking that Chris Johnson didn't get a single vote, having broken the NFL record for most yards from scrimmage.
Jason (Ellicott City, MD)
Is Revis the defensive MVP or should someone like Patrick Willis get some love?
Drew Bennett
(12:26 PM)
Patrick Willis is the unanimous Defensive MVP if they go to the playoffs. With that being said, Revis held every No. 1 receiver to 35 yards or less through the regular season, giving that defense much more flexibility than any other team. Charles Woodson definitely did not play like an MVP last night.
Dave G. (Scappoose)
Has Jason Garrett put himself back on the radar for a head coaching job?
Drew Bennett
(12:27 PM)
He needs to win one more. Without that, they are still the Cowboys that can't pull it off in January.
Mark (Denver)
I see the Cowboys trashing Minnesota's passing game same way they did with the eagles...same game plan...u agree?
Drew Bennett
(12:28 PM)
Donovan McNabb was definitely uneasy in the pocket, which is why I think their passing game had so much trouble. If they can get to Favre and keep him uncomfortable in getting hit, they should be good to go.
Leon Gonzales (troy,ohio)
Cheaters!!Why wasn't the face mask penalty called or incomplete pass at the end of the Green Bay Arizona game?Cheaters!!!
Tim W. (Troutdale)
From what you know of him, could you see Jeff Fischer going to USC?
Drew Bennett
(12:29 PM)
I would be absolutely shocked if Jeff Fisher went anywhere. He's a staple in Nashville. He runs that town and has all the control over that franchise.
Drew Bennett
(12:29 PM)
Thank you very much.