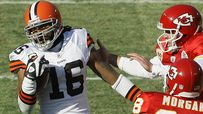 Cribbs has 10 career returns for TDs.
Welcome to SportsNation! On Monday, Cleveland Browns' wide receiver/kick returner Josh Cribbs stops by to talk about the NFL postseason.
After playing quarterback in college and going undrafted in 2005, Cribbs has quickly established himself as one of the most exciting players in the NFL. In just his fifth year in the league, he has returned 10 kicks for touchdowns - 8 kickoffs and 2 punts - including at least one per year. His eight kickoff returns for TDs is an all-time NFL record.
Following this season, Cribbs and the Browns came to an impass on negotiations for a contract extension. Cribbs received a reported $1.4 million per year offer that he felt was so low that he cleaned out his locker at the Browns' training complex. Despite his contract situation, Cribbs is still active in Cleveland with his Bounce City, an indoor playground and arcade for kids that he runs with former teammate Darnell Dinkins.
Send your questions now and join Cribbs Monday at 1:15 p.m. ET!
More Special Guests: Previous chats | SportsNation
Buzzmaster
(1:05 PM)
Josh Cribbs should be here shortly to chat with everyone!
Buzzmaster
(1:24 PM)
Josh is here!
Darnell Dinkins (Bounce City)
Hey is it true that you're so fast when you turn out the lights to go to bed at night you're in bed before it gets dark??
Tony (Akron, OH)
If the Browns refuse to offer you a a new contract and also refuse to trade you, wouldn't you be forfieting your salary by sitting out? Is that something you are seriously considering?
Josh Cribbs
(1:28 PM)
I don't believe it will ever come to that. For the Browns, it's just business and that wouldn't be smart on their behalf.
Austin Barnard (Wooster, Ohio)
How do you feel about fellow Golden Flash Julian Edelman?
Josh Cribbs
(1:28 PM)
Inspired. Proud and inspired. We Golden Flashes stick together and he's representing Kent State to the fullest.
Josiah (Cleveland)
When catching a punt, what is the first thing you look for when trying to break a big gain?
Josh Cribbs
(1:29 PM)
The gunners. The blocks on the gunners. Those are the first threat. Getting past them. After that, it's getting past the first wave of defense to hopefully meet the kicker one on one.
Sean (Columbus)
I am behind you but your timing is terrible. Why aren't you waiting until new President Mike Holmgren gets settled in and the rest of the front office settled?
Josh Cribbs
(1:30 PM)
They offered me a contract, take it or leave it. After Holmgren had already gotten in. So, they told me to take it or leave it. They gave me the offer first. I respectfully declined their offer.
Swade413 (SportsNation)
Who is the best athlete to come out of Dunbar High School - Vernon Davis, vontae davis, or Josh Cribs?
Josh Cribbs
(1:31 PM)
Josh Cribbs. Hands down. You have to have confidence in yourself. Confident, not cocky.
Kevin (Cleveland)
Josh, how did you and Darnell come up with the idea for your Bounce City business? Do you like how it's going so far?
Josh Cribbs
(1:32 PM)
We both have kids that we both needed a way to burn off excess energy. We soon realized that a lot of people have kids who need to burn off excess energy, especially in Cleveland with the inclimate weather. It's going great. Could be going better with the economy, but it's going good.
firedan1143 (Northeast Ohio)
Do you think you could be even more productive in the Cleveland Browns offensive system, if they allowed you to pass out of the Wildcat formation more often?
Josh Cribbs
(1:32 PM)
Definitely. I believe it will soon come to that. Defenses have a hard time defending that and that will only add to its effectiveness.
megan (ohio)
my dad raised me a browns fan, i am 34, lived through it all with this team of my heart... i just want to let you know josh, no matter the end result, know that we love you, you have been a shining light to this team and to this city. much love
Gregbrzozowski (SportsNation)
Josh, are you the most dynamic and exciting player in the NFL?
Josh Cribbs
(1:34 PM)
I couldn't answer that question. I think that's up to the fans to decide. In my opinion, the NFL is full of exciting and dynamic playes when given the opportunity.
Drew (Green Bay, WI)
Do you see yourself more as a kick return specialist, WR, RB, QB or something else?
Josh Cribbs
(1:34 PM)
Athlete. Jack of all trades that can produce at all of them. The more you can do.
J.B. (Dunmore, PA)
Which is most satisfying to you: Running for a score, making a catch for a score, or throwing for a score?
Josh Cribbs
(1:35 PM)
Running. There's nothing like having the ball in your hands going across the end zone.
Keith (Akron)
Josh,I'm a life-long Browns fan, and me and my friends are all big fans of you; my question is what can the fans do to help?As a side question, we think your dreadlocks make you look like a predator (like the movie), are you cool with that?Thanks.
Josh Cribbs
(1:36 PM)
Continue to be themselves, supportive. I always welcome constructive criticism from the fans, the people who ultimately pay my salary.
Bill (NY)
Who wins in a foot race...you or Chris Johnson?
Josh Cribbs
(1:36 PM)
You got me. Your guess is as best as mine.
Ryan (Canada)
Josh, have there been any negotiations since the last offer?
Josh Cribbs
(1:36 PM)
None.
Josh Cribbs
(1:36 PM)
I would hope so, but not at this time.
Bob Geniusz (Chicago)
Do you think you could succeed as a full time feature running back? BTW, can't wait to see you opening day at The Stadium with your fat new contract
Josh Cribbs
(1:37 PM)
Definitely. I would never limit myself to just one position. But I do what my team needs me to do to help them win.
Bobbo (NY)
Who do you think is gonna win the superbowl? And who are you pulling for?
Josh Cribbs
(1:37 PM)
Pulling for the Ravens, because they're in my division. If we can't win it, why not someone from my division.
Dave (Cleveland)
Besides yourself, who is the most dangerous player on the Browns offense?
Josh Cribbs
(1:38 PM)
Jerome Harrison.
SprungOnSports (Long Island)
Now that you declined your take it or leave it offer, what's next for you over the coming weeks and months?
Josh Cribbs
(1:39 PM)
Concentrating on Bounce City.
Yosef (TR SC)
About balance... are you happy with the ratio of return plays, receiver plays and wildcat plays? What else would you like to do more of?
Josh Cribbs
(1:40 PM)
I can only do so much, so they're trying to find a good balance of good plays at every position to satisfy me, while helping them win.
Russ (FL)
Josh, great season. How would you gameplan against the Ravens' D?
Josh Cribbs
(1:41 PM)
Taking what they gave me. Short stuff. After the short stuff, the playaction, getting them sucked up. Knowing that they like to rob a lot of the incuts. Lots of playaction. They must start with the running game to open up the passing game.
megan (ohio)
do you think this is just hardball, and eventually there will be an agreement so you can stay?
Josh Cribbs
(1:42 PM)
Hopefully so, because I would really love to stay a Cleveland Brown. But in the end, I have to do what's best for me and my family.
Mike Scholze (Wooster, Ohio)
What do you feel would be an acceptable contract offer?
Josh Cribbs
(1:43 PM)
Market value. Just compare me to guys that play my position and calculating my productivity across all of that and doing what's fair. And presenting a fair offer.
WFNYScott (Cleveland, OH)
Are you wearing your arm socks while taking part in this chat?
Josh Cribbs
(1:45 PM)
Yes, I'm wearing them underneath my dress shirt. You know that's where my power is.
Josh Cribbs
(1:45 PM)
Thank you for all your support. I will continue to represent you, myself and the fans of Cleveland to the fullest.