Chat with Siena's Ronald Moore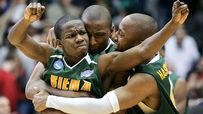 Ronald Moore is passing his team to the top of the MAAC.
Welcome to SportsNation! On Friday, we'll find out if Siena senior guard Ronald Moore is as good in dishing out answers to your questions as he is in dishing the rock to his teammates when he hits up SportsNation in the chat room.
Moore currently leads the country in assists, averaging 8.7 per game. His 148 assists leads all divisions of college basketball. He has already had seven games of 10 or more assists, including 11 Monday night in a win over Canisius. His 2.79 assist to turnover ratio is tied for 14th in the nation.
Siena plays at Fairfield Saturday at 4 p.m. ET. The Saints lead the MAAC with a 13-4 record, including 6-0 in conference play.
Send your questions now and join Moore Friday at 3:30 p.m. ET!
More Special Guests: Previous chats | SportsNation
Buzzmaster
(3:17 PM)
Ronald should be here soon to take your questions!
Buzzmaster
(3:26 PM)
Ronald's here!
Jon Brantz (New York City)
Romald - tell the truth, could any of your success be possible without the whoopings your brother and i would put on you in the driveway to toughen you up??? We love you Rizz, so proud!
Ronald Moore
(3:27 PM)
No, I wouldn't that successful without getting beat up when I was younger playing against my brother and all the older guys I would play against when I was younger.
AR (MN)
Siena is obviously the favorite to win the Metro Atlantic championship. Which conference foe do you think will be your biggest challenge?
Ronald Moore
(3:28 PM)
I would have to say Fairfield at this moment. They're second in the MAAC. They have a lot of talent this year from top to bottom.
Tre (Norristown)
Yo cousin what's up haven't been able to check out your games lately but how is everything going in your senior year? Do you think the team has the talent to make some noise in the big dance and reach the Sweet 16 and beyond?
Ronald Moore
(3:28 PM)
I definitely think we have the talent to make the NCAA Tournament again and even go further this year.
Mark (Albany, NY)
Who came up with your nickname 'The Maestro'
Ronald Moore
(3:29 PM)
My high school coach did. He used it while getting interviewed one day and people in Albany found out about and ran with it.
Egan (Albany , Ny)
What is the hardest part about being a college basketball player and still going to school?
Ronald Moore
(3:29 PM)
Trying to catch up on work and stay focused and still doing work on the road. Missing class.
Roland (Norman Oklahoma)
Ronald, with Siena's fast tempo, and your super assist to turnover ratio, how are you able to consistantly find that open player while being pressured by various defenses? Do you anticipate a certain movement by opposing players, or does that court just look that wide open to you for a pass?
Ronald Moore
(3:30 PM)
Being a senior now, we've been hit with a lot of pressure defenses. We usually do a good job of preparing for it as a team. Fortunately, there are a lot of guys on the team that are ready to catch the ball and finish the play.
Mary (San Diego, CA)
What's your favorite part about attending a school with just under 3,000 undergrads? When you guys played that first round game in Dayton, Ohio -- just 75 miles from Ohio State's campus of more than 50,000 students, did you ever wish you played for a big huge state school?
Ronald Moore
(3:32 PM)
It's definitely fun to see how many fans came out for Ohio State. Even playing against other schools that we've played against over the years, Kansas, Memphis, who have a large attendance every night. But I think that at Siena, being a mid-major school, we have a great fan base and good college atmosphere that supports us.
Mike (Clifton Park, NY)
Good luck tomorrow Ronald. What do you think the team can improve on?
Ronald Moore
(3:33 PM)
We can improve on a lot of different things. Mainly, not having slow starts at the beginning of the game is something that puts us behind early and causes us to fight from the beginning of the game. Jumping on teams from the tip off.
AR (MN)
How special was it to hit the game-winning shot in an NCAA Tournament game against Big Ten power Ohio State?
Ronald Moore
(3:33 PM)
It was probably the greatest moment in my life. It was one of those things that as a kid everyone jokes around, counting down and hitting the game winner, but to do it at that point in time made it special.
R. Thompson (Lawrenceville, NJ)
Does the media attention ever get old?
Ronald Moore
(3:34 PM)
It does some times, especially when you get asked the same question, just in a different form, from numerous reporters. But at the same time you have to live it up because not a lot of schools get the same media attention we get. They're just trying to do their jobs.
Kevin (Denver CO)
Hey Ronald do you think you are going to start getting more open looks because teams are more looking for the pass
Ronald Moore
(3:35 PM)
Definitely. I am already starting to see it now. A lot of teams are looking for me to make the next open pass, so they're laying off me. I'm going to start using it to my advantage and scoring the ball. So they'll have to look for me to do a combination of both.
Chuck (Plymouth Meeting, PA)
Ronald, I have watched you grow and develop as player ever since you were starting as a freshman for Plymouth Whitemarsh High School. I want to commend you on your hard work and dedication that has made the excellent player that you are today. I am proud of your accomplishments and the success of Siena, but I am even prouder to call you my brother. Go Saints! Chuck Moore P.S. Im still undefeated
SaintlySaint (New Jersey)
Kyle Downey is really starting to fill his role nicely, what's been the biggest change in his game the last 3 weeks?
Ronald Moore
(3:37 PM)
REally just being confident in his jumpshot. He's struggled early. Everyone knows on our team that he can shoot the ball. He just had to get his confidence going and the shots started to flow. He's getting his shot in our offense.
Chet (Albany, NY)
Ronald: What do you think that you and the Saints can do to improve your free throw shooting ??
Ronald Moore
(3:38 PM)
We practice them every day. All you do is practice. There's nothing you can do to similate the pressure in the game and the fatigue. It's repitition so that our form is locked in so that even when we are tired we can knock them down.
Brendan (Albany, NY)
Hi Ronald, How does it feel to know that you have been a part of possibly the best 3-4 year stretch in the history of Siena basketball?
Ronald Moore
(3:38 PM)
It feels great. I'm just happy to come in with a group of guys that are talanted, unselfish and play together as a team. We have the same goal. That's hard to find on a team. We're just lucky to accomplish a lot of the things that we have accomplished.
sienapepband (albany)
any suggestions for new pep band songs??
Ronald Moore
(3:39 PM)
I don't know. Keep up the good work.
Brad (Gadsden,Alabama)
Ronald , Who is going to win the Super Bowl?
Ronald Moore
(3:40 PM)
My Eagles got killed, so I can't say them. I'll go with the Cowboys.
Jerry (Albany, NY)
How is the tour at ESPN going? See any big personalities?
Ronald Moore
(3:40 PM)
Scott Van Pelt, Brian Kenny, Linda Cohn.
Ronald Moore
(3:41 PM)
We saw Kordell Stewart.
Bill (Utica, NY)
Ronald,What are you goals for the remainder season, for you personally and for the Team? What about next year? Do you see a future in basketball for yourself whether its playing or just involvement in the sport in some way?
Ronald Moore
(3:42 PM)
We definitely want to win the rest of the season, something we did last year and the year before. We want to go and win the MAAC conference and go as deep as possible in the NCAA Tournament.
Ronald Moore
(3:42 PM)
Thank you for joining me on the chat. I enjoyed the questions. Hopefully, you'll follow the team for the rest of the season.