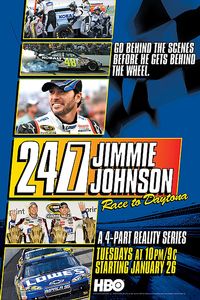 Welcome to SportsNation! On Wednesday, we'll start looking to the 2010 NASCAR season when reigning Sprint Cup champion Jimmie Johnson stops by to chat.
Johnson, driver of the No. 48 Lowe's Chevy, won his unprecedented fourth straight Cup last season. He won seven races, including four during the Chase for the Cup. Johnson has finished in the top five in the points standings ever year of his Cup career.
Johnson will be featured on HBO's critically acclaimed "24/7" series with the four-episode, all-access "24/7 Jimmie Johnson: Race to Daytona." The show will chronicle Johnson and his team as they prepare for the Daytona 500 that runs Feb. 14. HBO's show debuts Jan. 26 at 10 p.m. ET/PT and gives viewers an inside look as the team prepares for the biggest race on the NASCAR schedule.
Send your questions now and join Johnson Wednesday at 11:30 a.m. ET!
More Special Guests: Previous chats | SportsNation
Jimmie Johnson
(11:30 AM)
Hello all, let's get started!
dz (phx, az)
is this off-season any different than the previous ones? what is your favorite thing to do with chad during the off-season?
Jimmie Johnson
(11:31 AM)
During the offseason I like to spend quality time at home and I travel as a family. I like hanging out with Chad without the pressure of race weekend.
Nancy Anne Johnson (Ontario, Canada)
In addition to your on-track accomplishments, what are you most proud of in your life and why?
Jimmie Johnson
(11:32 AM)
I'm very proud of the great relationship I have with my wife and all the relationships in general. The relationship I have with friends and family are very important to me.
Brad (Gadsden,Alabama)
Jimmie, Do you have any pre-race rituals?
Jimmie Johnson
(11:33 AM)
Not really. I've had things over the years but they all seem to fade. I usually just stretch and eat a good meal before the race.
Brandon (Ohio)
Big fan here Jimmie, how do you react to those who boo you? Get a 5th cup Jimmie!!!!!
Jimmie Johnson
(11:34 AM)
I understand that everyone has their guy and I've found myself at other sporting events booing the other team while cheering for my team. It makes sports what it is.
Gene (Ohio)
What do you think of NASCAR getting rid of the wing?
Jimmie Johnson
(11:35 AM)
I think it's going to be helpful. It will make the car look more like a stock car. It will help the car stay grounded when they spin out. I think it will be a big change.
Brandon (Canton, Ohio)
What's the greater accomplishment: 8 championships or 201 victories?
Jimmie Johnson
(11:36 AM)
(Laughing) I have no idea!
Chris Fiegler (Latham,NY)
How do you think Danica Patrick will do racing in both The Izod IndyCar Series & The NASCAR Nationwide Series?
Jimmie Johnson
(11:36 AM)
She has a steep learning curve for the stock car so everyone needs to give her time and then form an opinion.
Ryan (Reynoldsburg,Ohio)
Who is the toughest driver to race aginst with 3 laps to go
Jimmie Johnson
(11:38 AM)
When you're racing for the win, then it's pretty much everyone. Everybody is using all the tricks in the book to win. But the hardest guy to pass is Ryan Newman.
David (Tempe, AZ)
How is like racing with a teammate like veteran Mark Martin?
Jimmie Johnson
(11:39 AM)
Mark is such a great guy to compete against. He helps us all dig deeper to desire more success.
Rob (Owasso, Oklahoma)
Jimmie, Congrats on 4 in a row! What do you think will be the hardest part of going for 5 this year?
Jimmie Johnson
(11:40 AM)
It's hard to say. I haven't been in a car since Homestead but in the chase, it's typically avoiding bad luck.
D West (C'Ville)
Jimmie Johnson is the greatest driver of all time! I don't even like nascar and i know that.
Jimmie Johnson
(11:41 AM)
(Laughing) Thank you!
Todd (Brentwood, TN)
What driver that did not make the Chase this past year do you feel will make the Chase this season?
Jimmie Johnson
(11:41 AM)
Matt Kenseth
Michael (El Cajon, ca)
Who makes a better carne asada burrito - Los Ponchos or Sobreros?
Jimmie Johnson
(11:42 AM)
(Laughing) I have to go with Los Ponchos.
Dave (NYC)
How pumped are you to be a part of HBO's 24/7 series?
Jimmie Johnson
(11:42 AM)
Very excited. It will do a lot for myself and our sport.
Jimmie Johnson
(11:43 AM)
Thanks to everybody for being apart of the chat. Thank you to all my fans for the support. I look forward to giving all of you something to cheer about in 2010.