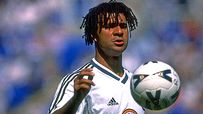 Gullit played in the 1990 World Cup for Netherlands.
Welcome to SportsNation! On Monday, we'll be chatting international soccer, especially the 2010 World Cup, with Ruud Gullit.
Gullit, a former Netherlands national team member, led his country to a win in the 1988 Euro championships. He was named the 1987 European Footballer of the Year as well as the 1987 and 1989 World Soccer Player of the Year. Gullit played from 1979-1998, scoring 175 goals. Following his playing career, he went into coaching and last coached the Los Angeles Galaxy from 2007-08.
Gullit will be ESPN's lead studio analyst for the 2010 FIFA World Cup, which starts June 11.
Send your questions now and join Gullit Monday at 2:30 p.m. ET!
More Special Guests: Previous chats | SportsNation
Buzzmaster
(2:16 PM)
Ruud will be here at 2:30 p.m. ET to take your questions!
Buzzmaster
(2:36 PM)
Ruud is here!
Ryan (CA)
Would you say that this World Cup is fairly open, or are there one or two heavy favorites that we should see win it all?
Ruud Gullit
(2:37 PM)
I think Brazil is one of the favorites to do well. The expectations of Spain are high. We always have the same kind of players that are tournament players, teams like Germany, Italy. Those are the usual suspects. I hope this year that Holland will do well.
Sam (Atlanta)
In 2006, we saw Portugal finish fourth...can they have another strong showing this time around?
Ruud Gullit
(2:38 PM)
They could, because finally they have a striker. The main problem for them was always that they didn't have a striker. Playing wise, they were up to it, but scoring goals is still important.
Fred (Illinois)
Where does Landon Donovan rank among the best players in the world in your opinion?
Ruud Gullit
(2:39 PM)
I think Landon is the best player in America. The most skilled. In the MLS, he knows he can rely on his talent. Now, he can't do that in Europe. He knows he's not the best of the bunch any more. But he does have the talent. For him, it's important for him to adapt to the quickness of the game and the pressure. If he can do that, he can be an exceptional player.
Fred (Texas)
What's the biggest challenge from going from being a player to being on TV talking about the games?
Ruud Gullit
(2:40 PM)
I think after a while you're 34, 35 you know that your body can't do it any more. You have to listen to your body, because your mind is telling you can do it. But on TV you're still involved in the game and you can see it develop, you're just not on the pitch. It's very nice.
Hank (Buffalo)
What's the biggest thing prevented one of the big name teams, like a Brazil, from winning it all, or at least going far in the tournament?
Ruud Gullit
(2:42 PM)
It depens on a lot of teams. You need a little bit of luck. Not only luck in the pitch, but luck in preventing injuries. Most players come from leagues that have a lot of games. You're going to be tired already arriving in the tournament. So, to get these players 100% that's the most difficult. Therefore, it's better to not play as well in the beginning and then starting to build up a little bit. In 1988, we lost the first game, then we were lucky to win the second and third game and when we beat Germany, we played well. IT's all built up.
Dan (Chicago)
What do you think prevents soccer from really becoming a big sport in America?
Ruud Gullit
(2:44 PM)
I think that a lot of people want to defend their own sports, like American football, baseball and basketball. But nevertheless, this soccer is becoming huge. I think it will take at least two or three generations before it's accepted as a sport in America. It will come. But it takes a while. If the national team plays in America, most of the times all the foreigners will come to the game. Americans will come to the game, but they're not quite sure what to do with it. But it's one of hte biggest growing sports in America.
Greg (Denver)
From where will you be doing your studio work - S. Africa or from ESPN?
Ruud Gullit
(2:44 PM)
I will be in South Africa.
vic (ny)
hey ruud, brasil has to be the hands down favorite. do you think dunga should risk chemistry and give dinho one last shot or should he leave the squad who has performed great the way it is. and do you agree with me when i say that robinho is the most overrated player in the world? he stinks!
Ruud Gullit
(2:45 PM)
There's a big issue with the older players now adays. They want to go back to the national team. Beckham. Ronaldinho. It depends on the performance of the day. I think Dunga wants to go with the best players and he has them.
Sven (Virginia)
Do the Americans have any chance to finish in the top 3?
Ruud Gullit
(2:46 PM)
I don't think it will happen, even though they have a good team. But it will come eventually, because the potential is there. I see the Americans talent as rough diamonds. It has to be shaped and it has to be done by people who have a lot of experience. That's what the Americans miss, coaching wise, the experience.
Justin (Colorado)
Does the somewhat similar climate in South Africa favor the South American teams?
Ruud Gullit
(2:47 PM)
No. It's not the time, it's winter in South Africa. It's winter time, so you have to have your coats on. The game will be much faster than normal. The only disadvantage some have is the altitude.
Dave (Boston)
When do you travel out to South Africa?
Ruud Gullit
(2:48 PM)
You make sure you are there well before the games. You get all the information that you need before the games.
Ruud Gullit
(2:48 PM)
You make sure you are there well before the games. You get all the information that you need before the games.
Hartland (Georgia)
how do you like Team USA's draw?
Ruud Gullit
(2:49 PM)
England is of course the major one. Algeria didn't do very well in the Africa Cup. I think USA can get to the second round.
Dave (New Jersey)
The flopping is one aspect of the game that really turns me off, as I'm sure it does to other novice American viewers. What can/will they do to crack down on this behavior in the WC?
Ruud Gullit
(2:50 PM)
It's an issue. But it depends on the referee. If he sees something different between diving or being tackled. It could be a vital moment in the game and because of that, people try to get free kicks around the box. It's a bad thing, FIFA tries to ban it, but it's still difficult.
Jeff (CA)
Who is your darkhorse to win it all?
Ruud Gullit
(2:51 PM)
Portugal.
Ty (San Francisco)
What's changed the most about the game since you played?
Ruud Gullit
(2:51 PM)
I think it's quicker. The physical condition of the players. It's more demanding. And of course the interest. There's so much interest now. And there's so much money involved.
Dennis (Denver CO)
Do you see the death of Enke on Germany's national team being a motivator for them?
Ruud Gullit
(2:53 PM)
It means that sportsment are not immortal people. They are people with issues. It makes them human. We always have to show the outside world that we are tough, but we have internal issues as well. It's of course an issue for clubs, to not only think about their physical state, but their mental state that's important. The pressure that you play under.
David (Chicago)
Will there be any type of "ball controversy" this year?
Ruud Gullit
(2:54 PM)
It's a new ball. I saw it. You have to get used to it. I'm curious to see how it plays. It's new. I'm curious just to see. To see the comments about the ball. The ball is not made for the goalkeepers and they're the ones with the comments about it now.
Brad (Gadsden,Alabama)
Ruud, What is USA's key to beat England?
Ruud Gullit
(2:55 PM)
I think a good game plan. Patience. But not in waiting to see what the opposition is doing, but also in being able to keep the ball as long as you can for your team. Waiting for the opposition to come out a little bit so you can create space. Play your own game.
Zack (Los Angeles)
Do you think the game should at least relax the offsides penalty rules, even if it just means more shots on goal. I think just getting more shots on goal would sell the game more.
Ruud Gullit
(2:56 PM)
No. No. They tried it once in a tournament and its horrible. Then you get a long pitch and a long team and it's only you kicking it and running forward. The best is when the teams are close together. That's what you see in American football too. The teams in close and tackling each other in close.
Ruud Gullit
(2:56 PM)
I think the most important thing is to enjoy the game. Enjoy the enthusiasm of the crowd and learn something tactically about the game.
Buzzmaster
(2:57 PM)
Thanks for chatting Ruud.