Chat with Shaun Alexander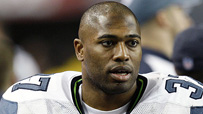 Seattle chose Alexander with the 19th overall pick in the 2000 NFL draft.
Welcome to SportsNation! On Thursday, former NFL running back Shaun Alexander will stop by to chat about Super Bowl XLIV.
Alexander, a nine-year NFL veteran, played all but one year of his career with the Seattle Seahawks. He helped lead his team to Super Bowl XL, before losing to the Steelers 21-10. He earned the 2005 MVP by rushing for 1,880 yards and 28 TDs, tying him for second all-time in single season rushing TDs.
Alexander also appeared on the cover of Madden NFL 2007. EA Sports has teamed with Doritos to allow fans to vote for the cover athlete for Madden '11. Go here to vote for either Jared Allen, Drew Brees or Reggie Wayne.
Send your questions now and join Alexander Thursday at 1:30 p.m. ET!
More Special Guests: Previous chats | SportsNation
Shaun Alexander
(1:35 PM)
I'm excited to chat with you all. Let's get started!
AR (MN)
What was the most special memory of your Super Bowl appearance with the Seahawks?
Shaun Alexander
(1:36 PM)
I think the excitement of being in the Super Bowl. Those two weeks mark your life forever. I really enjoyed the entire process even though it was in Detroit instead of Miami.
Bill (CA)
Are you disappointed that the one Super Bowl you went to was in Detroit?
Shaun Alexander
(1:36 PM)
(Laughing) I played in the Orange Bowl in college so Miami wouldn't have hurt.
David (Florida)
Hey Shaun."How does it feel to win an MVP Award and almost rush for 2000 yards in a season?
Shaun Alexander
(1:37 PM)
It's exciting because the offensive linemen, fullbacks and even the quarterback set a goal to do something special and to be able to accomplish that goal is always sweet.
Brandon (Florida)
Hey Shaun, Who was your favorite childhood athlete?
Shaun Alexander
(1:39 PM)
I grew up loving Walter Payton. My dad used to always show us film of him. I'm from Cincinnati so I also loved the Bengals. Seeing them make it to the Super Bowl when I was in the sixth grade was great. I was also a huge fan of Barry Sanders who came on while I was in high school.
robert (toronto)
What do you think the score will be for the super bowl game?
Shaun Alexander
(1:41 PM)
I think it will be 27-20. If there is a lot of scoring then I see the score being 38-21.
Michael B (Kentucky)
Hey Shaun! Fellow Kentucky native here! First of all, who ya got in the Super Bowl, and secondly, have you officially retired or still thinking of a comeback? Thanks and God Bless!
Shaun Alexander
(1:43 PM)
Love Kentucky and all my people out there. I think the Colts will win but I would like to see the Saints win because I have more friends on that team. I will only comeback if the right situation presents itself.
Hayden (Logan, Utah)
are you gonna coach? commentate? or buy a used car lot?
Shaun Alexander
(1:44 PM)
(Laughing) I'm actually going to commentate while coaching at my used car lot!
Shaun Alexander
(1:44 PM)
I'm not sure what I'm going to do. I love speaking, the game of football and TV so I'm not sure what's next for me.
Tyler (Arkansas)
While your days in Washington were very few. What was it like being inside that organization?
Shaun Alexander
(1:46 PM)
It was exciting to be aprat of an organization that had won a Super Bowl but at the same time you could tell that they weren't the same organization they once were. They weren't like Seattle was when I left.
Hayden (Logan, Utah)
what is a moment on the feild that you will never forget?
Shaun Alexander
(1:47 PM)
When we won the NFC Championship. We knew that we were going to the Super Bowl and that we had the chance to do something great. Playing in the Super Bowl was also a great feeling.
James
what college player are you excited to see play in the bigs?
Shaun Alexander
(1:49 PM)
Wow! Pretty much anybody on the University of Alabama team. They played an all around great game in the National Championship. I'm also excited to see Colt McCoy and Sam Bradford.
Shaun Alexander
(1:49 PM)
Sorry guys I have to cut this short. It's crazy down here in Miami and I have a bunch of other interviews to do. It's been fun and hopefully we can do it again soon.