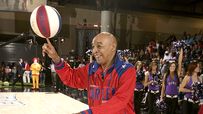 Neal is one of 28 Harlem Globetrotter Legends.
Welcome to SportsNation! On Wednesday, former Harlem Globetrotter Curly Neal stops by to chat as part of ESPN.com's tribute to Black History Month.
Known as one of the most supernatural shooters and dribblers in basketball history, Neal entertained fans all over the world for 22 seasons (1963-85). He played in more than 6,000 games in 97 countries.
On February 15, 2008, Curly became just the fifth Globetrotter in the team's history to have his jersey retired. His No. 22 jersey hangs in the rafters at Madison Square Garden. To thank him for his years of service, the Globetrotters presented him with a "Legends" ring on June 25, 1993.
Send your questions now and join Neal on Wednesday at noon ET!
More Special Guests: Previous guests | SportsNation | Chat Index
Buzzmaster
(11:42 AM)
Former Harlem Globetrotter Curly Neal will be by a noon ET to take your questions!
Buzzmaster
(12:00 PM)
Curly is here!
Dave (NYC)
Why do you think the Globetrotters have been so successful?
Curly Neal
(12:01 PM)
Family entertainment. Doing things for the children, elementary kids. Keeping a positive attitude. Making intelligent decisions. Dreaming your dream. And the most important thing is education, with a smile.
Dave (Boston)
Curly, do you ever wish that you could have shown off your abilities in the NBA?
Curly Neal
(12:03 PM)
Yes, I do. Yes and no. The Globetrotters have been an education in itself. I think about that sometimes. I know I would have been a top guard like Isaiah Thomas or someone like that. But we've helped so many people around the world. We've played in over 7,000 games and made people happy, traveling to 97 countries.
Hayden (Logan, Utah)
do the teams you play lay down or actually compete?
Curly Neal
(12:03 PM)
They are competing. It's quite difficult to go to different cities and find competition. We don't want to run up the score. These guys are professionals, they're college graduates, former NBA players. It's a competition as well.
Curly Neal
(12:04 PM)
It's not legal to lay down anymore, even though it looks like it.
Brad (Gadsden,Alabama)
Curly, What is your fav. globtrotter moment?
Curly Neal
(12:05 PM)
So many. Playing for the military and the troops. Playing for those people that are saving our country. The team played in Iraq for the military a few years ago. Go to different hospitals, shaking hands with kids with cancer. Some of my favorite moments have been with children and their families.
Brett (Boise)
Curly, Did you guys hang with the Generals players on the road or were you seperate teams, seperate hotels, restaraunts...etc?
Curly Neal
(12:05 PM)
We had separate hotels. But we did hang out with them, because if you play against them every night, you become friends. Of course we would hang out, they were human. Sometimes in different places, their hometowns, we would share their tickets with them.
Curly Neal
(12:06 PM)
Sometimes we went over to their hotel, they'd come to ours. Especially overseas.
Fred (NYC)
How important is it to you to make sure the Globetrotters are always a part of the basketball landscape?
Curly Neal
(12:07 PM)
Very important. We've traveled the world so much and given back so much. The kids and the children are the highlights. And the parents, because we involved them in our show. Give away T-shirts, basketballs, wrist bands. Little tokens of appreciation for all the years.
Kevin
how do you come up with the show content?
Curly Neal
(12:08 PM)
We have a guy Kurt Snyder. He's the new CEO. He comes up with ideas. Brett also works in the office and they try to come up with different things to do for the show. They're the ones that come up with them. When I was playing, we used to come up with our own skits and ideas to add into the show.
Hayden (Logan, Utah)
could the globetrotters beat any NBA teams?
Curly Neal
(12:09 PM)
Of course. We could beat quite a few of the NBA teams. Back in 48 and 49, the Globetrotters beat the Lakers. Yes, we are competitive. I'd like to think so.
Ryan (CA)
What was your favorite place to do a show?
Curly Neal
(12:10 PM)
We did a show in San Francisco on the USS Enterprise for the troops, back in the late 70's. We played on a steal deck. It was quite difficult for dribbling. In Barcelona, we played in the bull rings. We brought our portable basketball court out there to set up. In Jamaca, we played on a soccer field which was just hard grass. They made the lines 100 yards, which was quite difficult to play on.
Curly Neal
(12:11 PM)
The ice rink, that was crazy. I'm sure some of you probably saw that on TV.
brett (Ocean Springs)
What was your favorite "skit"
Curly Neal
(12:12 PM)
Drop kick the ball in the basket from halfcourt. I have done it so many times. I have a suitcase full of shoes from when I did it. And the two-handed set shot. I did that with Howard Cosell on Wide World of Sports. I dropped kicked the ball in my hometown with my mom watching. She got to see it before she passed away.
Jen
How many shows are you doing this year?
Curly Neal
(12:14 PM)
Oh man! We do about 450 shows a year. With two teams, but we do some doubleheaders. I did over 7,000 shows.
Hayden (Logan, Utah)
who is your favorite person you have met? like president or something
Curly Neal
(12:17 PM)
Gerald Ford. I admired him quite a bit. Jimmy Carter. We've made quite a few visits to the White House. George Bush, Sr. I played with him in a golf tournament. I haven't had a chance to meet Barack Obama, but we did a show for him. Muhammed Ali. There have been so many great people that I've been in contact with that I admire. And don't forget Whoopi Goldberg. She's an honorary Globetrotter now.
Curly Neal
(12:19 PM)
We would just like to thank the wonderful fans all over the world and for being a part of our lives. You mean so much to me. At 67, I still get fan mail. I still try to do something for them. You've made it possible for the world famous Globetrotters.