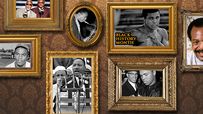 Welcome to SportsNation! On Thursday, former NBA referee Ken Hudson stops by to chat as part of ESPN.com's tribute to Black History Month.
In 1967, Hudson became the first person of color to referee a city high school basketball championship and later became a pioneering NBA ref joining Jackie White as the league's first two black game officials. He developed several youth basketball programs in the Boston-area and was named to the Board of Directors of multiple companies including Coca-Cola's New England Board of Directors.
In 2009, Hudson along with Bob Lanier and Alonzo Mourning were named co-recipients of The Mannie Jackson Award. The award is presented annually to individuals who have been inspired from their participation in the game of basketball to use the game as a catalyst for both personal growth and change in their community.
Send your questions now and join Hudson on Thursday at 2 p.m. ET!
More Special Guests: Previous guests | SportsNation | Chat Index
Buzzmaster
(1:48 PM)
Ken Hudson's going to be here in about five minutes to answer your questions!
Buzzmaster
(1:54 PM)
Ken is here!
Dave (Washington)
Ken, what was the climate like for refs back then? Was it as confrontational on the court as it seems to be now?
Ken Hudson
(1:56 PM)
Not really. You had your normal disagreements, but for the most part, the players would complain, but they would also let you referee. We were able to communicate more back then than now. When I was refereeing, you were allowed to say some things to diffuse the situation or enhance it. The players would roll their eyes at you and if they said something you didn't like, you would act accordingly. I always said that regardless of how I refereed, that I would not effect how Jerry West or Oscar played basketball.
Kyle (VA)
Do you think all of the money involved in the game now a days is why there is so much complaining about the refs?
Ken Hudson
(1:58 PM)
You have a situation where the salaries are outlandish in some cases. You have to understand that these players are so highly profiled that anything negative about them is a negative about their ability. That's not the case. But if you look at the great players, they complain, but they play the game. The greats are more concerned about the level of their game and how they can help their teams win.
Jen
How many games did you ref? Anyones that stand out?
Ken Hudson
(1:59 PM)
I refereed probably about 350-400 games. The Lakers, Celtics, Knicks, Baltimore. Every team had 3, 4, 5 outstanding players. Golden State with Nate Thurmond, Baltimore with Wes Unseld, the Knicks with Willis Reed, Walt Frazier. It kept you on your toes. It made you concentrate every night.
Jeff (RI)
How do you deal with people constantly believing that refs are on the take and the games are fixed?
Ken Hudson
(2:00 PM)
You ignore them. If you watch the NBA games, you realize that players are playing at the highest level. I'm sure there are times players are tired because of so many games. As far as the games being fixed...please. The last thing they're thinking about it how they can affect the games in a negative way. Why would you do that?
Steve (LA)
What was it like for you in helping break the color barrier in officiating?
Ken Hudson
(2:02 PM)
It was very interesting in that I never had any major problems with any of the players or coaches. There may have been one or two instances that I wasn't aware of. There were many high class players not only on the court but off the court they were classy. I will always be appreciative of a lot of guys in the league. Black or white, they just wanted you to ref the game. They just said, go ref and if we don't like it we'll complain.
Chris Fiegler (Latham,NY)
What do you think of the NBA Referees today?
Ken Hudson
(2:03 PM)
I think, like in most sports, you have the outstanding veterans, the guys in the middle who are making progress, others who might not get any better but they won't get worse and there are young guys who will move up. But what you're looking for is consistency. The fans might see it different, but that's all your asking for. To allow the players to play the game at the level they want to play at. That's the referees job. Fans don't pay to see referees. It's the players. The thing about refereeing at the NBA level, you don't run the game, you keep it under control.
Tim (MD)
how hard is it to make calls?
Ken Hudson
(2:05 PM)
You have refs who have seen everything and you make sure that the players are able to do what they can. You call what you see. Don't try to make a call, don't guess. If you see it, call it. Don't assume anything. At the NBA level, these athletes are so talented and so skillful, you have to see the play through. It's better to make the play late than look like a fool.
Chad W. (High Point)
Do you think that Refs these days have a tendancy to call the quetionable calls in favor of the Home team? It happens alot in the games I watch.
Ken Hudson
(2:06 PM)
The calls you're talking about are probably against the team you're rooting for. Every referee has heard that. A good sign about refereeing is when the home team loses. That means you're not intimidated. That was my goal, not to make sure the home team lost, but to make sure the visiting team had a chance to compete. They had a chance to win the game without having it messed up. I think all referees operate on that theory.
Paul (boston)
Forget the players, how about the fans? How nasty can they get?
Ken Hudson
(2:08 PM)
As long as they don't physically harm you, you can put up with what they say. That's a fan's right, to yell, scream. I used to laugh. Fans would be up and down the sidelines yelling and screaming. I knew one ref that had little whistles and when he heard a fan yelling, he would pull one out and ask him if he wanted to come out there. That's part of the game.
robert (hazard,ky)
has the pace of the game slowed down since the days of showtime and even the days of the bulls dominence?
Ken Hudson
(2:11 PM)
My thoughts along that line are that now you have a lot more guys who play the game one on one. The game was just as quick and fast as the 80s and even the 70s. Nowadays, fans get excited about a slam dunk. You have individuals that think every game is a slam dunk contest and that's how they style their game. When I was refereeing, you had guys playing the same way and they played more in the team concept. The Showtime Lakers had Magic passing the ball to everyone. His teammates knew that when Magic had the ball, he would find you. I've been a believer that unless you had a guy in the middle, you weren't going to win. THe game today is highly athletic. Whereas the game in the 80s, the game was highlight reel, but within the team concept.
Ken Hudson
(2:12 PM)
I've enjoyed this. I hope that folks continue to enjoy the NBA. I've enjoyed sharing some of my stories with you all.