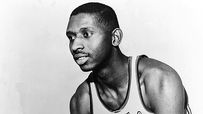 In 2003, Lloyd was inducted to the Basketball HOF as a contributor.
Welcome to SportsNation! On Thursday, former forward and Basketball Hall of Famer Earl Lloyd stops by to chat as part of ESPN.com's tribute to Black History Month.
Nicknamed "The Big Cat," Lloyd was one of three African-Americans to enter the NBA at the same time. During the 1950-51 season, Earl along with Chuck Cooper, Nathaniel Clifton and Hank DeZonie all made their NBA debut but because of the order in which the teams' played their season opener, Lloyd was the first to actually play in a game.
In 1955, Lloyd averaged 10.2 points and 7.7 rebounds which helped lead the Syracuse Nationals to a 4-3 win over the Fort Wayne Pistons for the NBA title. Lloyd along with teammate Jim Tucker became the first African-Americans to play on an NBA championship team. In nine seasons in the league, Lloyd played in over 560 games averaging 8.4 points and 6.4 rebounds.
Send your questions now and join Lloyd Thursday at 1 p.m. ET!
More Special Guests: Previous chats | SportsNation
Earl Lloyd
(12:55 PM)
Thanks for having be hear as a celebration of Black History Month. I'm ready to chat so let's start!
Zaque (MS)
In your wildest dreams, did you ever believe the NBA would become as huge of a property as it is?
Earl Lloyd
(12:57 PM)
First of all, I never envisioned playing in the NBA. When I was drafted in 1950, the league was only three years old. I could never in my wildest dreams imagine the NBA would be where it is at today.
Chris (CT)
What racial barriers do you feel NBA players continue to have to overcome?
Earl Lloyd
(12:59 PM)
I don't really see a lot of barriers for the players of today. Lot's of times the barriers they face are themselves. When I get a chance to talk to the young players, a lot of them say that they owe me and I always tell them that they don't owe me anything. They owe to future to leave the league as well as the world a better place.
Ernie (Pittsburgh)
Who has impacted your life the most?
Earl Lloyd
(1:02 PM)
If you've read my book, "Moonfixer: The Basketball Journey of Earl Lloyd" you would know the biggest presence in my whole life is my mother. My dad was there and took good care of his family but he was a easy going man. My mother on the other hand was tough. For example, I was introduced at a game when I was young and a man sitting behind her in the stands used the "N" word to ask if I could play. My mother the conflict resolutionist turned to him and set him straight the best way she knew how.
Mike (DMV)
Did you ever think you'd be the first black player in the NBA? What kind of pressure did that put on you?
Earl Lloyd
(1:05 PM)
Someone asked me did I plan a career in the NBA and I said "how can you plan a career in something where there was on processor?" Up until 1950, there were no black players in the league so growing up the thought of playing in the NBA never entered my mind.
Kyle (VA)
We always hear stories about Jackie Robinson breaking the color barrier in baseball and how much hatred he was shown. Was your experience similar?
Earl Lloyd
(1:08 PM)
People over the years have said that I'm the Jackie Robinson of basketball. To compare the two of us does Jackie a great disservice. I played in an arena where their was other colored players but he played in a stadium where he was the only one. I credit his wife Rachael for always being there for him because he had nobody else to lean on.
Mike (Houston)
If you had to pick one thing, what is the most memorable moment of your career?
Earl Lloyd
(1:11 PM)
The highlight of my whole career is making the team in Washington, D.C. When I walked into the locker room for the first time, I said to myself "you've harbored some hard feelings about how your love ones have been treated and here you stand." The color of my skin couldn't stop me from making the best out of the chance that I've been given. This was a very defining moment, the ball didn't know what color hands it was being passed to and the rest is history.
Drew (Wichita)
What players in today's NBA do you enjoy watching?
Earl Lloyd
(1:14 PM)
You have to start with two guys, LeBron James and Kobe Bryant. These guys are exceptional athletes. There are many more great players out there but these two players are it.
Jenn (CA)
There are some pretty big names in the NBA today, Lebron and Kobe, to name a couple. What advice would you give to them?
Earl Lloyd
(1:15 PM)
(Laughing) How can you ask a old timer like me? These kids are out here making millions at 20 years old? But all I would say is that it isn't what you make, it's what you keep. I would also tell them please don't get hurt.
M. Jordan (North Carolina)
Who in your opinion is the greatest player to ever play in the NBA (it better be me!!!)?
Earl Lloyd
(1:17 PM)
(Laughing) I know a lot of real great players and there is always a greater player than the last. It's like comparing apples and oranges. How can you compare Mike to Wilt or Mike to Bill Russell?
Bryant (LA)
Do you continue to be apart of the game now? Are you a mentor in the league?
Earl Lloyd
(1:19 PM)
Mainly, I'm just as a fan. Every year they have the Rookie Transition Program where they gather all the rookies together and put them in a hotel somewhere outside of New York City. The invite guess to speak to these rookies and give them a chance to tell their stories. I tell them to savor every moment they get at this, you never know when it will be taken away.
Earl Lloyd
(1:23 PM)
I would like to thank the Syracuse University press who published my book "Moonfixer: The Basketball Journey of Earl Lloyd". I would also like to thank all the fans out there for chatting with me today.