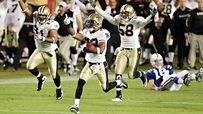 Porter's 74-yard INT return for a TD helped secure the Saints' first Super Bowl win.
Welcome to SportsNation! On Thursday, New Orleans Saints' Super Bowl XLIV hero Tracy Porter stops by to chat as a part of ESPN.com's tribute to Black History Month.
Porter's interception and 74-yard return for a touchdown with 3:12 left in the Super Bowl gave the Saints a 31-17 lead. He also had four tackles against the high-powered Colts offense.
The Saints selected Porter with the 40th overall pick in the 2008 draft. In his two years in the league, he's made a big impact for the Saints, intercepting five passes, including four in 2009. Porter credits part of his success to his use of Pure Power Mouthguards.
Send your questions now and join Porter Thursday at noon ET!
More Special Guests: Previous chats | SportsNation
Buzzmaster
(11:44 AM)
Saints Super Bowl hero Tracy Porter will be here at the top of the hour to take your questions!
Buzzmaster
(12:03 PM)
Tracy is here!
Mike (Houston)
Can you describe what was going through your mind when you were running to the end zone after the you made interception?
Tracy Porter
(12:04 PM)
Scoring. And we were one step closer to Super Bowl champions.
Will S. (Metairie, LA)
What up Tracy! Life long Saints fan here. Have you realized the magnitude of the pick you made yet? Or are you still on cloud nine floating somewhere?
Tracy Porter
(12:05 PM)
I'm still on Clound 9. I'm getting a sense of the magnitude, because now everywhere I go, people start to notice me and thanking me. I'm still relishing the moment.
Don Wurner (Wilsonville, AL, B'ham area)
What was the kind of situation you were looking for on your interception? What kind of tangible benefits do you get from your PPM mouthpieces? Talk about "Finish Strong!" Who Dat? You Dat! Geaux Saints!!! from B'ham, DEWitnow
Tracy Porter
(12:05 PM)
I was just looking to make a play on the ball and do whatever it took to become a world champion. By the preparation I put in the opportunity came about.
Tracy Porter
(12:06 PM)
As for the mouthguard, the benefits I see is it helps with your balance, flexibility, range of motion. It's not your typical put in the pot and boil mouthpiece. It helps with headaches, it prevents them from happening. All around it benefits everything. You could work out with it. Lift weights. Pretty much anything you can do, you can do with the mouthpiece in.
Lance (North Carolina)
A lot of your college buddies were probably Colt fans, so did you hear some trash talk before the big game from them and then did you get them back afterward?
Tracy Porter
(12:08 PM)
There was a little bit of trash talk. It's all in fun. I heard from them saying they were eating their words. There were a few guys saying I knew you could do it, even though they're Colts fans. They were down from their team losing, but not me.
Tyler (Arkansas)
Who is your favorite player in the league that doesnt wear a Saints Jersey?
Tracy Porter
(12:09 PM)
I like Ronnie Lott. He's a defensive back and just the way he played the game.
Jim (Austin)
Who Dat? NFL Network's mike'd up reply of the Superbowl shows Coach Payton telling you before the big pick 6 what play was coming. Did that happen on the big play or is that clever editing? Congrats to you, glad to see a Louisiana boy have such a big impact with the Saints.
Tracy Porter
(12:10 PM)
I didn't hear him, but when I came to the sideline and he asked me if I heard him talking to him. I didn't hear him, but I did know that play was coming. It wasn't anything they rigged up. It happened on that play.
Charles (Sioux City)
With Gregg Williams as your DC, has it been instilled in you to always go for the pick or strip, or does he have enough faith in you to let you decide when to break on a ball and when to just defend the pass?
Tracy Porter
(12:11 PM)
Our mentality is to force turnovers. If you're in the vicinity of the ball, our mentality is if I don't get it, nobody does. Create population to the ball and you're going to create turnovers. Our mentality is to get the ball back.
Kensley Keys (Jackson,MS)
On the game-winning interception during the Super Bowl, you look extremely fast.What is your fastest 40 yard dash time?
Tracy Porter
(12:11 PM)
Fastest 40 time was a 4.29.
David Moosa (Huntington, wv)
After the interception, you pointed in the air 3 times with each hand. What is the significance of this really cool jesture? Was it preplanned or spontaneous?
Tracy Porter
(12:12 PM)
It was spontaneous. I was pointing to the Who Dat nation in the crowd. When I was running down there I saw them jumping and shouting, so I wanted to give them a shoutout.
Scott (Indy)
Have you had to pay for any meals in NO since the game? I would think there are a lot of comps coming your way...
Tracy Porter
(12:12 PM)
No. Not at all. I've been getting a lot of my meals for free.
Craig (Nola)
Will Darren Sharper be back next year? How much has he helped develop the Saints' secondary?
Tracy Porter
(12:14 PM)
I definitely think he'll be back. The way he's helped me is his overall experience. He's taught me what to look for in formations and the routes. Route combinations that the WRs like to run. How to read WRs body language.
Bob (Naperville, IL)
How great does it feel to help bring a Super Bowl victory to a team you grew up cheering for?
Tracy Porter
(12:14 PM)
That's a great feeling. Words can't describe how it feels. Especially to bring that first championship to the city. That's a huge accomplishment for us. Hopefully it won't be the last one.
Jim (Austin)
Mardi Gras any fun this year?
Tracy Porter
(12:15 PM)
It's always fun. It started with the victory parade. 800,000 at the parade. That led right into Mardi Gras. This one has been like no other. It's been extremely fun.
Bobby (RI)
Hi Tracy.. it seemed to me that you set Peyton up on your game winning interception by baiting him on the previous 3rd down play where Wayne ran a slant, basically the same play you made the pick on. Is that what happened?
Tracy Porter
(12:16 PM)
No, that's not what happened. It was bad technique on the first conversion they got. It was a matter of learning from your mistake and going on the second one.
Kalvis (Indy)
Watched you and Roby since your IU days, always been a fan. How much does having a college teammate help your comfort level. Are you guys friends, or just business associates?
Tracy Porter
(12:17 PM)
Having a college teammate on the same team as you is a high comfort level. Even though it's my hometown team, I've never been a part of the organization. When he came, it's just a sense of comfort.
Will S. (Metairie, LA)
Do you and Drew ever talk trash about Indiana/Purdue. Its basketball season, so I'm sure the rivalry is heating up.
Tracy Porter
(12:18 PM)
Oh, we talk all the time about that. I sit a couple of lockers down from him. We talk about the rivalry all the time. Basketball, football especially.
Alex (NY)
What do you think of all the Vikings talking smack after they lost, and how they are going to retaliate next year?
Tracy Porter
(12:19 PM)
No retaliation, because they're too busy talking about how we set out to hurt their QB when we were just playing football. It's a tough sport. Guys are going to get hurt. There were no cheap shots. We have those guys on the schedule next year. We'll be up to the challenge as they will be.
Tracy Porter
(12:20 PM)
Thanks for the support all of this season. This won't be the last championship we have in New Orleans. Last but not least, buy my jersey. If it's not in the stores, push the managers to put it in the stores.