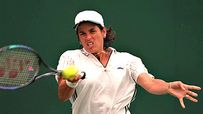 Fernandez was named Puerto Rico's "Female Athlete of the Century" in 1999.
Welcome to SportsNation! On Monday, former professional women's tennis player Gigi Fernandez stops by the 'Nation to talk tennis and Monday's BNP Paribas Showdown for the Billie Jean King Cup at Madison Square Garden.
Fernandez was considered one of the world's best doubles players, capturing 68 career titles in women's doubles. Over the course of her career, she won 17 major doubles titles (14 with Natasha Zvereva) and two Olympic Gold medals. Her play made her the latest player - along with Todd Woodbridge, Mark Woodforde and Natasha Zvereva - to be elected to the International Tennis Hall of Fame.
Last year Gigi became the mother of twins (Madison & Karson) which led her to form Baby Goes Pro.com - a company aimed at inspiring a generation to move by introducing young children to sports. The DVD features an engaging animated character and proper sports techniques taught by high-level athletes.
Send your questions now and join Fernandez Monday at 2 p.m. ET!
More Special Guests: Previous chats | SportsNation
Buzzmaster
(2:00 PM)
Gigi is here!
Master Ace (Birmingham, AL)
Congratulations for making it to the Hall of Fame! What is the best match that you and Natasha have ever played and/or the most satisying match played? Also, how many Slams(currently the number is 11) do you think the Williams Sisters will win? And, will they win another French Open title?
Gigi Fernandez
(2:02 PM)
I'll give you two. We were playing Madison Square Garden. We were down a set and 5-1. I looked at the clock at it was 11:55 p.m. I thought, I could be sleeping in the next 30 minutes. Somehow we clawed back into it. We were down 6-2 in the tiebreaker and we won the next set. That finished at like 1:15 a.m. The most satisfying for me was probably Wimbledon. We beat the partners that we had the previous year. Our former partners dumped us to play together. That has to be the most satisfying.
gil vance (north carolina)
my wife and i first heard about your company in our local newspaper and followed up and ordered the dvd. we bought it to give to a friend for his grandson and can you explain the role the sports psychologist played in the development of your concept?
Gigi Fernandez
(2:05 PM)
We consulted him early in the process. I was unsure of showing my children at an early age. His response was as long as it was entertaining and done properly, there's no problem in developing their competitive juices. As long as it's entertaining. It's for implanting these images in your brain, when the brain development is at its peak. I wanted my kids to be active, so why not show my kids images of shots or the bat hitting the ball. So far, we've gotten a really good response. I think the main point of the DVD is that we hope kids watch this and when they grow up and have choices that they'll go play sports.
Frank (Dallas)
Are there other sports that you enjoy watching?
Gigi Fernandez
(2:06 PM)
Yeah, all of them. I'm a sports junkie. I watch football, baseball. I follow the Yankees. I follow the Bucs. I watch golf. I don't watch much tennis on TV. I watch the Grand Slams. I watch hockey. I was at the 7th game of the Stanley Cup when the Lightning won. I went to the 4th and 5th game of the Yankees-Sox series when the Sox came back. I was there ready to celebrate.
Caroline (East Northport, NY)
My question for Gigi is about getting your your kids into tennis at a young age. What is the best age to start your kids in tennis, or in general in sports, and how hard should you push them if you see some talent?
Gigi Fernandez
(2:08 PM)
I think we're taking starting early to new heights. But there are no guarantees of anything. Kids will do what they want to do in the end. You can only push them so much. If they don't love what they do, they won't do it. First of all, I started when I was 3, hitting the ball on the wall. I took lessons when I was 7. Some kids develop earlier than others. There's no magic formula or magic answer. Every kid is different.
Mike
How does it feel to be introduced as a hall of famer?
Gigi Fernandez
(2:08 PM)
I think it's very exciting. It's unbelievable, really. I think about growing up in Puerto Rico at the tennis club hitting the ball against the wall, I never thought I'd end up in the Hall of Fame.
Frank (Dallas)
Who did you look up to when you were playing as a youth?
Gigi Fernandez
(2:09 PM)
When I was really young, I liked Borg, because he was cute.
victor (monroe,louisiana)
when did you learned to play tennis?and how did you get to be in the doubles with natasha?
Gigi Fernandez
(2:10 PM)
Well, we had been let go by previous partners. We didn't immediately team up. We played with different partners in 1992. There was a tournament in Tampa and we were there playing with other partners. Neither one of us were happy with our current partners. Her coach approached me about maybe teaming up with Natasha. We sat down and did it. The rest is history. We won the next 6 Grand Slams that we played.
Nicholas (New York)
I have read about your new DVD Baby Goes Pro and watched it with my friend's child. Wow! He really enjoyed the monkey and the songs and seemed to catch on to the sports movements. When is the next DVD coming out?
Gigi Fernandez
(2:12 PM)
The intermediate DVD is going to come out this summer. That will introduce rules. First you learn about the ball that you have to hit, now you will learn that you have to run to first base. And hit the ball in the lines in tennis. The rules. The third DVD will come out in 2011 and those are sports specific. They will be instructional, for older kids and will be taught by professional coaches.
Dave (Denver)
How did you find out about your election?
Gigi Fernandez
(2:13 PM)
I got a phone call from the chairman and it was very exciting.
Gigi Fernandez
(2:14 PM)
It was more exciting when I got Hall of Fame letter. It was incredibly exciting to be elected, but also to even be nominated.
tim (overland park, ks.)
g, as dominate as the Williams sisters' have been in the game of tennis (espcially Serena), why is it that they dont seem to garner the coverage or popularity as does a Sharapova, who in my opinion is a far less talented player but happens to be one of the richest female athletes? Why is there such disparity in women's tennis between actual talent and popularity?
Gigi Fernandez
(2:15 PM)
Two things, first off, I don't know if that's an accurate statement. Serena and Venus are all over the place outside of tennis. I don't know if that statement is true. One reason why Sharapova might have gotten more attention before she got hurt, she played more. Venus and Serena played fewer tournaments. But I'm not sure that statemed is true.
Gigi Fernandez
(2:16 PM)
Thanks for the support over the years. I'm glad you haven't forgotten since I retired 13 years ago.