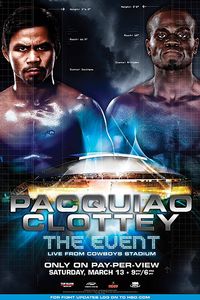 Welcome to SportsNation! On Wednesday, we'll go inside the boxing ring when welterweight Manny Pacquiao stops by to chat about his upcoming fight.
Pacquiao (50-3-2, 38 KOs) squares off with Joshua Clottey (35-3, 20 KOs) in a welterweight title bout Saturday live from Cowboys Stadium in Arlington, Texas, on HBO PPV at 9 p.m. ET/6 p.m. PT.
Pacquiao is coming off an electrifying 12th-round technical knockout win against Miguel Cotto in his last fight, on Nov. 14. Pacquiao is currently ranked the No. 1 pound-for-pound boxer in the world by Ring Magazine, with Clottey ranked No. 20.
Send in your questions now and then join Pacquiao at 12:30 p.m. ET Wednesday!
More Special Guests: Previous chats | SportsNation
Manny Pacquiao
(12:34 PM)
Thanks for joining me for my chat this afternoon. Let's get started.
Chris (Columbus, OH)
Manny, do you believe that Josh Clottey will give you your toughest test yet?
Manny Pacquiao
(12:35 PM)
Yes, Joshua is a good fighter. It will be a brawl from the beginning and it will be a good fight.
Adam (Albuquerque) [via mobile]
Hey Manny big fan, what does it fell like to be fighting at Dallas Cowboy Stadium?
Manny Pacquiao
(12:36 PM)
I'm honored to be apart of the first boxing match ever at Dallas Cowboys Stadium. It's a beautiful place and I'm looking forward to Saturday's fight.
Dan (Dallas)
Which was tougher? Boxing a giant crab or singing on Kimmel?
Manny Pacquiao
(12:37 PM)
Singing was more difficult, boxing comes easy for me.
Tim (Pittsburgh,PA)
Manny, what will be the key for you to beat Clottey saturday night?
Manny Pacquiao
(12:38 PM)
I think my speed and punching at different angles will be key to me beating Joshua. I also need to get past his tough defense.
Mike - Alexandria, VA [via mobile]
If you get by Joshua Clottey this Saturday night,is there a possibility that u will fight the winner of Mayweather-Mosley this fall?
Manny Pacquiao
(12:39 PM)
I'm willing to fight anybody always. If the winner wants to fight me then we will fight but if they want to hide behind excuses then I will fight someone else. I don't want to waste my time sitting around waiting for one of them.
Joel, N. (Washington, DC)
Do you play any practical jokes on Roach?
Manny Pacquiao
(12:40 PM)
No, I play them on everyone else but not Freddie.
Ryan (Wichita)
By Clottey being the bigger and stronger fighter, what are your plans if he decides to go toe to toe with you and it does not play into your speed game?
Manny Pacquiao
(12:41 PM)
I would want to go toe-to-tow because that's where my power will come out and the angles of my punches will hurt him. It's my dream for us to go toe-to-toe. I also think the fans out there would want to see it too.
Darin (Silver Spring MD)
Pacman, good luck this weekend....Freddie predicts that you will overwhlem Clottey and force him to quit on the stool, what are your thoughts on that and do you believe it will happen?
Manny Pacquiao
(12:42 PM)
Thank you for wishing me luck. I don't predict knockouts or anything like that, I leave that up to Freddie. I make sure I'm ready for any fight, that my condition is where it needs to be because you never know what can happen in a fight.
Hayden (Logan, Utah)
ever thought about doing some MMA? What are your thoughts on MMA? honestly
Manny Pacquiao
(12:43 PM)
It's too violent for me but it's a sport that should be recognized. It's a great sport but not the sport for me.
Evan (SLC)
What's your dream fight?
Manny Pacquiao
(12:44 PM)
My dream fights have already happened. De La Hoya, Cotto, Hatton and other boxers of that caliber. My real dream is to fight in my home country of the Philippines.
James (New York, NY)
How was it filming Wapakman and when doen it come out?
Manny Pacquiao
(12:46 PM)
It was very tiring. More tiring then training for a fight. It came out in the Philippines already and we are not sure when it will come out in the United States. I have a great respect for actors now, they have a hard job.
Manny Pacquiao
(12:47 PM)
Thanks for chatting with me. Hope everyone tunes in to watch as I take on Joshua Clottey this Saturday night at Dallas Cowboys Stadium. It should be a good fight.