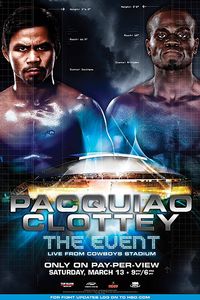 Welcome to SportsNation! On Tuesday, we'll go inside the boxing ring when welterweight Joshua Clottey stops by to chat about his upcoming fight.
Clotty (35-3, 20 KOs) squares off with Manny Pacquiao (50-3-2, 38 KOs) in a welterweight title bout Saturday live from Cowboys Stadium in Arlington, Texas, on HBO PPV at 9 p.m. ET/6 p.m. PT.
"Grand Master" Clottey is coming off a 12-round split decision loss against Miguel Cotto in his last fight, on June 13. Clottey is currently ranked the No. 20 pound-for-pound boxer in the world by Ring Magazine, with Pacquiao ranked No. 1.
Send in your questions now and join Clottey at 4 p.m. ET Tuesday!
More Special Guests: Previous chats | SportsNation
kaboom (nebraska)
what kind of strength training do you do for a fight of this magnitude?
Joshua Clottey
(4:00 PM)
I always train hard. I'm always in condition. I never steal from the gym. When I have a fight, that's just what I do, I continue to train. I do a lot of running and do my hard work.
kevin (san diego)
By you being the bigger and stronger fighter, will at some point in the fight will you try and go toe to toe with manny?
Joshua Clottey
(4:01 PM)
Yeah, I will. That's what I'm going to do. That's how I fight. That's exactly what I'm going to do, I won't change it.
Ean (Las Vegas, NV) [via mobile]
I dont understand how everyone thinks you are gonna lay it down when you fight Manny. Yes he is a tough fighter but how does all this chatter help to motivate you into putting on a show?
Joshua Clottey
(4:02 PM)
Everyone talks. When they're talking, I don't focus on that. I'm fine with whatever they want to say.
Ed (so. cal.)
Josh, Manny throws alot of punches from alot of different angles what have you worked on in training camp to nulify his speed
Joshua Clottey
(4:02 PM)
I've been working on that. We know he will throw a lot of punches. That's what we know him for. I've worked on what I'm going to do when he throws his punches. I'm ready for his punches and his speed.
david (spring, tx)
What are you weighing at the moment? do you see any issues making the 147 limit?
Joshua Clottey
(4:03 PM)
Today, I'm losing a lot. I'm around 148. I'm good.
Tyler (Wichita)
This is obviously going to be your biggest stage to fight at. With a most likely pro Pacquiao crowd how will that affect your concentration to the fight?
Joshua Clottey
(4:04 PM)
It will be a loud crowd. The fans have come to watch a fight. I'm not worried about it at all.
John (San Fran)
What round do you think you will knock Manny out in? I'm thinking the 9th.
Joshua Clottey
(4:05 PM)
I don't have a prediction for this fight. But if it comes, I will be happy for that. It will be a difficult fight.
Sarah (Sacramento)
Have you had continuing hand issues since the Margarito fight or are they feeling good now?
Joshua Clottey
(4:07 PM)
No. At the Margarito fight, the wrap I had for my hands was not good. We wrap my differently now. I had a small problem with my knuckle, but it's fine now. Everything is good now.
Walter (Albuquerque, NM)
Would a blood test stop you from fighting Mayweather?
Joshua Clottey
(4:08 PM)
Not really. I'm not fighting Floyd Mayweather, I'm fighting Manny Pacquiao. If I were fighting Floyd and I had to take a blood test, I would do it.
John (Augusta GA)
Aside from size and strength , what do you thing is going to be your greatest attribute to dethrone the P4P king?
Joshua Clottey
(4:09 PM)
All the time everyone is talking, they don't talk about my skills. All they talk about my strength and size. Nobody has ever hit me. My skills will decide the fight for me.
Henry (Northampton, MA)
Compared to your previous fights, is you work rate going to be higher or lower?
Joshua Clottey
(4:10 PM)
When we're fighting, you don't throw 10 million punches, when the punches are connected, that's it. When you're throwing the punches and landing them, that's when you're scoring. I'm going to throw and land punches, good punches, hard punches that will win the fight for me.
Joshua Clottey
(4:12 PM)
I just want to tell all of you that have asked me questions, I'll give you an answer. Watch the fight. I am ready. Very, very, very ready. Watching people go around and talk, that gives me high hopes for this fight.
Buzzmaster
(4:12 PM)
Thanks for chatting Joshua!