Chat with Samantha Stosur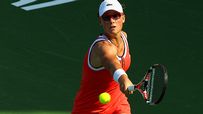 Samantha Stosur was ranked No. 1 as a doubles player.
Welcome to SportsNation! On Wednesday, Sony Ericsson WTA Tour's Samantha Stosur stops by to chat from the BNP Paribas Open in Indian Wells, Calif. where she will play this week.
Stosur, 25, won the first singles tournament of her career last season when she won at Osaka. She also became the first Australian woman to reach the semifinals at the French Open since 1988. As a former doubles player, Stosur won 22 titles on tour.
Stosur enters the BNP Paribas Open as the 13th-ranked player on tour and as the No. 8 seed in the tournament. The first round of the Open starts Wednesday for the WTA, while the ATP first round starts Thursday.
Send your questions now and join Stosur Wednesday at 3 p.m. ET!
More Special Guests: Previous chats | SportsNation
Samantha Stosur
(2:59 PM)
I'm good to go ...let's start!
Mentari (Bekasi, Indonesia)
How did you feel when you reached the semifinal at the French Open?
Samantha Stosur
(3:00 PM)
I was very very excited. It was a bit of a surprised because I didn't expect to get that far. It was a great two weeks for me.
Elisa A (London)
If you could partner anyone in doubles...who would it be? (current or retired)
Samantha Stosur
(3:02 PM)
Martina Hingis is pretty crafty on the tennis court so I think she would be a good partner to have.
Master Ace (Birmingham, AL, USA)
Congratulations on a good 2009 season especially after Wimbledon. How did it feel to finally get that first WTA title in Osaka last year?
Samantha Stosur
(3:03 PM)
Thank you. It's something I've been trying to get for a a few years. It always feels good to achieve one of my goals of winning a WTA title. Hopefully I can get another one this season.
Mike C (Hollywood)
If someone was going to make a movie about you, what actress would play you?
Samantha Stosur
(3:04 PM)
(Laughing) I don't know, I've never thought about it before. Sandra Bullock is doing well right now so if she was to play me it would be an honor.
Romina Castagnino (Peru)
Hey Sam!What is the thing you can't live without?love and best wishes,Romina :)
Samantha Stosur
(3:05 PM)
Besides my cell phone and the internet, it would be lip balm. I can't go anywhere without that.
Tony (Spain)
Why do you wear the cap and sunglasses all the time, even when its not sunny? Is it just habit?
Samantha Stosur
(3:06 PM)
Yes, ever since I've started playing sports at 7 or 8 years old I've worn caps. Being from Australia we've always worn caps because we are very aware of the sun. I started with the sunglasses at 14 and now it's just apart of what I do.
Wanda (Saskatoon, Saskatchewan, Canada)
If you were not a professional Tennis player, what would be your career of choice?
Samantha Stosur
(3:07 PM)
I would be in a rock band or a professional surfer. I don't know if I would have been either of those things but that both look pretty fun.
hanee (russia)
Do you think your singles results would be better if you were to stop playing doubles ?
Samantha Stosur
(3:08 PM)
Not necessarily, doubles helps improve your game. I'm cutting back on my doubles play and working hard on my singles game. I do think that doubles has a place and that it can help you out in your all-around tennis game.
victor ( Monroe,La)
is it ok if i call you sami becuase your sor so beatuiful when isee you play tennis and when will the networks havetennis again?
Samantha Stosur
(3:10 PM)
(Laughing) You can call me Sami, thanks! I'm not sure when networks will nationally televise tennis tournaments.
victor (monroe,la)
Do you think you and maria will team up in doubles?
Samantha Stosur
(3:11 PM)
I don't think so, Maria doesn't really play doubles and it's something that I've never thought about.
Frank (Coram, NY)
When growing up who was your idols either on the court or off?
Samantha Stosur
(3:12 PM)
Steffy Graph and Monica Seles were my favorite players growing up.
Paulie (Indian Wells)
Good luck this week at the tournament... Have you been able to look at your draw? How do you feel going into the tournament?
Samantha Stosur
(3:13 PM)
Thank you. I feel really good. I've had a little bit of time off and some good days of practice recently. I'm really looking forward to getting out on the courts on Saturday.
Frank (Coram, NY)
What makes Serena and Venus so dominant in the majors?
Samantha Stosur
(3:14 PM)
Somehow how they manage to peek at tournament time especially Serena. There is just something about them that separates them from the rest of the field. They both are great athletes that are determined to do well.
Guada (Argentina)
What are some of your favorite ways to exercise and are there any workout routines that you do not like?
Samantha Stosur
(3:16 PM)
I like going to the beach and surfing. I'm not very good but it's a great workout. I also like getting out on the bike. There aren't too many things that I don't like.
Samantha Stosur
(3:16 PM)
Thanks everyone for the questions. It's been fun!