Chat with Vladimir Ducasse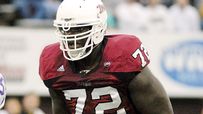 Ducasse is the 48th best player in the draft, according to Scouts Inc.
Welcome to SportsNation! On Thursday, we're going to talk NFL draft when offensive line prospect, and former UMass player, Vladimir Ducasse stops by to chat.
Ducasse, a native of Haiti, finished his career at UMass by being named AP First Team All-America. He moved to the United States in 2002, when he started to play football for the first time. In his 35 starts, UMass allowed just 39 sacks.
According to Scouts Inc., Ducasse is the second best offensive guard in the draft. At 6-4 and 330 pounds, Ducasse, Scouts Inc. says, has above average athleticism for suge a big frame, and his profile says that he "displays a quick first step and takes strong angles to the point. Plays with balance and leverage and is able to engulf defenders with massive frame and strength. Moves well in the open field and can adjust on the move in space."
Send your questions now and join Ducasse Thursday at 1:15 p.m. ET!
More Special Guests: Previous chats | SportsNation
Buzzmaster
(1:05 PM)
Vladimir should be here shortly to take your questions!
Buzzmaster
(1:13 PM)
Vlad is here!
Kevin (NYC)
How have you been preparing for the draft?
Vladimir Ducasse
(1:14 PM)
Just pretty much for the combine, I was down in New Jersey, getting ready for it. After the combine, I'm back up in school, going to classes and working with my strength coach. Getting ready for that day to come.
Franklin (Denver)
How did you end up at UMass?
Vladimir Ducasse
(1:15 PM)
My junior year going into my senior year. At the time, no one else was looking at me. The schools that did look at me were afraid because I didn't have much experience playing football.
Fred (DC)
Have you talked to any family you might have back in Haiti? How is the situation down there?
Vladimir Ducasse
(1:15 PM)
I've talked to my father on Monday and I talk to him once a week. From my side of the family, everyone's fine. They found another house. They're living their right now. There is some progress, but they're working on it.
Bailey (MA)
Where will you be come draft day?
Vladimir Ducasse
(1:16 PM)
Hi! I might be going down home, Stamford, CT. I was thinking about staying in school, but I want to be with my family. Any of my teammates are welcome to come down too.
Greg (Miami)
When did you start to think you could go to the NFL?
Vladimir Ducasse
(1:17 PM)
My junior year of college. That's when scouts that came in to look at those DBs that we had, they were watching film of them and started picking me out in film. They started talking to my coach, saying they liked the way I played. I felt I had the opportunity to go at least free agent, seventh round.
Paul (Boston)
Guys in the draft say they don't really pay attention to all of the pre-draft talk...what about you? Do you read stuff about the draft or mock drafts that say where you might be drafted?
Vladimir Ducasse
(1:18 PM)
No, not really. But everybody looks at the mock drafts. I've seen where you're in it. They have it all over the place. I have been in the first round to the third round. That's why people have been telling me that's around where I'll probably be drafted.
Jeff (RI)
How did you decide you wanted to play football?
Vladimir Ducasse
(1:19 PM)
I was about 275, 6-4 and walking down the hall, not doing anything. Coach told me that I'm too big to be just standing there not playing. So I went out and tried it and loved it.
Ollie (Houston)
What will you miss most about UMass?
Vladimir Ducasse
(1:20 PM)
Probably just hanging out with my teammates.
Penny (Boston)
What keeps you motivated?
Vladimir Ducasse
(1:20 PM)
My love of the game. I'm also doing this for my family. Also, for all of the people that helped me get this far. I know I can't let them down.
Doug (washington)
before you started playing football, what did you want to be when you grew up?
Vladimir Ducasse
(1:21 PM)
I was thinking about going to school. Before I had a scholarship offer for football, I had another academic offer. I was thinking about engineering. That's kind of what my dad wanted me to do.
Chris NYC
what does your family think?
Vladimir Ducasse
(1:22 PM)
They are all happy about it, but they don't try to get in too deep. They know whatever happens it will be my decision. With some families, they get involved too much and try to affect the decision. So they let me make my decisions, but they are very happy for me.
zach (storrs,ct)
Did you have a favorite college football team growing up?
Vladimir Ducasse
(1:23 PM)
My first college football game I watched was USC-Texas in the Rose Bowl. I picked USC to win that game, so at the time they were my favorite.
dan (boston,ma)
If their was one quarterback you could sack who would it be?
Vladimir Ducasse
(1:23 PM)
Probably both Manning brothers. Maybe Michael Vick, but after last season, that might not be possible.
Ben Coblyn (Amherst)
Vladssssss! Whats your favorite place to eat in Amherst?
Vladimir Ducasse
(1:24 PM)
The Hanger! Hahaha.
Pete (Amherst, MA)
UMass Alum here, what is your favorite? Bueno y Sano, Wings over Amherst or Antonios?
Vladimir Ducasse
(1:24 PM)
Hi Pete. I would have to say Antonios and Buenos. They're both the best.
Pete (Amherst, MA)
Vlad. You are going to put UMass on the map, what is your favorite slice at Antonios?
Vladimir Ducasse
(1:25 PM)
The honey mustard chicken.
Brad (Gadsden,Alabama)
Vladimir, Who was your fav. player growing up?
Vladimir Ducasse
(1:25 PM)
I didn't really have a favorite player growing up.
kaliee (bangor,me)
Do you hope a warm weather team drafts you or is that a non factor to you?
Vladimir Ducasse
(1:26 PM)
It's not a factor for me. I've played in the cold and in the warm. But it would be good if I got drafted by a warm weather team.
Sylvain (calgary)
Bonjour Vlad, Were there any D1-A school recruiting you at all or was UMASS your only offer?
Vladimir Ducasse
(1:27 PM)
UConn. I think they were afraid of the whole experience of playing football. Nebraska came real late. They sent me an e-mail asking me to come as a walk on. Temple too. But I wanted to stay closer to home. So, I went to UMass.
Pete (Amherst, MA)
How many slices of Antonios could you eat in one sitting?
Vladimir Ducasse
(1:27 PM)
Probably 5-7 slices.
Pete (Amherst, MA)
Will you come back to Amherst a lot? I expect to have a beer with you on alumni weekend at the tailgate
Vladimir Ducasse
(1:28 PM)
Yeah, probably.
Will (Washington)
Did you have family in Haiti that was effected by the big earthquake?
Vladimir Ducasse
(1:28 PM)
No, the only persons were my grandmother. She hurt her legs. It wasn't anything serious and she's healed now.
Vladimir Ducasse
(1:29 PM)
Thank you for supporting me.
Buzzmaster
(1:29 PM)
Thanks for chatting Vladimir!