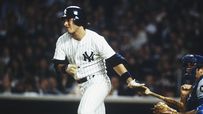 Dent was a three-time All-Star.
Welcome to SportsNation! On Friday, we're going to help launch ESPNNewYork.com with the style befitting the Big Apple when former New York Yankee Bucky Dent stops by to chat.
Dent spent 12 seasons in MLB, including parts of six with the New York Yankees. He is probably best remembered for his home run that led the Yankees to win the 1978 AL East tiebreaker over the Boston Red Sox. Dent won World Series titles with the Yankees in 1977-78, winning the 1978 World Series MVP.
Send your questions now and join Dent Friday at 11 a.m. ET!
More Special Guests: Previous chats | SportsNation
Bucky Dent
(11:11 AM)
Happy Easter to everybody!
Brian S. (West Paterson, NJ)
Hey Bucky, hows it going? I just want to know what is your favorite Yankee moment you have been a part of?
Bucky Dent
(11:11 AM)
Playing in the 1978 game against the Red Sox. There are so many great moments but that game alone was one of the greatest.
Chris Fiegler (Latham,NY)
Who do you think are the best players on the field for the New York Yankees in 2010?
Bucky Dent
(11:12 AM)
Jeter, A-Rod and Teixeira.
Peter C (Rye, Ny)
Bucky, what do you think Joba's role will be for the Yankees this season?
Bucky Dent
(11:13 AM)
It looks like they will put him in the bullpen.
MJ (Bronx, NY)
Bucky: A couple of your teammates from '77-'78 are now in the Hall: Reggie and the Goose. Anyone else from those teams who you think should get in (i.e., Thurman; Guidry; Nettles)?
Bucky Dent
(11:14 AM)
Catfish Hunter is in. I thought Thurman had a chance to get in but I don't think that's going to happen. I played with some good players but I don't think their numbers are good enough to get in.
Jackson (Milwaukee)
How do you feel the Milwaukee Brewers will fare in the NL Central in 2010?
Bucky Dent
(11:15 AM)
They have been pretty sound the last few years except last year. I think it will come down to them staying healthy and is their pitching good enough.
Charley Ruperto (Hicksville, NY)
How do you compare the championship Yankee teams of the 90's and today, to the teams you were on in the 70's?
Bucky Dent
(11:16 AM)
They all had the same type of characteristics ...great players and pitchers. They all had the ingredients to make up a championship team.
Dave M. (Jacksonville, FL)
Who on the 2010 Yankees do you most closely identify with as a player?
Bucky Dent
(11:17 AM)
Oh man, that's hard to say. They have so many great players and I really don't know. That's a really good questions.
Matt (NJ)
Hi Bucky, first off I would just like to thank you for a great yankee career and that great homer you hit over the green monster to beat the bosox in 1978. I was wondering if this shaky spring training from CC Sabathia is something to worry about going into the regular season?
Bucky Dent
(11:18 AM)
No, not at all. Sometimes guys are working on new pitchers. He's a proven veteran and I think he's going to be fine.
Pete Mitchell (Brooklyn)
Who would you want on your side in a fight, Thurman or Reggie?? Both seemed like real tough guys.
Bucky Dent
(11:19 AM)
(Laughing) Their both tough guys but I'd probably take Thurman.
Brian K (Indianapolis, IN)
Hi Bucky, were you able to attend 2010 spring trainig this year? Any standouts in your eyes?
Bucky Dent
(11:20 AM)
I didn't go to spring training this year so I can't answer who stood out.
Thomas (Staten Island)
Are you surprised at how good a career Bernie Williams had? When you were managing the Yanks, Roberto Kelly -- who was traded to make room for Bernie -- was considered an All Star.
Bucky Dent
(11:21 AM)
No, I coached Bernie when he was younger and I could tell he had all the great tools for being a great player. I'm not surprised that he had the type of career he had.
Justin (Atlanta)
Hello Mr. Dent, I am wondering which stadium you prefer, Old or New Yankee Stadium?
Bucky Dent
(11:21 AM)
I played in the old one so my heart is with the old one.
Brandon (Chicago)
What are your projections or thoughts on Javier V?
Bucky Dent
(11:23 AM)
I think he's going to have a good year. He has good stuff and I think he wants to prove that he can pitch in New York.
Gary S (Boston)
What do you think about Seattle this year?
Bucky Dent
(11:24 AM)
They've really improved their team by going out and getting some players. I think they really closed the gap in the West.
Mike (Manhattan)
Bucky: any thoughts on how many more years we can get out of Jeter?
Bucky Dent
(11:24 AM)
He's such a good athlete and keeps himself in good condition. I think he's good for two or three more seasons.
Bucky Dent
(11:25 AM)
Looking forward to another good season form the Yankees and another exciting MLB season.