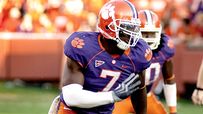 Sapp is the fifth best DE in the draft.
Welcome to SportsNation! On Friday, we're going to talk NFL draft when defensive end prospect, and former Clemson player, Ricky Sapp stops by to chat.
Sapp was a three-year starter for Clemson, while seeing significant playing time all four years. He recorded 16 career sacks, including four as a freshman playing behind All-American Gaines Adams. Clemson was in the top 25 in total defense each of Sapp's four years in college.
Scouts Inc. ranks Sapp as the fifth best defensive end in the draft. They also like his explosion off the line and his profile says that he "has experience lining up at outside linebacker in a base 3-4 defense (see 2008 Maryland game). Appears comfortable opening hips when asked to drop into zone coverage and surprisingly fluid in space."
Send your questions now and join Sapp Friday at 4 p.m. ET!
More Special Guests: Previous chats | SportsNation
Ricky Sapp
(3:57 PM)
I'm enjoying the NFL process. I can't wait to see where I'll go.
Brad (Gadsden,Alabama)
Ricky, Do you have any pre-game rituals?
Ricky Sapp
(3:58 PM)
One thing I like to do is find a corner and sit while listening to gospel music. I take this time out to prepare myself for the game mentally and physically.
Nick (NJ)
Hey Ricky, How will you be watching the draft
Ricky Sapp
(3:59 PM)
I plan to be in my hometown of Bamberg with my family and friends.
Frank (Dallas)
Growing up, who was your favorite team?
Ricky Sapp
(3:59 PM)
The Dallas Cowboys, America's team!
Nick (NJ)
do you play video games? How excited are you to see yourself in Madden next year?
Ricky Sapp
(4:00 PM)
It's a dream come true. Growing up playing Madden, I never really thought about being in one. I can't wait to get that first copy of the game.
Frank (Coram, NY)
What would you consider to be your strengths and what would be the one thing you feel you need to work more on?
Ricky Sapp
(4:01 PM)
One of my strengths is rushing the passer and getting to the quarterback. One thing that I need to work on is my technique.
Frank (Dallas)
What scheme do you feel more comfortable with at this time? 3-4 or 4-3?
Ricky Sapp
(4:02 PM)
I will comfortable with both. I see myself as an utility guy. A guy that can do well in both schemes.
Chris Fiegler (Latham,NY)
Which NFL team do you think that you will play for in 2010?
Ricky Sapp
(4:03 PM)
If I had to say, it would be the Eagles, Packers or Cowboys.
Chris (Florida)
Which NFL player did you look up to as a kid?
Ricky Sapp
(4:04 PM)
Jevon Kearse, defensive end.
Scott Streeter (Beaverton,MI)
What are you going to miss the most about College and what are you looking forward to most about the pros?
Ricky Sapp
(4:05 PM)
I'll miss playing on Saturday's in Death Valley. We have some of the best fans. the biggest thing I'm looking forward to is playing on Sunday's where everyone is good. Just seeing how I fit in with these guys.
Adam G (Miami )
Is gospel the only thing in rotation on the ipod or do you listen to anything else?
Ricky Sapp
(4:05 PM)
I listen to Pastor Troy and a lot of Rick Ross.
Jake (Muncie, IN)
Ricky, what teams have interviewed you so far?
Ricky Sapp
(4:06 PM)
The Eagles, Jets and Cardinals.
Frank (Dallas)
If you become a Cowboy, then I will go out and buy your jersey with the quickness.
Ricky Sapp
(4:07 PM)
(Laughing) Thank you, it would be great to play with America's Team.
Chris (Florida)
Which opponent talked the most trash in college?
Ricky Sapp
(4:07 PM)
Wake Forest, they always talk a lot of trash.
Taiqee (Delaware) [via mobile]
How do you compare yourself to the other Defensive Ends entering the draft?
Ricky Sapp
(4:08 PM)
I think I'm more athletic than most guys.
Hayden (Logan, Utah)
Oh man, I liked you till you said 'americas team' why? Why do that?
Ricky Sapp
(4:08 PM)
(Laughing) My father was a die hard Cowboys fan so naturally I became one too.
Hayden (Logan, Utah)
what will you buy first with the money?
Ricky Sapp
(4:09 PM)
I plan to by my mother a new house.
Shawn (Pa.)
I know this may be a long shot, but how great would it feel if you and CJ Spiller got drafted by the same team?
Ricky Sapp
(4:10 PM)
Oh man, that would be such a blessing to play with a great player like him on the next level. I'm gonna cross my fingers on that one.
Hayden (Logan, Utah)
that is cool. for sure! Then shes GOTTA cook your favorite meal when you come over? What is it?
Ricky Sapp
(4:10 PM)
Salman and rice with bacon.
Adam G (Miami )
Did you make any friends at the combine or during this process of going to the League? GO COWBOYS!!!
Ricky Sapp
(4:12 PM)
I did. I met a lot of guys that I watched play Brandon Graham, Sergio Kendall and Sean Weatherspoon.
Ricky Sapp
(4:13 PM)
I really look forward to draft day and I hope everything goes well. Thanks for the questions and I look forward to seeing you on Sunday.