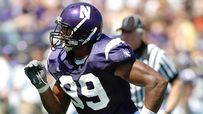 Wootton is the sixth-best DE in the draft.
Welcome to SportsNation! On Friday, we're going to talk NFL draft when defensive end prospect, and former Northwestern player, Corey Wootton stops by to chat.
Wootton's big year came in his junior season, when he had 10 sacks. He had to fight through some injuries during his season year, but still recorded four sacks in his final five games.
Scouts Inc. ranks Wootton as the sixth best defensive end in the draft. They like his size and frame and his profile says that his "diagnostic skills are elite. Not a lot of wasted motion and gets himself into strong initial position. Gets the most out of his overall skills on a consistent basis. Works to the whistle on every play."
Send your questions now and join Wootton Friday at 1:45 p.m. ET!
More Special Guests: Previous chats | SportsNation