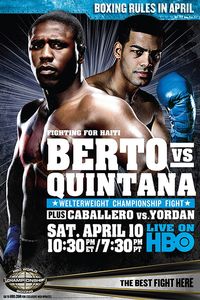 Welcome to SportsNation! On Wednesday, we will go inside the ring when WBC welterweight champ Andre Berto stops by to chat about his upcoming title fight.
Berto (25-0, 19 KOs) takes on Carlos Quintana (27-2, 21 KOs) Saturday from the BankAtlantic Center in Sunrise, Fla. live on HBO at 10:30 p.m. ET.
Berto won the vacant WBC belt by defeating Miguel Angel Rodriguez via TKO in 2008 and he has made three title defenses in the last two years. This will be his first fight in 2010, after winning both of his 2009 fights via decision. His first title defense against Steve Forbes in 2008, which he also won by decision.
Send your questions now and join Berto Wednesday at 12:30 p.m. ET!
More Special Guests: Previous chats | SportsNation
Buzzmaster
(12:30 PM)
Andre Berto will be here shortly to chat with the 'Nation about his upcoming fight.
Andre Berto
(12:32 PM)
Thanks for coming on and chatting with me! Let's get started.
Pete (Canada)
I am an up and coming boxer learning the ropes...If you were to give me one good pointer what would it be?
Andre Berto
(12:33 PM)
The main thing I can tell you is to stay focused and dedicated.
Will (Chicago)
Who is your favorite boxer of all time?
Andre Berto
(12:34 PM)
I have a few ...Marvin Hagler, Mike Tyson, Joe Lewis and Muhammad Ali.
Fred (Washington)
What is your diet like leading into a fight?
Andre Berto
(12:34 PM)
High protein and low carbs.
Steve (Denver)
What did you focus in on during your training camp?
Andre Berto
(12:35 PM)
I trained a lot on the south paw stance. They way they move and punch. I just wanted to get familiar with it.
dan (tampa)
good luck this saturday,has helping out in haiti helped you as a boxer
Andre Berto
(12:36 PM)
Thank you. If defiantly has helped me, it motivated me.
Aaron (Wisconsin)
What weakness of Quintana's do you hope to exploit in the ring?
Andre Berto
(12:37 PM)
His speed and his strength, I think I will overwhelm him with my speed and explosiveness.
Dave (Florida)
What do you think is your biggest strength in the ring?
Andre Berto
(12:38 PM)
My biggest strength is my speed, my determination and my motivation to win.
Darryl (Houston)
Do you plan on moving up in weight at some point?
Andre Berto
(12:39 PM)
I think I'm going to stay where I'm at because there is a lot of competition at this weight. If I clear out everyone in my weight class, then I'll move up.
Sam (Boston)
what's the worst part about preparing for a fight?
Andre Berto
(12:39 PM)
Watching your weight and not eating what you want to eat. OH, we can't have females around either.
Greg (Boston)
If you could be a pro in another sport, which sport would you choose?
Andre Berto
(12:40 PM)
It most likely would have been football.
Erik (Cheyenne, Wyoming)
Do you feel this will be a step down for you facing Quintana? I know he's an excellent boxer and skilled competitor but how does that compare to fighting a future Hall of Famer like Mosely?
Andre Berto
(12:41 PM)
They are two completely different fighters in two totally different fazes. I defiantly look at Quintana as a threat.
ken (jackson heights)
How much running do you do preparing for a fight? Any all out sprints? Good luck on Saurday.
Andre Berto
(12:42 PM)
Thank you. I run at least five or six miles a day.
Jeff (Las Vegas)
Hi Andre! What top welterweight would you most like to fight?
Andre Berto
(12:43 PM)
Anyone of them. I have a lot to choose from in Pacquiao, Mosley, Mayweather, Cotto, etc. I'll be glad to take any of them.
Nick (Harrisburg, PA)
Seeing that Quintana's only two losses have come against the likes of Cotto and Williams...do you see a victory here as the first of many fights against elite competition?
Andre Berto
(12:44 PM)
Of course. This fight can lead to me continuing to fight the best of the best.
Jeff (Ohio)
Andre, did you see Roy Jones and Bernard Hopkins? Please tell us your fight's going to be more exciting than that travesty!! Good luck!
Andre Berto
(12:45 PM)
(Laughing) Thank you. I hope it will be.
Josh (NYC)
Compered to your previous fights, how is your focus coming in to this fight?
Andre Berto
(12:45 PM)
It's the same as always. I'm focused and ready to get back in the ring to preform.
Andre Berto
(12:47 PM)
I appreciate all the fans for chatting with me today. Check me out on HBO this Saturday as I take on Carlos Quintana.