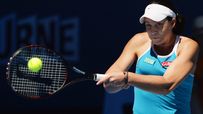 Marion Bartoli has finished in the top 20 the last four years.
Welcome to SportsNation! On Monday, Sony Ericsson WTA Tour's Marion Bartoli stops by to chat as she prepares for the Family Circle Cup in Charleston, S.C.
Bartoli reached the semifinals at the Family Circle Cup last year, in a season when she collected two of her five career titles.
Currently No. 12 on tour, Bartoli, a finalist at 2007 Wimbledon, reached the round of 16 at Indian Wells this year, and most recently had a semifinal finish at the Sony Ericsson Open in Miami.
Send your questions now and join Bartoli Monday at 2 p.m. ET!
More Special Guests: Previous chats | SportsNation
Buzzmaster
(2:01 PM)
Marion will be here shortly to take your questions!
Buzzmaster
(2:07 PM)
Marion's here!
Scotty (North East Philly)
Do you have any pre-match or post-match superstitions? or things you do after every match?
Marion Bartoli
(2:08 PM)
Not really. I'm not really superstitious.
Andrew (Greece)
What is your goal for 2010?
Marion Bartoli
(2:09 PM)
I would love to be in the final four for a Grand Slam again. I would like to be in the championship at the end of the season, so I need to be in the top 8. If I play the way I did in Miami, I will be in good shape to do it.
Valentine (france)
Hey Marion! I know that you won 3 double titles! do you think one day you will back in double competition?thank you!
Marion Bartoli
(2:10 PM)
I don't think so. Right now, the schedule is already very tough for all of the players. We have to play a bunch of tournaments. The season is very long. I'm trying to focus on singles. To play winning doubles, I'd have to practice more. Maybe when I get older, I will, but right now, no more doubles.
Leo Djkman (Holland)
Do you have a favourte tournement
Marion Bartoli
(2:11 PM)
Well, since I'm French, the French Open in Paris, I want to play well in my home country. It's very special to me. I also like Miami as well. It's a fun city. There are a lot of tournaments that I love. But my top three is probably French Open, Wimbledon and Miami.
Martina (London)
What is your favorite surface?
Marion Bartoli
(2:11 PM)
Grass courts.
Tobias (Bottrop, Germany)
You've got a very interesting playing style - How does it came that you're playing both handed?
Marion Bartoli
(2:12 PM)
When I started playing, I was playing with one hand only. But my father saw Stefi Graf play in 1992 with both hands on both sides. I didn't have the strength to hit with one hand only so he told me to try hitting with both hands and it worked pretty well. She was a big inspiration for me.
Jack (UK)
Hey Marion, I'm a huge fan of yours! I'm interested to know what your daily routine is at a tournament when you have matches every day? Thanks and good luck at Charleston!
Marion Bartoli
(2:13 PM)
It always depends on the tournament if it's a tournament played in the night or during the day. I will try to do some physical training or practice before the match, hitting some balls or other training. My minimum is 1.5 hours of training before a match to get my body warm.
Josephine Bell (London UK)
If you were to play tennis with only one hand on your racquet, would you play as a left-handed or right handed player?
Marion Bartoli
(2:14 PM)
My left. Definitely. I'm lefty, so my left for sure.
Leo Djkman (Holland)
What is your biggest motivation?
Marion Bartoli
(2:15 PM)
The first and main motivation for me is my passion. After a few days off, I want to go back playing. I try to get better every day. I'm always trying to do something better. When I wake up, my first thought is what I want to go out and practice. It's really easy to get motivated to try and improve.
Frank (Dallas)
Are there any other sports that you find enjoyable to watch?
Marion Bartoli
(2:16 PM)
Yeah, I love European soccer. I'm a huge fan of our team in France. I had the chance once to meet the players and see them play in Marseilles. I like also the NBA.
Hayden (Logan, Utah)
what is your favorite thing about France that doesnt exist in the US?
Marion Bartoli
(2:16 PM)
Paris. Probably.
Kieran Mason (Norwich England)
What are your chances for the next 2 grand slams ?
Marion Bartoli
(2:17 PM)
I'm very excited. Wimbledon is the one where I have the most chance to do well. This year, I'm going to try and do my best in the French Open. It was really heartbreaking last year. I'm hoping to have more confidence there. The grass court is my favorite, so Wimbledon should be fun also.
Marion Bartoli
(2:18 PM)
First, I would like to thank you for supporting me. I had some great support in Miami. I look forward to seeing you at my next tournament.