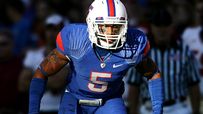 Haden is the best CB in the draft.
Welcome to SportsNation! On Monday, we're going to talk NFL draft when cornerback prospect, and former Florida player, Joe Haden stops by to chat.
Haden, entering the NFL draft as a junior, made an impact on the Gators' defense since his freshman season. A starter since his freshman season, Haden recorded three sacks and a career-high four INTs in his junior year.
Mel Kiper Jr. and Scouts Inc. rank Haden as the best cornerback in the draft and Scouts Inc. says that he is the 11th best overall player in the draft. They like his balance, strength and size, while his profile says that he "shows elite burst out of pedal and can make up a lot of ground when the ball is in the air. Times blitzes well and can get to the quarterback in a flash."
Send your questions now and join Haden Monday at 12:30 p.m. ET!
More Special Guests: Previous chats | SportsNation
Buzzmaster
(12:29 PM)
Joe should be here shortly!
Niko (Orlando)
Besides the national title and SEC championship games, what game(s) were the most memorable for you?
Joe Haden
(12:31 PM)
2008 Florida-Georgia game, because I had one of the biggest plays in my career. I ran back the INT to the 1 yard line.
Richard (West Virginia)
What Corners in the NFL to you most want to model your game after
Joe Haden
(12:33 PM)
Darelle Revis, because of his physical play. I like him the most. Just because of the way he plays.
Chris (New Jersey)
Hey Joe I'm a big fan...been following you at Florida for the past 3 years. Do you see yourself as a shutdown corner and what type of defensive scheme do you think will best suit your skills in the NFL? Thanks and Go Gators!
Joe Haden
(12:34 PM)
I definitely see myself as a shutdown corner. I like a bump and press scheme, where I can get my hands on the receivers. That's probably my best fit.
Gergs (Davenport, IA)
Joe- I am BIG TIME Gator fan and am going to miss seeing you roaming the swamp. How does playing in Gainesville compare to anything in your life ?
Joe Haden
(12:34 PM)
Playing in Gainesville is one of the best experiences in my life. Just the love and support you get in Gainesville is amazing. It's the best experience I've had in football.
Seahawks Fan (Seattle)
Which teams have shown the most interest in you?
Joe Haden
(12:36 PM)
Cleveland, Oakland, Jacksonville and San Francisco.
Dan (Philadelphia)
Does it matter to you where you are drafted?
Joe Haden
(12:36 PM)
No, it doesn't matter, but the earlier the better.
chris (fort washington, maryland)
joe i play for the Friendly high school Patriots, where you used to play here it ft washington. anything u have to say to us about leaving with a championship as you did 4 years ago for the pats and how special that is?
Joe Haden
(12:37 PM)
It's real special to win the championship in high school, espeically when you can celebrate it with your friends.
Niko (Orlando)
Who was the most difficult receiver to cover in college?
Joe Haden
(12:38 PM)
Besides Percy Harvin in practice, I would have to say AJ Green from Georgia.
mike (madison)
Joe, did any team really impress you when meeting with different teams ?
Joe Haden
(12:39 PM)
Pittsburgh Steelers. I love coach Tomlin. He was really cool, down to earth. I really like their scheme.
Brad (Gadsden,Alabama)
Joe, Do you have any pre-game rituals?
Joe Haden
(12:39 PM)
I don't really have any pregame rituals. I listen to some music, but I have nothing that I do really. I pray and listen to Li'l Wayne.
Hayden (Logan, Utah)
do you play video games?
Joe Haden
(12:40 PM)
The only time I play video games is when NCAA came out and I was in the game. Now, I'll play when Madden comes out and put myself at QB, punt return and kick return.
Mike B. (Cleveland, OH)
Joe, how's my boy Riley Cooper doing? How would you feel about being teammates with him once again on the next level?
Joe Haden
(12:40 PM)
I would love to be teammates with him again. He's a real cool, down to earth dude. Being teammates again with him would be great.
Chris (New Jersey)
Are you excited to face former teammates like Percy Harvin, Louis Murphy and soon to be drafted Aaron Hernandez in the NFL?
Joe Haden
(12:41 PM)
Oh yeah, definitely. I would love to play against them. Meet them before the games, talk to them. It would be just like practice in the old days. Competing and talking trash.
Clay D NY [via mobile]
Promote yourself: Why should you be selected over Eric Berry in the draft?
Joe Haden
(12:42 PM)
Being ballhawks. Always wanting to be around the ball. Toughness. Being able to hit. Knowing what the offense will do before they do it. Studying the game.
Hayden (Logan, Utah)
Cant wait to see you play in the pros! How excited are you?
Joe Haden
(12:43 PM)
I'm very excited. It's been a dream of mine since I was a little boy. Now, it's just over a week away. It's crazy. Overwhelming.
Mike B. (Cleveland, OH)
You've probably met my brother Scott...he's the drunk redhead that always crashes at Riley's on weekends...
Buck (SF)
We would love to have you in SF. How would you like to play for Sings? It appeared you were stuck in a vat of dough during your 40 at the combine. Should we be concerned about your speed?? Good luck.
Joe Haden
(12:44 PM)
It was a fluke. I had a lower back injury that I re-aggravated during the bench at the combine. At my pro day, I ran between a 4.39 and a 4.42. I would love to play for Mike Singletary.
Dave (FL)
Joe, how does Florida look this spring?
Joe Haden
(12:45 PM)
They look really good this spring. We have a lot of players leaving, but the guys there have been there for a while. Brantley is a really good QB. Moore is back healthy. Black, Hill, Jenkins on defense are solid in the secondary and will be NFL draft picks next year if they come out.
Fusion (Jacksonville, FL)
You mentioned the 2008 UF/UGA game as one of your favorites: did you get away with a little "extra contact" against AJ on your long interception?
Joe Haden
(12:46 PM)
No, it's called, slick DB play.
Chris (New Brunswick)
Seeing as you saw him in practice all the time, do you think Tim Tebow has what it takes for the next level? And be honest, you'd love to pick one off of him in the NFL wouldn't you?
Joe Haden
(12:46 PM)
He definitely has what it takes. I think sometimes they look too much at throwing motion. He gets the job done. They say the motion is flawed, but the ball gets there. You couldn't pick anybody more mature or a better person to lead your team.
Joe Haden
(12:47 PM)
Thanks for asking questions. Check me out at 2:20 on ESPNEWS.