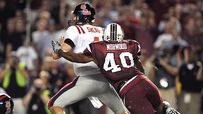 Norwood was first team All-American in 2009.
Welcome to SportsNation! On Wednesday, we're going to talk NFL draft when linebacking prospect, and former South Carolina Gamecock, Eric Norwood stops by.
Norwood earned All-SEC honors in his last three seasons at USC. He was productive on the field from the first moment he put on a Gamecock jersey, recording seven sacks his freshman season and 29 for his career.
Mel Kiper Jr. ranks Norwood as the fourth best inside linebacking prospect in the draft. Scouts Inc. likes his durability and his profile says that he "shows good awareness in coverage and a sense for where underneath crossers are at all times. Fluidity is adequate and flashes the ability to stay with backs in man coverage. Times blitzes well and a relentless pass rusher. Has the versatility to line up at end on downs with pass heavy tendencies."
Send your questions now and join Norwood Wednesday at 2 p.m. ET!
More Special Guests: Previous chats | SportsNation
Buzzmaster
(1:59 PM)
Former South Carolina linebacker Eric Norwood will be here at the top of the hour to chat about the NFL Draft and his time as a Gamecock.
Eric Norwood
(2:01 PM)
What's up!
Davis (Greensboro)
Which SEC team talked the most trash???
Eric Norwood
(2:01 PM)
Florida
Leo (Detroit, M.I.)
What sets you apart for all the other linebackers in the draft?
Eric Norwood
(2:01 PM)
What sets me apart from other linebackers in the draft is my versatility, my instincts and my playmaking ability.
Adam Taylor (Charleston, SC)
What was your most memoriable football experience during your time at USC and what would you say to a recruit about USC?
Eric Norwood
(2:03 PM)
My most memorable experience is playing against South Carolina State and playing against my younger brother who plays for them. I would tell a recruit that USC is a great place to be. Great structure, fans, academics and thing of that nature.
nick (NJ)
do you play video games? How excited are you to see yourself in Madden next year?
Eric Norwood
(2:04 PM)
I play video games and I'm very excited to see myself in Madden next season.
Brad (Gadsden,Alabama)
Eric, Do you have any pre-game rituals?
Eric Norwood
(2:05 PM)
I listen to music on my iPod, that's about it.
Scott (Atlanta)
Eric, Do you think playing a the highest level of competition in the SEC has you more prepared for the NFL than some of the other linebackers in this draft from the smaller conferences?
Eric Norwood
(2:06 PM)
Defiantly, it helps the transition. Talking to other players that are now in the league and who have played in the SEC, the transition isn't that big. The SEC prepares us well to play on the next level.
Pam (Columbua)
I think you're a great role model for young black athletes. Graduated in less than 4 years and returned for your senior seaon!! Good luck and god bless!!!
Eric Norwood
(2:06 PM)
Thank you, thanks a lot.
Brian (Columbia, SC)
I think you would be a great fit for the Cowboys and get an opportunity to learn from an elite pass rusher like demarcus Ware. Do you hope you get to go to a team where you can learn for a year from an elite rusher?
Eric Norwood
(2:08 PM)
I hope to come in a make an immediate impact but whatever team I'm on, I know I will learn a lot. Especially from guys like DeMarcus Ware.
Brad (Atlanta)
Is there anything special you plan on doing with your first NFL pay check???
Eric Norwood
(2:08 PM)
Nothing to big, just get my cousin a laptop.
Colin (New Orleans)
DO you prefer to blitz or to drop back into coverage?
Eric Norwood
(2:09 PM)
I prefer to blitz. I like to be on the move.
Nobrainer (Charlotte, NC)
Eric, you will be one of my favorite gamecocks of all time. We will miss you this season. Do you think you have to go to a team with a 3-4 defense to succeed in the NFL or could you play in a 4-3 scheme just as effectively. Do you have a preference?
Eric Norwood
(2:09 PM)
It doesn't matter. I played them both my last three season in South Carlina so it really doesn't matter.
Shane (Lake Murray)
Which teams have you talked to the most, and where are you expecting to get drafted?
Eric Norwood
(2:10 PM)
Not any one team more than anther but I expect to get drafted late first into the second round.
Eric Norwood
(2:11 PM)
Thanks for all the support. I plan to jump right in and help whichever team drafts me.