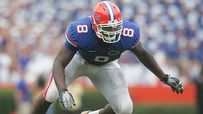 Dunlap was the defensive MVP in the 2009 BCS title game.
Welcome to SportsNation! On Wednesday, we're going to talk NFL draft when defensive end prospect, and former Florida Gator, Carlos Dunlap stops by to chat.
Dunlap recorded nine sacks in his junior season, his last at Florida. For his career, the 6-6, 277-pounder had 81 tackles to go with 19.5 sacks, 8 passes defleced and 3 blocked kicks.
Scouts Inc. ranks Dunlap as the fourth best defensive end in the draft. They also like his pass rushing skills and durability, while his profile says that he "moves very well for his size and even returned kicks for high school team. Can recover when caught collapsing too far inside or too far upfield. Shows good lateral mobility when scraping down the line of scrimmage. Can line up anywhere on the defensive line in a four-man front and could develop into an effective end in a base three-man front if moved there."
Send your questions now and join Dunlap Wednesday at 2:40 p.m. ET!
More Special Guests: Previous chats | SportsNation
Buzzmaster
(2:37 PM)
Carlos will be here in a few minutes for your chat questions!
Buzzmaster
(2:42 PM)
We've got Carlos!
Nick (NJ)
How will you be watching the draft
Carlos Dunlap
(2:43 PM)
Me and my family will sit and the house in front of the TV in Charleston, probably playing cards or something. Friendly game.
Brad (Gadsden,Alabama)
Carlos, Who was your favorite player growing up?
Carlos Dunlap
(2:43 PM)
I would have to say Julius Peppers, because I'm from Carolina.
Dave (Boston)
how cool is it that you'll now be playing with guys you've watched?
Carlos Dunlap
(2:44 PM)
Getting that first hit on Peyton Manning will be cool. Hitting guys like Vick that we watched and played video games with will be cool too.
Nick (NJ)
do you play video games? How excited are you to see yourself in Madden next year?
Carlos Dunlap
(2:45 PM)
Yeah, I play a lot of Call of Duty and 2K9. I play a little bit of Madden, but not too much.
Clay D NY [via mobile]
Would you rather play in a 4-3 defense or a 3-4?
Carlos Dunlap
(2:45 PM)
No preference really, but I feel like I can play both positions. We had both of them at Florida.
PJ (NY)
Where is your prediction of what pick you get taken? One mock draft I looked at said you were going 38th overall to Cleveland.
Carlos Dunlap
(2:46 PM)
No. You never really know, because everyone makes trades at the last minute. I was in New York speaking with the Jets and they just signed Jason Taylor.
nick (NJ)
What is your favoirte part of this process
Carlos Dunlap
(2:46 PM)
My favorite part? My least favorite is the wait. But my favorite would have to be to fulfill my childhood dream. It was the dream of my peers growing up and my family.
Kyle
When did you know you could play in the NFL?
Carlos Dunlap
(2:47 PM)
It's always been a dream to play in the NFL. Coming out of high school, I felt that if I succeeded in the SEC and did well, that it would improve my chances. That's why I wanted to go there. I felt it could improve my chances.
Clay D NY [via mobile]
What current NFL DE is your favorite?
Carlos Dunlap
(2:48 PM)
I would say Mario Williams, Peppers and Demarcus Ware.
ben (philadelphia)
what's the been the craziest question someone's asked you?
Carlos Dunlap
(2:49 PM)
One of the coaches asked me who had given me the nickname Big Philly. But no one's ever asked me that before. Another question was, would you want to be a cat or a dog? I wasn't sure what they were looking for for an answer.
Colin (New Orleans)
Would you be accepting of going to New Orleans where everyone loves LSU and hates Florida? The Saints would love to have a talent like you.
Carlos Dunlap
(2:50 PM)
I wouldn't have to worry too much about that. We played the Sugar Bowl there and got to see the city. I wouldn't mind playing there. It's a good city.
PJ (NY)
Do you expect to start your rookie year?
Carlos Dunlap
(2:50 PM)
Yeah, I'm going to do whatever it takes for me to start. They're drafting me to come in and play, not sit the bench.
Kevin
what's your biggest strength? weakness?
Carlos Dunlap
(2:52 PM)
My biggest strength on the field is stretching the play. If I'm not making the play, I'm stretching it out so that someone else can make it. My biggest weakness? That I'm not on the other side of the field.
Austin McGee (PI)
Hey Carlos!! Do you have any pre game rituals??
Carlos Dunlap
(2:52 PM)
No. A lot of the team got together and Spikes would break it down, but that's as close to a ritual as we had.
JD(NY)
What was your favorite moment at Florida?
Carlos Dunlap
(2:53 PM)
The national championship that we won in '09.
Frank (Dallas)
Who was the most difficult OL you had to face during your college career?
Carlos Dunlap
(2:53 PM)
Oklahoma and Alabama's OL gave us the most trouble. They held a lot and they got away with it.
Carlos Dunlap
(2:53 PM)
But we won both of those games.
David
Which teams have shown the most interest?
Carlos Dunlap
(2:54 PM)
You can't really tell, because teams make trades and sign guys until the last minute. I had 11 or 12 visits and all of them seemed like the teams were interested.
Carlos Dunlap
(2:54 PM)
You never know.
Carlos Dunlap
(2:54 PM)
Once a Gator always a Gator!
Buzzmaster
(2:55 PM)
Thanks for chatting Carlos!