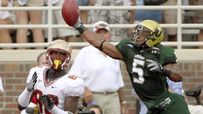 Allen totaled 10 INTs and over 200 tackles in his collegiate career.
Welcome to SportsNation! On Thursday, we're going to talk NFL draft when safety prospect, and former South Florida Bull, Nate Allen stops by to chat.
Allen, the 54th overall prospect in the draft, according to Scouts Inc., had a huge impact as a senior. He picked off five passes, while amassing 80 tackles. For his career, he had 10 INTs.
Mel Kiper Jr. ranks Allen as the fifth-best safety in the draft, while Scouts Inc. says he's the fourth-best safety. Scouts Inc. also likes his closing speed and his profile says that he "diagnoses plays and locates the ball quickly. Rarely gets caught out of position in coverage. Flashes a strong punch and can re-route receivers at the line of scrimmage."
Send your questions now and join Allen Thursday at 2:40 p.m. ET!
More Special Guests: Previous chats | SportsNation
Nate Allen
(2:43 PM)
I'm ready for the draft. I'm ready for it to all be over with so we can get back to playing football.
derrik (nacogdoches,texas)
Nate what is your biggest strength and weakness? What could you bring to the dallas cowboys if they selected you?
Nate Allen
(2:45 PM)
I'd my biggest strength is my range, I can cover the field. I'm also smart on the field and can make plays. My weakness is angles and my eye control. I can't get caught up in the play action.
DJ (Minnesota)
what player did you try to mimic your game after
Nate Allen
(2:46 PM)
I guess if I have to pick one I would say Daren Sharper. He was always around the ball and had his fair share of interceptions. I'm the same way. I like to be around the ball and get interceptions.
Austin McGee (PI)
Nate, what are your pregame rituals?
Nate Allen
(2:47 PM)
I do have one. I go in the shower and pray. Other than that, I keep my iPod on me at all times before the game.
Jason (Tampa)
Where will you be for the draft??
Nate Allen
(2:48 PM)
I'll be home with family in Fort Myers, Fl.
Brian (Washington, DC)
We need you in Dallas, how would you feel about having that star on your helmet?
Nate Allen
(2:48 PM)
(laughing) It would be almost especially being able to play with Mike Jenkins again.
Antwan (Miami)
What's good Nate?? You were such a nice QB in High School, what made you switch to Safety??
Nate Allen
(2:50 PM)
When I got to South Florida I realized my best chance to get to the next level was to play safety. A position I've played since Pop Warner.
Brad (Gadsden,Alabama)
Nate, Who was your favorite player growing up?
Nate Allen
(2:50 PM)
My favorite player was Barry Sanders. I loved watching him play.
Jacob (Nebraska)
What is an example of what you eat in a day for nutrition? And have you been doing this since High School?
Nate Allen
(2:52 PM)
In the morning I'll have an english muffin, eggs and fruit. In the afternoon I've have chicken breast, veggies and fruit. At night, I'll have the same thing as lunch. I only drink water and Gatorade throughout the day as well. Oh yeah, throw junk food in there too.
Joel Gutzmer (Wisconsin)
Hey, do you play Madden or other video games?
Nate Allen
(2:53 PM)
(Laughing) I don play Madden. I would be pretty cool to play as myself on Madden.
Beau (Orlando)
Nate, who did you most enjoy playing with at USF?
Nate Allen
(2:53 PM)
Jerome Murphy but I enjoyed all my teammates at USF.
Ricky (San Diego)
Nate, what kind of impact do you think you can have on the safety position with the Cowboys?
Nate Allen
(2:54 PM)
Hopefully whatever they need me to do. If I don't start, I'm willing to come off the bench. I'm willing to play special teams. Whatever they need me to do, I'll do.
Trevor (Dallas, TX)
Nate, What makes a safety great? We've seen our fair share of good, and not so good ones, here in Big D.
Nate Allen
(2:55 PM)
You have to be the quarterback of the defense. Able to line everybody up, be smart, make plays and do what it takes to win.
Greg (Birmingham)
What WR are you most looking forward to blowing up?? Good Luck!!!
Nate Allen
(2:56 PM)
Wow! I'm just going to hit whoever I have to. I'm excited to play against everybody.
Jeff Cook (Study Hall)
Nate, what teams have been talking to you? I know Dallas has a need for a safety...
Nate Allen
(2:57 PM)
A lot of teams. I went to visit Dallas, Cleveland, NY Jets, Tampa, Washington and St. Louis.
Jesse (dallas, tx)
did you watch football as a kid? who was your favorite team?
Nate Allen
(2:58 PM)
I didn't really have a favorite team, just favorite players. I guess you can say I was a bandwagon fan.
Nate Allen
(2:59 PM)
Thanks for all the questions and we will see what happens during the draft.
Buzzmaster
(3:00 PM)
Thanks Nate for the chat. Good luck to you during the draft.