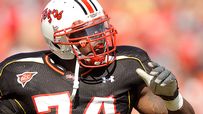 Campbell played in 27 career games, including 17 starts.
Welcome to SportsNation! On Thursday, we're going to talk NFL draft when offensive tackle prospect, and former Terrapin, Bruce Campbell stops by to chat.
Campbell started nine games in 2009 at left tackle, but battled nagging injuries all season. He was graded as one of the strongest players on the Maryland football team during his career bench pressing 490 pounds, the second-highest total in school history.
Scouts Inc. rank Campbell as the seventh best offensive tackle in the draft. They liked his pre-draft workouts, while his profile says he has "excellent lateral agility and redirects with relative ease and can counter double moves."
Send your questions now and join Campbell Thursday at 12:45 p.m. ET!
More Special Guests: Previous chats | SportsNation
Buzzmaster
(12:33 PM)
Bruce Campbell will be here at 12:45 p.m. ET to take your questions!
Buzzmaster
(12:40 PM)
We've got Bruce!
Gred (Bama)
You got to be super anxious!! How much sleep did you get last night???
Bruce Campbell
(12:41 PM)
Gred, really? I got about, I would say, about 3 hours of sleep. I went to sleep around 2. I woke up around 5 and work up every 30 minutes after that.
Dave (Texas)
was it weird at the combine, getting weighed and measured? Did you feel like a piece of meat?
Bruce Campbell
(12:42 PM)
Yes, I really did. It was kind of awkward just being in our spandex. Really awkward.
Jason (Baltimore)
Where will you be for the draft tonight??
Bruce Campbell
(12:42 PM)
I'm going to be home in Connecticut for the draft. I'll be celebrating with fans, family and people who have been watching me throughout my whole football career.
Kevin (Chicago)
did you interact with the other athletic teams at Maryland? Did you ever have a chance to play basketball against the hoops team?
Bruce Campbell
(12:43 PM)
Yes. We played basketball against the basketball players every once in a while. I played against some of the girls that were there too. I tried to play soccer, but that wasn't my cup of tea. Besides that, I pretty much watched every other sport.
rerun (su)
you are rocketing up the boards...where do you think you will wind up? what are people telling you?
Bruce Campbell
(12:44 PM)
To tell you the truth, I really don't know where I will end up. The draft is a crazy process. I really just don't know. I wish I did know, I wouldn't be so anxious and nervous and every other feeling I'm feeling.
Paul (Florida)
how much time did you spend working out for the combine?
Bruce Campbell
(12:45 PM)
Well, I was in Florida for 2.5 months.
Jeff (RI)
What did you do to run such a good 40?
Bruce Campbell
(12:45 PM)
We worked on a lot of speed improvement things and worked on our technique a lot. We worked on our running technique every day, so we would keep a good running form.
paul (college park)
what was your favorite game that you played while with maryland?
Bruce Campbell
(12:47 PM)
The Boston College game when we played them at night and beat them when they were ranked No. 8 in the nation.
Howard (DC)
How has it been just waiting these last few months for today to get here?
Bruce Campbell
(12:47 PM)
It's been crazy. It's been really crazy because I have so many moods and emotions all worked up. You have to hear everybody talking about you, criticizing you. But you really have to just keep a level head.
Kyle (Washignton)
What was your favorite part about playing at MD?
Bruce Campbell
(12:48 PM)
Playing with my teammates every game. Knowing that I had a team that was willing to go out there and fight to the end. Especially this past season.
Jason (Denver)
when did you know you were oging to go pro? How long did it take you to make the decision?
Bruce Campbell
(12:49 PM)
I knew about the middle of December in 2009 at the end of our season. It took me about a month to really decide if I was going to go.
Steve (San Jose)
Have you talked to Heyward-Bey about the possibility of you joining your fellow Terp in Oakland??
Bruce Campbell
(12:50 PM)
Yes. Yes we have. I've talked to him and we just talk about everything and how it would be fun for him to be my teammate again. Just when you think you won't play with your former teammates again, the next year you could be playing together again.
Thomas (Pennsylvania)
Did you dream about this very day when you where.. say.. 10?
Bruce Campbell
(12:50 PM)
Really ever since I started playing football.
Russ (Dallas)
Hey Bruce - which teams seemed to give you the most attention over the last month?
Bruce Campbell
(12:51 PM)
No. If there is, I really can't tell. I really can't tell at all.
rerun (su)
do you have an NFL team, a team you have liked since childhood? how likely.important is it for you to go to that team?
Bruce Campbell
(12:52 PM)
No, not really, but if I had to pick, from my playing the game and Madden, I would have to go with the Tampa Bay Buccaneers.
Brad (LA)
Any plans for your first NFL pay check??
Bruce Campbell
(12:52 PM)
Actually, no. I have no plans.
Chris (Bethesda, MD)
What's good Bruce?? It's great to see a Terp on Sportsnation Chat!!!! A lot of experts seem to think Oakland may take you but if not Dallas may later in the first round. Will be you dissapointed if you don't get drafted tonight?? Good Luck!!!!
Bruce Campbell
(12:53 PM)
No, I won't, because regardless of if I'm drafted first or second round, I'm still going to the same place to do the same thing and that's to the NFL to play football.
Bruce Campbell
(12:53 PM)
Thank you! I really appreciate you guys being my fans.