Chat with Floyd Mayweather Sr.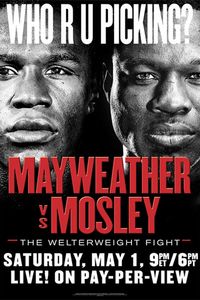 Welcome to SportsNation! On Wednesday, we will go inside the ring when boxing trainer Floyd Mayweather Sr. stops by to chat about Saturday's Floyd Mayweather Jr.-Shane Mosley fight.
Mayweather Jr. (40-0) takes on Mosley (46-5) Saturday from the MGM Grand in Las Vegas live on HBO Pay-Per-View at 9 p.m. ET/6 p.m. PT. The fight is just Mayweather's second since coming back from his 21-month retirement. He beat Juan Manuel Marquez via decision back in September.
Mayweather Sr., 58, was 29-6-1 as a professional fighter before turning to a career as a trainer. He has had an on-again, off-again relationship with his son, Floyd Mayweather Jr. and once served as Mayweather Jr.'s manager and trainer.
The Mayweathers come from a boxing family. Floyd Sr. is the eldest brother, while younger brother Roger is a former WBC super featherweight and super lightweight champion, while also serving as Floyd Jr.'s trainer. The youngest brother, Jeff, once held the IBO super featherweight title.
Send your questions now and join Mayweather Sr. Wednesday at 3 p.m. ET!
More Special Guests: Previous chats | SportsNation
Buzzmaster
(3:06 PM)
Floyd Mayweather Sr. will be here to take your questions about his son Floyd Mayweather Jr.'s upcoming fight against Shane Mosley.
Buzzmaster
(3:10 PM)
Floyd Sr. will be here in 5 minutes. Get ready, this should be a good one!
courtney (lindenwold, nj)
Hello mayweather sr, how do you feel to be back in your son's corner?
Floyd Mayweather Sr.
(3:19 PM)
It feels great! My son and I pretty much hashed out everything. It all fell back in place like it was supposed to.
ray (pa)
who is the most overated fighter
Floyd Mayweather Sr.
(3:19 PM)
Manny Pacquiao
Daytwann (Baltimore,MD)
Who do you think is the pound for pound top 5 fighters right now?
Floyd Mayweather Sr.
(3:21 PM)
There are a lack of fighters out right now to talk about but top 5, Floyd Mayweather Jr. is No. 1, the Klitschko brothers are up there too. It's sad that you can call one of them a top P4P fighter. That's how much we are lacking good fighters now a days.
Tyler C. (SLC, UT)
Is Mosley the toughest fight in Floyds career up to this point?
Floyd Mayweather Sr.
(3:24 PM)
I'm going to tell you the truth, I can't say that he isn't. I don't think he's the toughest fight. The toughest fight my son ever had was against Emanuel Augustus back in 2000.
joel (minnesota)
at what age could you tell floyd would be a great boxer?
Floyd Mayweather Sr.
(3:26 PM)
Very very young. I started him boxing right after he came out of the whob. He was fighting before he could walk. Around 1 years old, he was beating on door knobs. I knew then that he would love boxing and would be great at it.
Dom (New Zealand)
How important is Roger's advice in between rounds?
Floyd Mayweather Sr.
(3:29 PM)
Let me tell you this right here, I trained him since he was a baby. I have my input in him. I know a lot of things said in between rounds are being ignored. Don't get me wrong, what ever is being said is working because Floyd is still undefeated. But I mostly think he's undefeated because of what I thought him since he's been young. I'm appreciative that it's Roger in his corner rather than somebody else.
Gopal (San Francisco)
Is Floyd Jr. really better than Muhammad Ali and Sugar Ray Robinson, in your opinion?
Floyd Mayweather Sr.
(3:32 PM)
That is an opinion. In a lot of ways, Floyd can do things they couldn't do and they did things that Floyd can't do. But I will say this; Floyd has the best defense in the world. Nobody has been able to take Floyd's defense and perfect it. There's nothing wrong with Floyd thinking he's better than Muhammad Ali and Sugar Ray Robinson.
Blake E. Wallace (Decatur, Illinois)
After Floyd Jr. beats Mosley, who other than Manny Pacquiao would there be left for him to fight? Would the Mayweather camp possibly look at fights against Andre Berto or even Paul Williams?
Floyd Mayweather Sr.
(3:35 PM)
Personally, I would like to see my son take one or two more fights and get out. He's made 107 million dollars, so what's the point of him still fighting. The are so many fighters taking enhancements and other things that fighting isn't what it used to be. He should go out the way he came in, undefeated. Just on this end, he's walking away with a comfortable lifestyle.
Lewis (Brooklyn, NY)
What do you think of Nazeem Richardson as a trainer?
Floyd Mayweather Sr.
(3:37 PM)
(Laughing) That's like talking about Coach Roach. He don't know the first thing about training. From what I see, you can do the same thing. Shane could have got you Lewis and would get the same results. Training is one thing but training someone to fight is something totally different.
Evan (Venice, CA)
You vs. Nazzem Ricardson - three rounds. Right now. Who wins??
Floyd Mayweather Sr.
(3:38 PM)
Floyd Mayweather Sr. cause I'm the best than all the rest, there is no contest.
Floyd Mayweather Sr.
(3:38 PM)
I think Nazzem is a good guy but I would rather get in the ring with Jack Mosley.
Romeo (DC)
Have you and the rest of the Mayweather camp ever thought about having a reality show beyond just HBOs 24/7? I think it would be a huge success.
Floyd Mayweather Sr.
(3:39 PM)
I have a reality show coming. It's called Mayweather's House. It's about guns down, hands up.
Will D (Cumberland, RI)
What's your prediction for Saturdays fight?
Floyd Mayweather Sr.
(3:41 PM)
I won't take anything from Shane, he's a good shot. Ali wasn't a good puncher but he stopped Foreman and Frazier. If Floyd is standing in the 12th round, then he won. You can believe that.
Tyler C. (SLC, UT)
Will the age difference play a big part in the fight?
Floyd Mayweather Sr.
(3:43 PM)
Sometimes age plays a part and sometimes it doesn't. In this fight it does. Shane isn't as quick as Floyd and Shane will find that out real quick. Shane needs to pray that he gets lucky. I think Floyd will clearly whoop him.
Richard (Columbus, OH)
Who's prettier you or floyd?
Floyd Mayweather Sr.
(3:45 PM)
You can be prettier in a lot of different ways. I think my boy is a handsome guy and that he looks better than me but guess what, that doesn't stop a damn thing. I'm the truth!
Floyd Mayweather Sr.
(3:47 PM)
I enjoyed all the direct, mild questions. Thanks for all of them. Tune in Saturday to see Shane lose.