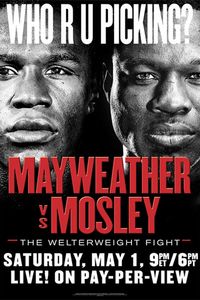 Welcome to SportsNation! On Thursday, we'll go inside the boxing ring when legendary boxing writer Bert Sugar stops by to chat about Saturday's Shane Mosley-Floyd Mayweather Jr. fight.
Mayweather Jr. (40-0, 25 KOs) and Mosley (46-5, 39 KOs) square off as the No. 2 and No. 3 ranked Pound-for-Pound fighters in the world. The fight can be seen live on HBO Pay-Per-View at 9 p.m. ET/6 p.m. PT from the MGM Grand Garden Arena in Las Vegas.
Sugar has written over 80 books and from 1979-83 he served as editor-in-chief of The Ring. Sugar also, according to his bio on HBO.com, founded Fight Game magazine in 1998. Sugar has also appeared in a few movies, including recently in "Rocky Balboa," the final chapter of Sylvester Stallone's Rocky boxing movies.
Send your questions now and join Sugar Thursday at 1 p.m. ET!
More Bert Sugar: Chats | Search | Boxing index | SportsNation
Buzzmaster
(12:54 PM)
We've got Bert!
Bert Sugar
(12:55 PM)
Mayweather-Mosley is an exciting matchup, because there are so many unanswerable questions that this promises to be a good fight, one that either man can win. And now, as Mills Lane used to say, let's get it on.
Nick (Florida)
Will the jab from Mosley be a key punch in this fight? What kind of movement can we expect to see from Mosley?
Bert Sugar
(12:56 PM)
I think that for Mosley to have a chance of winning, which he can, the jab is all important. Remember what De La Hoya did for the first six rounds against Mayweather. He jabbed him, went to the body and then the head. If Mosley uses the jab effectively, then he can set the pace and apply the pressure, both of which Mayweather doesn't care for. Bottom line, he's got to use that jab to win.
Jeff (New Orleans)
The general theme is Shane has problems with boxers with good jabs (Winky, Vernon, Fernando). They are all much bigger with a longer reach. Floyd is smaller with a shorter reach than Floyd. Will that neutralize Floyd's advantage?
Bert Sugar
(12:57 PM)
Floyd's advantage is totally his defense and counter punching. I don't think he relies on his jab like Shane.
Jeff (New Orleans)
Will Shane try to turn this fight into Mayweather vs . Castillo 3?
Bert Sugar
(1:00 PM)
Shane's faster, or at least as fast as Mayweather. That said, I don't know if he wants to turn this into an all out brawl or just pressure Mayweather. But it's going to be his punching - which you know comes in bunches rather than Mayweathers one at a time punches - and his jab will be his weapons to win if he does. All that said, the odds are 4-1 now favoring Mayweather are out of line. Common wisdom tells us that Mayweather should win, but common wisdom has been an underdog recently in some recent fights. Cotto was a 2-1 favorite over Margarito. Margarito was a 2-1 favorite over Mosley. Guess what? None of those reflected the winner. At 4-1, I have an overlay, Mosley being a "live dog." Mosley can win. I don't know if he will, but it will depend on his jab, not trying to make a brawl of this.
David (VA)
IF ...that's a big if Floyd loses, do you think he will go back into "retirement"?
Bert Sugar
(1:02 PM)
There is a return bout clause in the contract that would enable Floyd to have a rematch should he lose. I think though that with the numbers that this fight should generate on PPV, that he would want to carry on, regardless. If he wins, his eye would be on getting the lion share of the purse against Pacquiao, using the PPV figures as leverage, but I'm not sure Pacquiao would agree to anything but 50-50. That and the blood test would turn away Pacquiao from ever fighting Mayweather. Whatever happens, I don't see Floyd retiring again after this fight.
Caster (Atlanta)
Why is this a non title fight where Shane can lose his belt, but Floyd can't win it?
Bert Sugar
(1:03 PM)
Good question, simply stated: Nobody wanted to pay the WBA liscensing fee. But then again, why should they?
Bert Sugar
(1:03 PM)
The two fighters are bigger than the WBA.
john (new jersey)
Burt, do you think floyd has the power to hert mosley?
Bert Sugar
(1:04 PM)
Floyd has great power to hurt Mosley. That said, Mosley's only been down twice and Mayweather once, which was not a knockdown really. I think each can hurt the other, just not a knockout. I see this going to a decision. A close one.
Dave (Taiwan)
Honor, to have you here. Break this fight down sir.
Bert Sugar
(1:06 PM)
I think Mayweather, as opposed to many of his past performances, can not afford to take rounds to deciphor and break down his opponent's style. If he falls behind after 4-5 founds, he's going to have to do something he doesn't do and that's take the offense. Floyd's going to have to come out and engage Shane immediately. This fight should start fast, which is to no one's advantage. But if Floyd comes out and lets Shane dictate the early part, that's to Shane's advantage.
Devale (Chicago)
hey Bert, which corner do you give the edge to?
Bert Sugar
(1:07 PM)
I give the advantage to Mosley. Richardson, whom you may remember was perceptive enough to see the extra element in Margarito's gloves before the Margarito-Mosley fight is an excellent cornerman and gives great advice, allowing Mosley to adapt his fight plan. Mayweather fights the same fight plan against every fighter. There's less need to adapt the plan. Also, after having listened to the Mayweathers for years, I have no idea what they say. It's like a Tower of Babble.
Bert Sugar
(1:08 PM)
Advantage: Mosley.
patrick (nyc)
hey Bert! if this fight took place 7 years ago, who would you give the nod to?
Bert Sugar
(1:09 PM)
The edge would have gone to Mosley. He would have been 7 years younger and a full fledged welterweight. That said, Mayweather is a full fledged welterweight now. Still, this fight has all of the elements of potentially a great fight. And, even more specifically, because it has so many questions that I can't answer until the bell rings. That, as opposed to the Hopkins-Jones fight last month, which all of the questions were answered before the opening bell. In fact, I wanted to see that fight in the worst way, and I did, I was facing the ring.
Danny (Boston)
What did you think of Adamek's performance? Can he hang with Haye and the Klitchko's?
Bert Sugar
(1:11 PM)
Adamek gave a great performance Arieola, but it was against Arieola. I've dated girls that were built better. Against Haye, he would be comparable in size. He would have a good chance, but then again Haye is a knockout puncher. Against Klitchsko, he might have trouble with him being so big, albeit boring, that he would have problems against either of them.
Jerry (Miami)
Pacquioa v Mosley would be a lot more exciting than Pacquioa v Mayweather?
Bert Sugar
(1:14 PM)
Yes and no. Yes, if Mosley wins, because he wins. No, because everybody is expecting and anticipating Mayweather-Pacquiao. Nevertheless, I'm in a minority in believing Mayweather-Pacquiao will never happen, Pacquiao not even wanting to even bother with Mayweathers silly blood requirements, which cast dispersions on Pacquiao's accomplishments, but also because of the number of PPV buys of this fight Saturday night, I believe that Mayweather will try to use that in negotiations with Pacquiao down the line, not wanting to share 50-50. All of which brings me to the conclusion that that fight won't happen.
Brandon (Rogers, Ar)
In terms of legacy, would you put Mosley above Mayweather at this point in their careers? I mean, Mayweather was a great lightweight but hasn't fought anyone that adds to his legacy above 135... (De LaHoya was over the hill and almost beat him).
Bert Sugar
(1:15 PM)
I think you have something there Brandon, looking at Mayweather's record, he has a lot of fighters on there who are smaller or who weren't even household names in their own households versus Shane who looks like he's fought all of the top names in boxing over the last 10 years. There's no doubt that before the fight Saturday, Mosley has a far more impressive resume.
Jamal (Albany NY)
Floyd's never been cut I believe. Shane could be the first to administer one. Does Floyd's corner have a good enough cut-man?
Bert Sugar
(1:17 PM)
If Floyd gets cut, which I don't think will happen, I believe that the corner can deal with it, depending on its severity. I think every trainer in the world learns something from the Buster Douglas-Mike Tyson fight, where Tyson's corner was so unprepared for a cut or swelling and had to resort to using a condom filled with ice to deal with it instead of the Endswell. I don't think it will be a problem and if it is, I think they can handle it.
Tony (NV)
Floyd's chin hasn't really been tested..do you think Shane still has enough power to have a chance for a K.O.?
Bert Sugar
(1:19 PM)
Shane has enough power, but I question whether he can land that right hand, since it's a looping right hand, which feeds into Floyd's capability to make him miss and counter off of it. All of which will be a deterrent for Shane to load up on his right hand. He's off balance when he throws it and is susceptible to a counter. All in all, Floyd has only been down once against Carlos Hernandez. That was NOT a knockdown, that was Floyd shaking his aching hand and touching the floor with it and an overzealous referee calling it a knockdown. It wasn't and I don't think it will happen Saturday night either.
John (Tampa)
What cigar will you be enjoying for the fight?
Bert Sugar
(1:21 PM)
An excellent question. The problem here in Vegas which bills itself as "Sin City," is that you can get anything you want out here except a good smoke in certain areas of the casino. What the heck is that? I tell these people that if not for Winston Churchhill and his smoking 25 cigars a day, we'd be speaking German. I will be lighting up a Romeo y Julieta after the fight when an usher tells me I need to take that outside. Until then, I'll be holding it in case, at my age, I need something to hold on to in case I fall down.
hoyaguy (Winnipeg, Canada)
Bert, who do you think has the advantage in the corner, and with their trainers? How much of a difference does this make?
Bert Sugar
(1:22 PM)
I think with the build up to the fight and the trainer it's as much up to the fighter as it is the trainer. I don't think there's an advantage in training as much as planning. This fight will turn on who has the better fight plan. Both fighters have a history of training hard. As such, stamina and preparedness are not a question for either. There will be no advantage in this category.
Joe (Cincy)
Bert, were you stunned when David knocked Goliath down?
Bert Sugar
(1:24 PM)
I must tell you that I missed that one, though I was at Cain and Abel. I couldn't get credentials for that David-Goliath fight. I did read about it on a stone tablet from one of the early day prophets.
Bert Sugar
(1:24 PM)
I've enjoyed these questions and I have many more, hopefully which will be answered at 9 p.m. ET on PPV. I've enjoyed this and gang, let's do it again. This has been fun. I'm now off to the bar. -Bert.