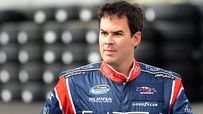 Conway finished a season-best 27th at Texas Motor Speedway.
Welcome to SportsNation! On Friday, NASCAR rookie driver Kevin Conway stops by to chat about his chances at Darlington Saturday, where he'll be driving his No. 37 ExtenZe Ford Fusion.
Conway comes from a very diverse racing background having raced in AMA Motocross, WKA go-karts, INEX Legends Cars, Super Late Models, ASA, ARCA Remax Series, USAC Midgets and Silver Crown, NASCAR Grand National West and now the NASCAR Nationwide Series. This season, Conway ranks 36th in the Sprint Cup standings.
Conway and ExtenZe Racing are looking for your local heros. Each weekend, the team will honor one person who has helped his/her community with the title of honorary crew chief while at the track. Each winner will also get a check for $1,000.
Send your questions now and join Conway Friday at 4 p.m. ET!
More Special Guests: Previous chats | SportsNation
Buzzmaster
(3:58 PM)
Kevin is here!
dave (monster mile )
hey kevin ready for a good weekend have a question whats ur top 3 favorite tracks to go to thanks
Kevin Conway
(3:59 PM)
I would say my top three favorite would definitely be, first Charlotte. I have a lot of experience there. And I love the mile and a half there. I love racing in Texas. And then you can't go wrong in Bristol. It's fun from both a fan standpoint and driver standpoint.
Brad (Gadsden,Alabama)
Kevin, What is the toughest race track?
Kevin Conway
(4:00 PM)
Based off of our practice today, I'm going to have to go with Darlington. In the Sprint Cup cars, you have less downforce and more horsepower. A lot less grip. You have no room for error whatsoever.
Mike (Nijmegen, Netherlands)
What's your opinion on the chase format as it is right now? Do you want to change anything or going back to the old format?
Kevin Conway
(4:01 PM)
From the Netherlands? That's pretty cool! The Chase has changed the face of our sport. If you're in the Chase, it's a great format for the guys 10, 11, 12. You're probably not a fan if you are at the top of the points and then you don't win in the Chase like Tony Stewart last year. I think everyone has a different opinion on it.
Matt (Chicago)
With the economy as it is and several talented drivers out of rides currently, do you feel any pressure to perform or face the possibility of losing your ride?
Kevin Conway
(4:02 PM)
Absolutely. That's part of our sport, it's a performance based sport. As an athlete, and a driver, you always want to be as competitive as you can. There are only 43 drivers in the world that get to do this every weekend. You always have that pressure. Because the economy is as it is, it's more important to do things with the sponsors away from the race tracks. It's a combination of performing on and off the race track.
Tracy (CT)
Hi Kevin, is the Cup learning curve as steap as you thought it would be?
Kevin Conway
(4:03 PM)
For me, I don't feel like I've have a learning curve. It's been more of a vertical climb. I'll be stoked with it's more of a curve than a climb. Sprint Cup has the best drivers in the world. It's so competitive over here. Every single week, you're racing against guys who have been doing this years and years and years.
Jared (Pittsburg, KS)
Do you think all of your different racing backgrounds have prepared you to run in the Cup series?
Kevin Conway
(4:04 PM)
Yes, I do. Having a diverse background helps immensely. Having run everything from midget cars to the stock cars has all come into play. You can take elements from each of those things and apply them to the Cup level. The Cup cars are some of the hardest in the world to drive. It's very unique.
Mike (Nijmegen, Netherlands)
Which line on the racetrack do you prefere? The high lane or the bottom? How do you develop such preference? How do you determine which lane you take going into a corner?
Kevin Conway
(4:05 PM)
For me, in my dirt background, if the top groove is in the racetrack, I'll be one of the first ones up there. But every track is different. In the Cup Series, the groove moves around a lot. In Darlington, there is only one groove and it's along the wall. If there's a top groove, you can usually find me there.
Kevin (NYC)
How have you enjoyed this local heros contest?
Kevin Conway
(4:07 PM)
The local heros program has been awesome. It's been an honor to meet these true American heros. A lot of times people will look at an athlete and say that's my hero. But we're not heros. We just perform. There are other people out there who truly make a difference in peoples' lives. We've had purple heart recipients to firemen running into burning buildings. We've bene putting them on the pedastal that we have and let them be an example for people to follow.
Turtle (LA)
Hi Kevin, Have you always been a Ford man and what is it like to be associated with Jack Roush and Doug Yates?
Kevin Conway
(4:08 PM)
It's kind of surreal to have the opportunity to race for the Roush and Yates programs. To be affilitated with them helps significantly. We know we have the power each week. This is the first year I've been with Ford. I have a new F150 and that thing is phenomenal. I've become a Ford fan quick.
Joe (WA)
Hey Kevin,Which driver(s) has been most helpful to you in your transition to Cup?
Kevin Conway
(4:10 PM)
There have been a lot of drivers that have helped me out. I have great veteran teammates. I can go to those guys, as we have the same equipment. I've definitely relied ont he advice of others. I've gone to other drivers in the garage area to ask them about how they race. It's definitely one big family, so there will be times when you're on each other's nerves, but everyone's been very welcoming. An awesome experience so far.
Turtle (LA)
Kevin, Have The Busch Brothers helped you with advice and what is it like to race with Kyle Busch?
Kevin Conway
(4:11 PM)
Kyle's been great to race with. I actually made my first ARCA start alongside Kyle with his first ARCA start. Kyle and Kurt both are intense, but if you treat them with respect, they reciprocate. If you don't, you'll probably find yourself backwards and in the wall.
Kevin Conway
(4:12 PM)
I appreciate everyone's questions and support. Follow us on ExtenZeRacing.com, Facebook and Twitter. I'm just excited that I have fans! More than one too! Woohoo! I'm looking forward to racing well and winning the rookie of the year award with the team this year.