Chat with Jurgen Klinsmann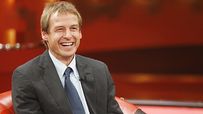 Klinsmann was named 1988 West German Footballer of the Year.
Welcome to SportsNation! On Tuesday, former German soccer manager and player Jurgen Klinsmann stops by to chat about the 2010 FIFA World Cup.
Klinsmann, who played for several prominent clubs in Europe and was part of the West German team that won the 1990 FIFA World Cup and the 1996 UEFA European Championship. In July 2004 he began his stint as the new coach of the Germany's national team tallying a record of 20-8-6 and a third place finish in the 2006 World Cup. After just two years as manager of the national team, Klinsmann resigned.
Klinsmann will join ESPN and ABC's coverage of the 2010 World Cup live from South Africa as a studio analyst. He will appear on prematch, halftime and postgame shows from South Africa and on "SportsCenter."
Send your questions now and join Klinsmann Tuesday at 2 p.m. ET!
More Special Guests: Previous chats | SportsNation
Buzzmaster
(1:56 PM)
Jurgen will be here in a few minutes to take your questions!
Buzzmaster
(2:06 PM)
Hang on folks. Busy day for Jurgen here today.
RJ (Boston)
Thanks Again, Juergen. I wanted to ask you, how much of a WC championship is the result of game plan or system, and how much is a result of talent and team chemistry?
Jurgen Klinsmann
(2:13 PM)
Every country has its own or even two systems trained or in place, also certainly depending on the opponent. The talent of players that a coach has available obviously makes the difference since the players need to implement the gameplan.
Jack (C-Ville)
Who is the surprise team you could see making noise in the world cup? Is it possibly South Africa?
Jurgen Klinsmann
(2:15 PM)
I think Chile could be a surprise. They played a very impressive qualifying campaign. And I hope that one of the African countries such as Ivory Coast or Nigeria go a long way in the tournament.
Tyler Downey (Mason, Ohio)
How well do you think the U.S team will match up against England. And how far do you think the U.S will go in pool play
Jurgen Klinsmann
(2:16 PM)
I think they have nothing to lose against England and have certainly the quality to beat Slovenia and Algeria. It is doable, but the team certainly needs to be at its best.
Nkechi (Notre Dame, IN)
How do you rate the African teams' chances of performing well at this World Cup (as in reaching the quarterfinal or semifinal rounds)? Do you think any of the teams stand a fair chance of winning the Cup?
Jurgen Klinsmann
(2:18 PM)
All of the African teams have practically home advantage. If you look at Ivory Coast, Nigeria, Ghana, Cameroon, most of their players play for top European clubs, so they all are capable to go far in the tournament. As long as they keep their emotions under control.
paul (meeker,ok) [via mobile]
With the emergence of USA soccer. What do u think this has done and will do for the growth of the sport and the MLS? And whatever happend to the man who was supposed to big the biggest name in USA soccer Freddy Adu?
Jurgen Klinsmann
(2:20 PM)
American soccer has come a long way over the last 15 years. MLS keeps expanding by adding teams and improving the infrastructure and youth soccer is very popular. It would be awesome if the U.S. could get the World Cup into 2018 or in 2022. It would give U.S. Soccer another boost. I hope that Freddy Adu keeps maturing and challenging himself.
Kris (WI)
Do you ever see an international star such as a Lionel Messi coming over to the US in his prime?
Jurgen Klinsmann
(2:22 PM)
Not at this time, since the level of play in the European leagues and the financial possibilities in Europe are beyond what MLS could provide a player like Messi.
Jurgen Klinsmann
(2:23 PM)
I apologize but I have to rush to SportsCenter and please have fun with this year's World Cup in South Africa. It will be a fantastic tournament. All the best Jurgen.