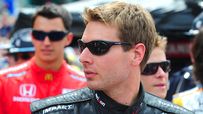 Power sits in first place in the points standings.
Welcome to SportsNation! On Friday, IndyCar driver Will Power stops by to chat about the 94th running of the Indianapolis 500 on Sunday (1 p.m. ET, ABC).
Power will start No. 2 in the race, behind Penske teammate Helio Castroneves. Power currently sits first in the points race, 26 ahead of Scott Dixon and 28 in front of Castroneves.
In his third season in IndyCar, Power has four wins, including two this season. In five starts this season, he owns four top 5 finishes.
Send your questions now and join Power Friday at 4:30 p.m. ET!
More Special Guests: Previous chats | SportsNation
Will Power
(4:30 PM)
Thank you everyone for joining me in my chat today. Hope you're looking forward to the race as I am. Let's start.
Brad (Gadsden,Alabama)
Will, Do you have any pre-race rituals?
Will Power
(4:31 PM)
Actually I get in through the left side every time. It's not actually a ritual, its just something I do.
Matthew (Columbia, NJ)
Hey Will have you had any thoughts of trying Nascar at some point in the future?
Will Power
(4:32 PM)
Nothing in the near future but I would love to have a run at NASCAR someday. I'm very focused on IndyCar right now.
Gregory (RI)
How important was it to you to start the race on the front row?
Will Power
(4:34 PM)
In this race the grid is the tightest its ever been so I think track position is very important.
Fred (Houston)
what's running through your mind while you're running at 200 MPH?
Will Power
(4:35 PM)
The next turn, the wind direction, what adjustments I have to make. The same process I go through consistently.
Howard (DC)
how loud is it down on the track?
Will Power
(4:36 PM)
We have ear plugs so its not that bad in the car.
Dave (LA)
What's so important about the Indy 500?
Will Power
(4:37 PM)
It's easily the most important race of the season. There are a lost of reasons that it's important but one the biggest reasons is its history.
Kyle (VA)
Have you ever been involved in any serious wrecks?
Will Power
(4:39 PM)
Yes, I broke my back last year when I hit another car. That was the worst wreck I've ever had.
Aron (Las Colinas, Tx)
How you see the Push-to-pass playing a role deciding the winner on sudnay?
Will Power
(4:40 PM)
Push-to-pass is very effective and I think it will play huge role on Sunday.
Sean (FL)
How hard is it to go from racing aggressively and fast on the track to riding around on the interstate in your regular car?
Will Power
(4:41 PM)
There is no comparison. The two are totally different.
John R (Indianapolis)
So is Roger going to actually let you race Helio into turn 1 at the start or are you going to fall into line behind him (atleast for the start)?
Will Power
(4:42 PM)
We're just going to fall in line. You can't win a race in the first lap but you certainly can lose it.
Kyle (Ohio)
Which Aussie is having the better year: you or Mark Webber?
Will Power
(4:43 PM)
We both are having pretty good years. So I'll go with a tie on that one.
Tom (NJ)
Will, how did you go about deciding that you wanted to try open wheel racing instead of racing in an enclosed car?
Will Power
(4:44 PM)
I've always loved open wheel racing I've always been passionate about it ans that's why I followed that track.
Nick (CT)
Does it take upper body strength to turn the car?
Will Power
(4:45 PM)
Yes, these cars have 4,000 pounds of down force so we have to do good weight training in order to steer this car.
Sammy (Boston)
I often get into arguments with my friends about autoracing being a sport and if drivers are athletes. I say they are. They say they're not. What do you say?
Will Power
(4:46 PM)
I say they are because it's very physical. We have to train on the track with jogging and get in the gym for weight lifting like any other athlete in any other sport.
Will Power
(4:49 PM)
Thank you for taking the time out to chat with me. Tune in Sunday as I race in the Indy 500 at 1 p.m. ET on ABC. It should be a good race.