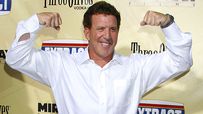 Body by Jake's Jake Steinfeld also is a big lacrosse fan.
Welcome to SportsNation! On Friday, Jake Steinfeld, fitness guru and founder of Body by Jake, stops by to chat about his other passion -- lacrosse.
While being best known for his 30 years in the fitness industry, Steinfeld was the driving force behind the creation of Major League Lacrosse, which is entering its 10th season this year.
Steinfeld also was an executive producer of the documentary "City Lax: An Urban Lacrosse Story" that tells the story of a group of 12-year-olds from Denver's rough, inner city who find a hint of salvation in the game of lacrosse. The film airs on ESPNU Saturday at 11 p.m. ET. In addition, ESPN and ESPN2 will air the final four of the NCAA lacrosse championship on Saturday (4 p.m. ET, ESPN2) and Monday (3:30 p.m. ET, ESPN).
Send your questions now and join Steinfeld Friday at 2 p.m. ET!
More Special Guests: Previous chats | SportsNation
Jake Steinfeld
(1:58 PM)
"City Lax: An Urban Lacrosse Story" is so special it goes beyond lacrosse, it's life. If you're looking for an uplifting, positive moment over the Memorial Day weekend, you should watch this with your entire family.
Aaron (L.A.)
What's one thing you learned from doing this film?
Jake Steinfeld
(2:02 PM)
The thing I learned about it is that docamemutries are extremely personal. The producers and director amerced themselves into the city of Denver and became great listeners to see not just the story of a terrific man in Eric Myhren but all of these very interesting kids that come together and create a family. Our filmmakers did an incredible job giving all of us an insight into Mr. Myhren's life and what inspires him. He's overcome a life threatening illness that he still deals with to inspire kids through lacrosse.
Ryan (CA)
How long did it take you to put this film together?
Jake Steinfeld
(2:05 PM)
The idea came from Tor Myhren in 2007, he came up with the E-Trade commercials and the Oprah car give away. It's the story of his brother Eric. Tor and Gabriella (our director) went to school together and he brought her in for this project. Gabriella moved with her twin sons to Denver for this. They filmed seven day a week for six months. From the time the kids picked up the sticks until the state championships.
Andy (Boston)
do you think Lacrosse will ever take hold as a game played in inner cities and among minority communities?
Jake Steinfeld
(2:09 PM)
Andy, it's happening right now. In places like Baltimore, Denver, and even Los Angeles. It's really happening all over the United States. This sport is growing very rapidly and I believe in the next five years in the inner city, public schools will be decimating baseball for lacrosse. Primarily because the sport is so fun.
Washington (LA)
Will you be at the NCAA championships this weekend?
Jake Steinfeld
(2:10 PM)
Actually we will be watching from home in Los Angeles but I would love to see Notre Dame upset the world. Although I do have a friends son who plays for Duke.
David (Florida)
Since you helped create Major League Lacrosse, does that mean all of the players get discounts on your Body by Jake fitness equipment?
Jake Steinfeld
(2:12 PM)
(Laughing) Yes, I am a founder for Major League Lacrosse. If our players have an interest in our equipment, then they absolutely get discounts.
Trent (NJ)
Are you surprised at how long you've been able to stay in the fitness business?
Jake Steinfeld
(2:14 PM)
This is 32 years I've been in the business. I'm the first guy to do personal fitness training and make it an occupation. It's a blessing to turn something you love into an occupation and be able to do it everyday. Fitness is my life. I urge everyone reading this chat to follow your dreams and take a shot because the biggest risk in life is not taking one.
Hayden (Logan, Utah)
did you meet christie brinkley on an infomercial?
Jake Steinfeld
(2:15 PM)
I've meet Christie but I think Chuck Norris is the one you're thinking about.
josh (boston)
why does college lacrosse draw more fans then a major league has
Jake Steinfeld
(2:18 PM)
(Laughing) Josh, I think if you look at the history of sports, college football in the early days outdrew the early days of the NFL. College basketball in its early days always outdrew the NBA and we are following the same vein. We are 10 years old and if you look at history, it took the NBA until the mid 80's to average 10,000 people per game. There playoff games were tape delayed. MLB and NFL players early on all had second jobs. We feel very confident that the sport of lacrosse is growing and will continue to grow. This generation of kids growing up with lacrosse will be our very bright future.
Hayden (Logan, Utah)
Do you enjoy MMA?
Jake Steinfeld
(2:20 PM)
I've become a big fan through our relationship with Randy Couture who is a spokes person for Body by Jake and The Tower 200. Randy is the Michael Jordan of Mixed Martial Arts. We a proud to have him wearing our Body by Jake logos.
Paul (Denver)
Jake, how did you decide you wanted to start up MLL?
Jake Steinfeld
(2:26 PM)
Paul, I played lacrosse in high school (not very well). I got into college to play lacrosse but didn't play very well and retired from school three months after I stared to peruse body building. It wasn't until I read an article about Dave Marrow who started Warrior Lacrosse in May of 1998. I read that he was making lacrosse a lifestyle and that intrigued me. A few months prior I sold FitTV and was looking for interesting opportunities and at that time everyone in Hollywood was buying into minor league teams. And yes I did pitch a no-hitter when I was nine but I couldn't see what I could do to help the sport of baseball. After reading that article, I called Dave to ask about lacrosse. Ever since then, Dave and I have been partners. And along with Jim Davis the owner of New Balance we've been in business. We wouldn't be where we are today without the support of Jim.
Jake Steinfeld
(2:29 PM)
Have a terrific Memorial Day Weekend. Be sure to watch the NCAA Lacrosse Championship Saturday and Sunday, Major League Lacrosse (check your local listings) and "City Lax: An Urban Lacrosse Story" airing on ESPNU Saturday 11 p.m. ET.