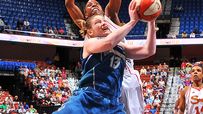 Whalen is in her first season with the Lynx.
Welcome to SportsNation! On Tuesday, we'll be visited by seven-year WNBA veteran and Minnesota Lynx guard Lindsay Whalen to chat about the 2010 season.
Whalen joined her second WNBA team in January when Connecticut traded her along with the No. 2 pick in the 2010 WNBA Draft to Minnesota for Renee Montgomery and the No. 1 pick in the 2010 WNBA Draft. She spent the last six seasons with the Sun, averaging 11.6 points and 4.9 assists.
The former University of Minnesota women's basketball star and Hutchinson, Minn. native, Lindsay Whalen returns to her home state after elevating the Golden Gopher women's program to national prominence during her storied four-year career at Minnesota, which included the school's first-ever Final Four appearance in 2004. In four years as a Gopher, Whalen became Minnesota's all-time leading scorer with 2,285 points and is the only four-time team MVP in school history.
Send your questions now and join Whalen Tuesday at 4:30 p.m. ET!
More Special Guests: Previous chats | SportsNation
Lindsay Whalen
(4:29 PM)
Thanks for spending some time with me in the chat!
tim (boston)
what were your first thoughts when you heard about the trade? How did you find out?
Lindsay Whalen
(4:30 PM)
I found out through my agent and the team kind of at the same time. My thought initially were excitement to be heading back to Minnesota. But I knew I would miss lots of things about Connecticut.
Karlo Garcia (Australia,Melbourne)
What are your expectations with Minnesota this season. How is it going in your native town Minn.
Lindsay Whalen
(4:31 PM)
I think we have very high expectations. Right now we are working on taking things game by game and are trying to get better in every practice. It's good to have high expectations and want to do well but you have to stay focused on the day to day.
jalyse chapman (chicago)
What the weirdest thing you ever signed
Lindsay Whalen
(4:32 PM)
Lately it has been cell phones. That's probably the strangest. I signed some drink glasses as well.
Jason (Cleveland)
Everyone else seems to have an opinion on what LeBron James should do so what's your take?
Lindsay Whalen
(4:32 PM)
Tough question. Boy, what do I think? I think he will stay in Cleveland. But I think he will try to convince Amare or Bosh to come to Cleveland.
Debra (Holyoke, MA)
Do you hold a grudge against Connecticut for trading you? Is it extra motivation?
Lindsay Whalen
(4:33 PM)
I don't hold a grudge. I think it just worked out well for both teams. It ended up being the right year and the right situation. Only good memories and friends in Connecticut.
Dan (MPLS) [via mobile]
Since no other team here will, can you bring a championship home to MN?
Lindsay Whalen
(4:34 PM)
That's what we're working on! It's everyone's ultimate goal. We are going to do our best.
Kyle (VA)
what's the part of your game that you need to work on the most?
Lindsay Whalen
(4:35 PM)
I'm trying to always be better at knocking down the 3-pointer as well as my midrange game. Those are my individual areas I'm looking at. As a PG, I'm always focusing on learning how everyone plays.
Matt (Sandusky, OH)
As a pointguard, you are an extension of your coach on the floor. With that said, what is the biggest difference between running the offenses of Sun head coach Mike Thibault and new Lynx head coach Cheryl Reeve?
Lindsay Whalen
(4:36 PM)
It's a big adjustment but it has gone well. I have gotten along well with coach and we are always well prepared. It's been great so far.
Ryan (Orlando, FL)
Lakers or Celtics?
Lindsay Whalen
(4:36 PM)
I think the Lakers are going to win but I would rather see the Celtics win. I just don't see Kobe losing.
Emily (GF ND)
What is your favorite part about being back in Minnesota??
Lindsay Whalen
(4:37 PM)
Offcourt-wise just seeing my family and friends and checking out the spots I haven't seen in so long.
Brad (Gadsden,Alabama)
Lindsay, Do you have any pre-game rituals?
Lindsay Whalen
(4:38 PM)
Yeah, I do. I have a lot. I alwyas get my left ankle taped first. I eat a PBandJ on toast during the day. It can change depending on how things are going. I usually eat the same meal pre-game. I'm a big routine person.
Kara (Orlando)
Who's the team to beat in the WNBA this season?
Lindsay Whalen
(4:38 PM)
The champs are always the team to beat. It's the same in all sports. Until they get beat, somebody has to knock them off.
Jim (Fargo, ND)
Its been a tough start to the season so far for the Lynx, do you think getting the injured players back will turn things around?
Lindsay Whalen
(4:39 PM)
It will definitely help but we can't make excuses. We have to be ready to play every night no matter who is injured. But will be nice when everyone is healthy.
Mark (Beaufort, SC)
Did you want to be involved in basketball early, or did it come gradually later?
Lindsay Whalen
(4:40 PM)
I think my junior year in high school when I started to get recruited, I started to feel like I could play in college and then maybe pro.
Mo (MS)
Seeing that the WNBA season is somewhat short how long does it really take for a team to come together? How long would you like to see the season be?
Lindsay Whalen
(4:41 PM)
I think the season length is good. What a lot of times hurts is overseas committments. If there was a way to get everyone to camp on the same day, you would have a month to prepare. Some teams probably still are missing a player or two. It's not ideal but it is what it is. You have to learn quickly.
Kara (Orlando, FL)
Do you think the Lynx will have enough time once Wiggins and Augustus return this season to make a playoff push?
Lindsay Whalen
(4:43 PM)
That's what we are planning. Once everyone is back, we have to get to know each other really quick. We have had some practice time to get to know each other. But we'll be quick with it and be ready to go. Thanks for the questions! I hope you can all catch the game tonight on ESPN2! Take care!