Chat with Dario Franchitti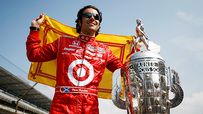 Franchitti now has two Indy 500 trophies.
Welcome to SportsNation! On Wednesday, we'll be chatting with the 2010 Indianapolis 500 winner Dario Franchitti.
Franchitti won Sunday's Indy 500 for the second time in his career. He also won the 2007 race when he went on to win the points championship. His second points title came last season. Following Sunday's win, he sits in second place, 12 points behind Will Power.
Franchitti spent five seasons in the IRL before taking a two-year break to race NASCAR before returning to the IRL in 2009.
Send your questions now and join Franchitti Wednesday at 3:30 p.m. ET!
More Special Guests: Previous chats | SportsNation
Dario Franchitti
(3:30 PM)
Good afternoon to everybody. Let's start!
Brad (Gadsden,Alabama)
Dario, Do you have any pre-race rituals?
Dario Franchitti
(3:31 PM)
I wouldn't say its a ritual but I like to get in my quite space to get my head together before each race. I also like to stretch.
Mike (Chicago)
Dario, congrats on number 2, what is your favorite track to race on, on the current schedule and all time?
Dario Franchitti
(3:32 PM)
Currently I like Toronto and all-time it would Road America.
Matthew (Columbia)
Hey Dario, congrats on the Indy 500 win. Does it feel any different the 2nd time you won the biggest race of your career?
Dario Franchitti
(3:32 PM)
No, it feels just as good as it did the first time.
Jeannine Jervis (Lafayette Indiana)
During the autograph session Saturday you seemed very relaxed and quietly confident. Did you have any idea your car would be that good?
Dario Franchitti
(3:34 PM)
(Laughing) I was hoping it was going to be but you never know. With any race having a good car is just part of it. You have to have a good team and everyone was to be on their game. You have to have a perfect day to win.
Jeff Gates (Watauga, TX)
In Indianapolis, last weekend, it was hot...high was about 85 degrees F. Here, in Fort Worth, it's going to be 106 F on Saturday! How do you all prepare for, or practice for this type of heat - and how does that heat difference from one week to the next effect your preparation for each event?
Dario Franchitti
(3:36 PM)
It was actually 95 in Indy. Practice is going to be tough in Texas because it's in the middle of the day when the temperature is high. Hopefully the actual race won't be as bad because its at night and it will be a little bit cooler.
Ginger (Bristol, VA)
Congratulations on your Indy 500 win! Would you try NASCAR racing again if the right opportunity presented itself with solid financial backing?
Dario Franchitti
(3:36 PM)
No, I'm very happy in the IZOD IndyCar series. I love racing in this series that's one of the reasons I came back.
Kellen (NC)
Will you take Tony Stewart up on his "Prelude to the Dream" offer?
Dario Franchitti
(3:38 PM)
I'm testing Watkins Glen on the same day as the Prelude but I would love to be apart of the Prelude to the Dream so we're trying to work it out.
CL (Nashville)
Dario, Conrgats mate, you know we're thrilled for you. In your opinion, is there any chance the IRL will come back to race at Nashville? We miss you here. Alabama and Ky. are ok, but nothing like having you race in front of your hometown fans. Nigel sends his best.
Dario Franchitti
(3:39 PM)
I really don't know what the IndyCar series has planned.
Ricky (Yuba City)
Hey Dario,Why milk in the winner's circle instead of going to the slate and knocking down a cold beer? Good luck, oy vey, and congratulations!!
Dario Franchitti
(3:41 PM)
Milk is a traditional drink that was started by Louis Meyer a long time ago and it's something that just stuck. I think every winner has had milk in the winners circle since then.
Cooper Robinson (IN)
Does the win @ Indy give you an edge going to Texas?
Dario Franchitti
(3:41 PM)
(Laughing) I hope so.
Dario Franchitti
(3:44 PM)
Thanks for tuning in to chat with me. It was a good time.