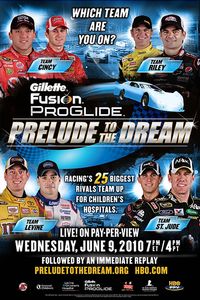 Welcome to SportsNation! On Monday, we'll be chatting with NASCAR driver Ryan Newman who gets set to race in the 2010 Prelude to the Dream benefitting several charities that support children's hospitals around the country.
It will be the sixth year for the Gillette Fusion Prelude to the Dream at the Eldora Speedway in Ohio and can be seen Wednesday live on HBO Pay-Per-View at 7 p.m. ET/4 p.m. PT. For the first time at the race, the drivers will be grouped into four teams.
Newman currently sits 14th in NASCAR's points standings. In 14 starts this year, the 2008 Daytona 500 winner has six top 10 finishes and one win. Fans can follow Newman on Twitter: @ryannewman39.
Send your questions now and join Newman Monday at 1:30 p.m. ET!
More Special Guests: Previous chats | SportsNation
Ryan Newman
(1:27 PM)
Hi I'm here!
James (North Little Rock)
How did you get your car across the finish line yesterday? your car was a mess after that last lap wreck
Ryan Newman
(1:28 PM)
They scored us after the accident and we were 14th regardless but I just wanted to see what we could do. It wasn't easy.
Ryan (Reynoldsburg,Ohio)
How much does fitness factor in to a race
Ryan Newman
(1:28 PM)
It has some impact but not a lot. Being hydrated is probably more important than being physically fit.
Ray (CT)
Do you think its fair that Tony Stewart gets to race in the Prelude at his own track? I mean he's probably out there practicing so he could kick your butt right now!
Ryan Newman
(1:29 PM)
Absolutely fair. It's his playground.
Frank (Kingston, Pa)
Ryan - Nice recovery yesterday at the end of the race. How big of a factor does the GWC rule have on your racing strategy and as a driver do you believe it is a gimmick or legitimate way to finish a race?
Ryan Newman
(1:29 PM)
It's good that we have multiple attempts at it because that's what the fans come to see.
Chad (Illinois)
You looked like you were driving straight out of Days of Thunder coming to the checkered flag yesterday...do the drivers still think the "have at it boys" from NASCAR was a good idea?
Ryan Newman
(1:30 PM)
I do. You have to do what you have to do if you are determined to do it.
Caster and Camber (Bahama, NC)
Whats up Rocket Man? If you could change one current rule in the Sprint Cup which one would you change and why? Thanks
Ryan Newman
(1:30 PM)
I would always appreciate more two-day shows instead of three-day shows but it's all in what the fans want.
Tom (NY)
As someone who doesn't like NASCAR...tell me why it is a great sport....give me a reason to watch.
Ryan Newman
(1:31 PM)
(Laughing) Without twisting your arm, you should just try it once to see if you like it. I could give a three hour speech but you just have to watch it.
Jim (Utopia)
How hot is it int he cars when your driving?
Ryan Newman
(1:32 PM)
About 130-140 degrees.
Jessica (Greenville)
Ryan, what is your favorite part of participating in the Prelude to the Dream?
Ryan Newman
(1:32 PM)
I like racing dirt tracks. It's probably one of the coolest tracks built. To do something you enjoy for charity is really cool.
dz (phx, az)
hey there buddy! does having an engineering degree give you any advantage as a driver? although i'm a 48 fan i did buy a us army jacket in vegas this year. keep up the great driving. go chevy!
Ryan Newman
(1:33 PM)
For every answer I get there are two additional questions created but yes.
Tyler (Indianapolis)
Ryan being from South Bend were you a big Notre Dame fan growing up and did that change when you became a Boilermaker?
Ryan Newman
(1:33 PM)
I was never a ND fan in the least bit growing up and that has not changed a bit.
Ryan Newman
(1:33 PM)
In fact I was the only kid in my high school that had a Miami Hurricanes starters jacket.
Scott (BALTO)
You seem like a prankster...ever drawn a line on a sparkplug with a pencil and seen if the crew can figure out why that cylinder is misfiring/dead? If not, you should give it a try sometime, probably best if in the shop, as opposed to the track.
Ryan Newman
(1:34 PM)
Not on my race car!
Ryan (Ventura CA)
Hey Newms!Seems to me you and tony are getting killed on pit road and restarts this yearwhere do you think your at compared to last year?
Ryan Newman
(1:35 PM)
Our pit crew is definitely better than last year. Not the best, but our cars have not taken off as well as they should on restarts. That is more the setup than anything.
NickP (Melbourne, FL)
Whats it like working for Tony Stewart?
Ryan Newman
(1:35 PM)
It's been a lot of fun. It's never easy because the sport is so competitive. But I can't imagine a better place to enjoy doing what I do.
Tim (NYC)
I know the 11 has been great, but Kyle Busch is actually starting to drive the 18 the way everyone always said he should. I think he's as big of a threat to the 48 as anyone. What do you think?
Ryan Newman
(1:37 PM)
Kyle is a good driver but I see him imploding just as easy as some of the other drivers. Thanks for all the great questions! I look forward to the Prelude on Wednesday and what Gillette does to help sponsor it. It should be a great time. I hope you all enjoy it.