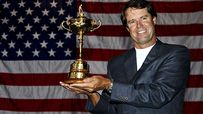 Azinger captained the U.S. to its first Ryder Cup win since 1999.
Welcome to SportsNation! On Thursday, golfer, and former captain of the U.S. Ryder Cup team, Paul Azinger stops by to chat about the 2010 season.
Azinger owns 12 wins on the PGA Tour, including the 1993 PGA Championship. Soon after winning the Major, Azinger was diagnosed with non-Hodgkin lymphoma and went through radiation and chemotherapy to battle the disease. He went on to win the 2000 Sony Open in Hawaii for his first win since his diagnosis.
Under Azinger's leadership, the United States won the Ryder Cup in 2008 for the first time in 10 years. His new book "Cracking the Code: The Winning Ryder Cup Strategy: Make it Work for You" reveals how he helped guide the team to victory.
Send your questions now and join Azinger Thursday at 1 p.m. ET!
More Special Guests: Previous chats | SportsNation
Buzzmaster
(12:43 PM)
Former Ryder Cup captain Paul Azinger will be here at the top of the hour to chat!
Jeff Davenport (Hendersonville, NC)
I have always liked your honesty. Was it difficult for the Ryder Cup players to deal with that?
Paul Azinger
(1:04 PM)
I told the players that I would lie to the press, but I would always tell them the truth and they appreciated it.
Jim C. (DC)
You're only 8 months older than Kenny Perry, do you have any plans on being the first Captain to return to the playing side of the Ryder Cup?
Paul Azinger
(1:05 PM)
Nope. Natta. No way. Not happening.
Patrick (Shanley)
Paul, you mentioned this morning on Mike & Mike that you let the players decide the "captain's picks" - would you have vetoed a pick if you didn't agree with who they chose?
Paul Azinger
(1:06 PM)
Absolutely not. One of the philosophies was to give the players ownership and empower them through their small groups. I only let them choose players that were playing well and were green lights in their groups.
Nancy (Carlsbad)
Are you finding it difficult to juggle your book tour, the Champions Tour and your Iphone app marketing all at once this season?
Paul Azinger
(1:08 PM)
I'm enjoying the book tour and the Golfplan app. I plan on playing a full schedule on the Champions Tour next year.
Kyle (Denver)
Paul, what did you try to do with your book? did you just write about how you put the team together? Or is there more to it than that?
Paul Azinger
(1:09 PM)
The book will bring you into the clubhouse, into our team room. Shares conversations I had with players on the course. It's not an instruction manual, it just brings you along. It carries you with us.
Micah (Chicago)
What do you see happening in a few weeks at pebble?
Paul Azinger
(1:09 PM)
My crystal ball has a crack in it, but I hope to see the elements play a factor at Pebble Beach. And of course, I always want to see what Tiger's going to do.
Brandon (Lodi, CA)
What was a more important factor for you to base your Ryder Cup pairings off of: Players playing well going into the RC, how well they played in day 1 or day 2 of the RC, match play history with teammate and match play history against opponent? Thanks.
Paul Azinger
(1:10 PM)
None of the above. The players were put together more based on like personalities, valuing relationships over assets and giving them control over how they wanted to pair themselves in their pods.
Jim C. (DC)
You played on 4 Ryder Cup Teams between 1989 and 2002, and two of those teams won. Which meant more to you winning as a player, or winning as a captain?
Paul Azinger
(1:17 PM)
Winning as a captain meant more. For a lot of reasons, but probably the main reason is that I kind of became the voice that orchestrated the plan to create an environment. All that can be asked of a captain is to create the best environment for the players. Having never held a job in my life, it was kind of cool to be in that position and to see them do what they do. The pressure was on them and they played great.
Joe (Huntington,WV)
Do you think that 7200+ yrd courses are starting to get a little outrageous? I know the pro's can hit it a long way, but why penalize the average golfer?
Paul Azinger
(1:18 PM)
Swallow your pride and move forward.
david (boston)
PGA tour has a whole slew of twenty-somethings that could dominate the game the next 10-15 years. Of the group, who do you think it could be and why?
Paul Azinger
(1:19 PM)
I think Rory McIlroy has the best swing. I think Rickie Fowler has the most flair for the game.
Paul Azinger
(1:19 PM)
Ishikawa has more pressure on him because of the Japanese media, but that could help him in the long run.
Paul Azinger
(1:19 PM)
Dustin Johnson has more power than all of them.
Jack (C-Ville)
Who do you think is playing the best golf this year?
Paul Azinger
(1:20 PM)
I have no idea. I've been bronzing my body, sitting on the beach, drinking with an umbrella in it.
Scott (Indy)
Still no signs of any trouble with the cancer? That was pretty inspiring when you came back.
Paul Azinger
(1:20 PM)
I went to the doctor a couple of months ago. Clean bill of health.
Jim C. (DC)
I'm sure by this point you've had probably 95% Ryder Cup questions, so here's a change up. Have you been involved in any course design projects? What school of thought do you subscribe to when it comes to course design? And what's your favorite course out there (top 3 or 5, if you don't feel comfortable narrowing it down to 1)?
Paul Azinger
(1:21 PM)
The business is dead right now. There's only 2 or 3 courses being built in the United States.
Paul Azinger
(1:21 PM)
Asia seems to be the only place to go and there's no work. As much as I would like to do it, there's no place to work.
Matt (Houston)
Paul-I know players today focus on their strength training and fitness, but how do tour players balance weight lifting and stretching so their muscles aren't too tight to swing?
Paul Azinger
(1:23 PM)
I don't think weight lifting helps you hit the ball any farther. With today's technology, finding the right angle and club head speed is the key to any distance. For any more health information, Google Body by Jake.
Andy (Tallahassee)
Hey Paul, where you following FSU's golf team this year making it all the way to the semis?
Paul Azinger
(1:23 PM)
I wasn't, but I did notice that and was happy for them. No reason for them to not have one of the best teams in the country, year in, year out.
Paul Azinger
(1:24 PM)
Thanks for your time. Thanks for all of your great questions. Hope you enjoy the book, available at PaulAzinger.com and Brookstone in conjunction with Bionic Glove.
Paul Azinger
(1:25 PM)
Also, you can practice with a purpose by buying my Golfplan iPhone app for $2.99. Sorry for being such a shill.