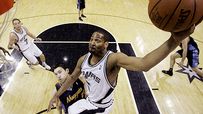 Horry won seven titles with three teams.
Welcome to SportsNation! On Thursday, "Big Shot Rob" -- and seven-time NBA champion -- Robert Horry stops by to chat about the NBA Finals.
A veteran of 16 NBA seasons Horry played for four teams, winning titles with three of them: Houston Rockets, Los Angeles Lakers and San Antonio Spurs. He is one of only three players to have won consecutive titles with two different teams and one of only two players to win rings with three teams.
Horry earned his nickname of "Big Shot Rob" by making big shots in clutch, playoff situations. He holds the record for most career 3-pointers in the NBA Finals with 53.
Send your questions now and join Horry Thursday at 1:30 p.m. ET!
More Special Guests: Previous chats | SportsNation
Buzzmaster
(1:26 PM)
"Big Shot Rob" stops by to chat about Game 4 of the NBA Finals and his time in the NBA.
Jack (C-Ville)
What do you feel is your clutchest shot that you ever made?
Robert Horry
(1:51 PM)
The most clutch shot would have to be Game 5 against the Detroit Pistons. It was the final shot of that game.
Randy (Portland)
What is the best team that you played on?
Robert Horry
(1:52 PM)
The best team was 2000-01 Laker team. We had a great bench, we played well together and everyone got along. It was just a great team.
Marcus (C-Ville)
What is your most memorable moment in the playoffs?
Robert Horry
(1:53 PM)
My most memorable playoff moment was to be Game 5 against Detroit. I dunked over Rip Hamilton. It was a good moment because my son was just getting on me for not dunking anymore
Chris Fiegler (Latham,NY)
Who do you think will win the NBA Finals & how many games?
Robert Horry
(1:54 PM)
I think the Lakers will win it in six games. They have better talent on the inside compared to the Celtics inside talent.
Branden, chicago, illinios [via mobile]
If the celtics lose this series do you think this is the last time we will see that team the way it is now?
Robert Horry
(1:55 PM)
I don't think so. You might see some players like Rasheed Wallace and Michael Finley but they will keep their core players. They still have a lot of potential to get back to the Finals.
The Duke (The Dirty Jersey)
Avery Johnson+Derrick Favors Free Agent Harris/Lopez= Playoffs. Is my math wrong?
Robert Horry
(1:57 PM)
(Laughing) No, you math is extremely wrong. You need more than just a rookie to come in and take you to the promise land.
Brandon (la)
who is the best teamate u have ever had?
Robert Horry
(1:58 PM)
I enjoy Otis Thorpe, he took me under his wing when I was a rookie. I'm also a fan of Ron Harper. He showed me the ropes and showed me what it was to play in the NBA.
Steven (RI)
Would the 2001 Laker team beat this group of Lakers?
Robert Horry
(2:00 PM)
Big time! Our bench was better. We had Brian Shaw, D. Fish and I. We knew how to work well together. We were very consistent bench unlike the Laker team now.
TJ (Arizona)
Is Kobe as good as people think he is and is he a good teammate off the court?
Robert Horry
(2:00 PM)
He's a great basketball player. He's the hardest working player I've ever worked with. He's also a great person off the court too.
Jon (LA)
Compare Pau Gasol and Hakeem Olajuwon?
Robert Horry
(2:01 PM)
(Laughing) There is no comparing. The Dream is one of the best centers to play this game. There is just no comparing these two.
jeff cerda(project spurs) (san antonio texas)
of all of your championships, which one is your favorite and why?
Robert Horry
(2:03 PM)
My favorite champions is the 1995 championship with he Rockets. We were the sixth seed without home court advantage. We had to win on the road and we swept the Magic who were the hottest team in the NBA at that time,
Steven (RI)
Would you trade Bynum For Bosh?
Robert Horry
(2:04 PM)
I wouldn't trade Bynum for Bosh. Bynum fits in well with the Lakers. He also has a longer career ahead of him, he's only 20 years old.
Jeff G. (New York City)
What is your view on what the Spurs need to address in the off-season to remain in title contention?
Robert Horry
(2:05 PM)
Their biggest concern is getting a center to go along side Tim. They have two great point guards that have great value so I would try and trade one of them for a big man.
Aviel (LA)
Who was your best coach?
Robert Horry
(2:06 PM)
My best coach was Rudy Tomjanovich because be asked the players what they wanted to do. He felt we had a feel for the game.
Robert Horry
(2:07 PM)
Thank everyone for taking the time out to chat with me. Lakers in six at the Boston Garden for Kobe's fifth ring!