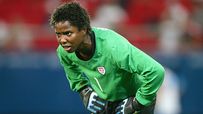 Scurry has two gold medals as a member of the U.S. Olympic team.
Welcome to SportsNation! On Friday, former U.S. Soccer and current Washington Freedom goalkeeper Briana Scurry stops by to chat about the World Cup and the Freedom's season thus far.
Scurry was the starting goalkeeper for the United States women's national soccer team at the 1995, 1999 and 2003 World Cups and 1996, 2000 and 2004 Olympic Games. From 1999-2003, she had a streak of 35 consecutive matches played without a loss (31-0-4) and is the most capped goalkeeper in USWNT history with 173 caps.
As a founding member of the WUSA, Scurry won Goalkeeper of the Year and led the WUSA in goals against average with 0.95 (both in 2003). The only goalie with an average below 1.0. She is currently in her second season with the Washington Freedom of the WPS.
Send your questions now and join Scurry on Friday at 2:30 p.m. ET!
More: Previous guests | U.S National Soccer Team Blog | SportsNation | Chat Index
Briana Scurry
(2:28 PM)
Thank everyone for joining me in chat. It's nice to be here for this exciting time for the World Cup.
Brad (Gadsden,Alabama)
Brian, Do you have any pre-game rituals?
Briana Scurry
(2:29 PM)
Yes I do. I polish my cleats in the locker room, that helps me get focused. I listen to my iPod; there are certain songs that get me fired up for games.
Ashlyn (DC)
Is anyone in the WPS as fast as Mia was in her playing days?
Briana Scurry
(2:30 PM)
Matra I believe maybe faster than Mia with the ball for sure.
Faye (Virginia Beach)
Do you miss being on the national team?
Briana Scurry
(2:31 PM)
I can't say I miss it. I do miss seeing my teammates and being apart of a team trying to accomplish a goal at such a high level. Being on the a big stage such as the Olympics or the World Cup was fun too and I also miss that.
kathleen gramsgibbs (placerville california)
what are your plans after you leave professional play?
Briana Scurry
(2:32 PM)
I haven't quite decided that yet. I have a few things on deck but I won't be focusing on that until fall or winter. Right now it's a secret.
Ashlyn (DC)
Will there be a new ball released right before the women's world cup?
Briana Scurry
(2:34 PM)
I think we've had balls made for our World Cups in the past so I don't think things will change. It's like tradition for Adidas to do that.
Kevin (Chicago)
Have you been watching much of the World Cup? How would you assess Team USA's performance so far? How great was rescuing the tie today???
Briana Scurry
(2:36 PM)
Today's game was an absolute nail bitter. Now I know how my mom felt watching me play. I'm so proud of our boys. It took a heck of a lot of heart being down in both matches and coming back to tie. In my mind, they won today's game. There was no foul on the U.S. on that play.
Alex (dc)
Brianna being out of dc how do you think your team will do this year and what are your thoughts of the usa game against slovenia this morning with the bad official
Briana Scurry
(2:37 PM)
We are really coming together well. We lead the league in scoring as we did last season. If we clear up a few things in the back, we have a really good chance of winning a championship this year.
olivia (il)
i am 10 years old and i am on travel soccer team what should i focus on most to get to the level you are playing at?
Briana Scurry
(2:38 PM)
At 10, I just want you to have fun. See if your coach can bring someone in to bring in someone every once in a while to train the team. I was taught to just get the ball up until I was in college.
Mike (Amherst)
How did your time at UMass help prepare you for your future career as a professional? Go UMass
Briana Scurry
(2:40 PM)
(Laughing) SWEET! I must say that I had the best time in college. My coach Jim Rudy was great and he taught me a lot about soccer. Going away from home for college helped me grow on and off the field. I really enjoyed my time at UMass and would to it again in a heartbeat. Oh, the education was great too!
John (Washington, DC)
Freedom has not lost a game in their last six matches, but in the last two games you had the lead and let the games slip away late resulting in ties. Why do you think Freedom has been having trouble closing games out?
Briana Scurry
(2:42 PM)
That string of non losses is great for sure. I'm having a hard time on why we can't seem to close out a game with the lead. We were working on that last week in practice. We just have to learn to play two halves of soccer. We need to work on staying offensive minded throughout the game.
Agata the goalie (NJ)
Hi I am a goalkeeper from NJ. I will be playing at a college this year. Could you please give me some tips on preparing for my first college season ?
Briana Scurry
(2:44 PM)
Wow! Congratulations, that will be fun. Assuming you'll be playing going into next summer, just try to stay in shape. Maintain your fitness or increase your fitness if you can. And just absorb everything you can from your teammates and coaches.
olivia (il)
when you are down by a goal and your team has lost their confidence what do you say to get the pumped up?
Briana Scurry
(2:46 PM)
If you're a goalkeeper the best thing you can do is tell your teammates to stay positive and keep making the big stops. In my experience, my teammates seem to get going after a big save. As a field player, just stay positive. If you start being negative you take away for my team's chance of equalizing the game.
Meghan (Boyds, MD)
Did you feel more pressure playing in an Olympic match, or in a World Cup match?
Briana Scurry
(2:48 PM)
(Laughing) Wow! When I was younger I'd always dreamed of playing in the Olympics so when I got that chance, I was so excited. For women, the Olympic Games are bigger than the World Cup but on the men's side, the World Cup seems to be bigger. So while we usually get pumped to play on the Olympic stage, the men get more pumped to play in the World Cup. For that reason, I will say I felt more pressure playing in the Olympics. Although I must say, playing in front of 90,000 people in 1999 was great and is tough to beat.
Briana Scurry
(2:49 PM)
Thanks for sending in questions. Continue to support our men as they still have a chance to make it to the next round.