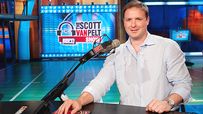 Welcome to SportsNation! On Wednesday, ESPN Radio's Ryen Russillo will be stopping by to chat.
Russillo is currently co-host, along with Scott Van Pelt, of The Scott Van Pelt Show on ESPN Radio, which runs 1-4 p.m. ET. Listen live

Send your questions now and join Russillo on Wednesday at 4 p.m. ET!
More Ryen Russillo: ESPNRadio.com | Chats | Search | SportsNation index
ESPNRadio.com
(4:02 PM)
Ryen is here. Fire away.
Ryen Russillo
(4:03 PM)
Opening statement: mostly draft.
Mark (KC)
Is Gordon Hayward the second coming of Joe alexander?
Ryen Russillo
(4:03 PM)
No. Hayward has a much better feel for the game. He's not as athletic as Alexander but he's a better player. He's just got to shoot like he did two years ago to have a career.
Tom (Chicago)
Would your trade Al Jefferson if you are the T'wolves? And what is his value coming off the knee injury?
Ryen Russillo
(4:04 PM)
I would explore it but I'm not going to give him away because of concerns about his knee. He's still a terrific post player. Look at his numbers pre-injury when Minnesota was winning games two years ago.
Thomas (lake charles,la)
I had a dream the rockets traded there #14 pick , shane b, & trevor a to detroit 4 tayshaun
Ryen Russillo
(4:05 PM)
That's a very specific dream. I don't know if Houston would do it, although I don't think they're as into Ariza after having him for a year.
Alex (Milwaukee)
Thoughts on Bucks moves?
Ryen Russillo
(4:06 PM)
I get the feeling the Bucks are just going to wait for the player left over from the second grouping. If you think of the draft as seven guys and then another eight guys that there isn't a huge difference between, the Bucks are going to take the one left over. I don't think they'll reach and I don't think they'll draft a wing solely to replace Salmons.
michael (chicago)
ryan, thoughts on thibs in Chicago? Go.
Ryen Russillo
(4:06 PM)
Great defensive coach. Works very hard. Just needs to be a little less vocal every possession as a head coach.
chuck (seattle)
do you think Matt Bouldin gets drafted?
Ryen Russillo
(4:06 PM)
I would draft him but I would bet against it happening.
adam (portland)
where do you see Xavier Henry ending up?
Ryen Russillo
(4:07 PM)
As high as #12, maybe 11. I really like him. Great small forward body, great PPP numbers, can't imagine he gets past 19.
trent knaphus (utah)
who should the jazz pick at 9?
Ryen Russillo
(4:08 PM)
They really need size. I'm a little concerned about Ed Davis. Most NBA people like him more than I do. But what we always forget is that players have the ability to improve. Some of these guys are going to be 10 times the player they are today in a couple years. If Babbitt's there, I would take him but I can understand drafting size.
Sean B. (Minneapolis)
Can the Timberwolves possobly screw up this years draft worse than last years?
Ryen Russillo
(4:09 PM)
Sean, I think people are kind of unfair about the T-Wolves. Rubio is going to be good. They screwed up with Johnny Flynn, but since it was Kahn's first run at it and he's not an ex-player, people just assume he's an idiot. If they end up with Favors or Cousins left on the board at #4, they are going to be thrilled.
Alex (Santa Barbara)
Wesley Johnson at No. 2? really? over Turner, i can't beleive it
Ryen Russillo
(4:10 PM)
I can't see him going #2 but he may go three. I wouldn't take him over Favors.
Andrew (San Diego)
Ryen, could you ever chat for as long as Isner/Mahut?
Ryen Russillo
(4:10 PM)
We tried and then I realized there was no way I would get enough questions. You would quit before I would.
Pacman (Orlando)
As ludicrous as CP3 to Orlando sounds, what is the % this actually happens?
Ryen Russillo
(4:11 PM)
For Vince Carter and Jameer Nelson. Remember, Vince is paid $17-18 million next season with a $5 mil buyout for the next season, so Vince essentially costs you over $22 mil next year. Guess who doesn't want to do that? Everybody.
Jesse (Bay Area,CA)
If you were blazers would you trade Batum for the #4 pick?
Ryen Russillo
(4:11 PM)
Batum is good. He gets you excited and if your front line was Favors, Aldridge, Cousins, it might not work, but I would still do it.
Brian Zoubek (Durham)
Ryen, you can't teach size...do I sneak into the late 2nd round and find myself on a NBA bench near you?
Ryen Russillo
(4:12 PM)
You also can't teach cliches. One day at a time.
JR (Kentucky)
Hey Ryen, do you think the Wizards ever considered anyone else or did they know it was Wall as soon as they won the lottery?
Ryen Russillo
(4:13 PM)
Never considered anyone else. They acted like they did. Wall is in his own category. Everyone should be fired if they didn't take him, including the mascot (as much as I like wizards).
Bryan (Xenia, OH)
Quick! Rautins or Scheyer?
Ryen Russillo
(4:15 PM)
I have both as potential sleepers in my latest draft blog: http://insider.espn.go.com/nba/blog?name=nba_draft&id=5317786
KO (kansas)
Do you think sherron collins gets drafted?
Ryen Russillo
(4:15 PM)
Probably not. Way out of shape. But there are no point guards so maybe.
Sham (West Springfield MA)
If Sheed retires and PP leaves Boston, this would open up cap space for the Celts. I really think signing Dirk who could still board and post up and keeping Ray Allen who has the larry bird rights which wont affect the salary cap can get the celts back to the finals. What do you think? Is it possible?
Ryen Russillo
(4:16 PM)
It is but if Pierce opts out, it's because he wants to re-sign for a longer deal. I still don't believe Rasheed is going to retire and walk away from all of that money (it's almost $14 million). And then your front line would be Perk, Dirk and KG, so who's playing small forward? I think the Celts will add a piece here or there and try to make another run at it with a close to similar roster.
Ryan (NY)
Why not Johnson over Favors if your the nets? Favors is a project, Wes is ready now. He may not be a superstar, but he will be a very good nba player, I can't say the same for Favors. This also allows the Nets to sign 1 of the 4's that will be free agents.
Ryen Russillo
(4:17 PM)
If you were taking a scoring wing at #2/#3, he'd better be at 18 PPG in his second or third year. He has to be a really good player. Favors is going to get 12 PPG falling out of bed. I'll take size unless we're talking about someone who is Durant, and Wesley Johnson isn't that guy.
Lucky (Detroit)
Who will have a better NBA Career, Ed Davis or Greg Monroe in your opinion? Or who has more potential
Ryen Russillo
(4:18 PM)
I like Greg Monroe's feel for the game and I love him out of Georgetown's offense. Monroe.
Blake (Apple Valley, MN)
Who do you think the Timberwolves will try to sign in Free agency with the amount of money that they have to spend, Possibly Carlos Boozer?
Ryen Russillo
(4:18 PM)
Boozer's not signing with Minnesota. I don't think any marquee guy will sign there. Too many other better options from roster and location standpoint.
Chris (Columbus Ohio)
Hey RyenDo you see the Cavs buying into this draft (cant imagine they have enough to trade for a draft pick) and if so, where at? I've heard first and second.
Ryen Russillo
(4:19 PM)
Maybe. Price for first rounders around $3 million, second rounders around $2 million. I feel like teams do this to make their fans feel involved. It's usually pretty stupid. "Sweet, we get a pick at #48 now."
Josh (Daytona Beach)
Ryen, do you consider yourself the Jason "White Chocolate" Williams of ESPN? I was listening to you on the radio/podcasts for a solid 6 months before I had any clue you were caucasion.
Ryen Russillo
(4:19 PM)
Yah, I get this a lot. Compton born and raised.
Clay (Charlotte)
Any move in the draft that might effect where Lebron goes?
Ryen Russillo
(4:20 PM)
No, unless everyone feels bad for the Isiah era and Utah gives the pick back to New York.
Dan (SD)
Hey, hasn't T WIll proven himself as the SF in New Jersey?
Ryen Russillo
(4:20 PM)
He's only proven he can get some numbers in garbage time on a terrible team and that he was a difficult personality as a rookie. Sounds like a great future.
Greg (Kentucky)
Turner or Cousins?
Ryen Russillo
(4:21 PM)
Turner. If Cousins wasn't a question from a commitment and attitude standpoint, I'd take Cousins.
JD (SF)
Warriors just shed Maggette. Can we assume they're going with a SF since there's no way Cousins should be available at 6?
Ryen Russillo
(4:22 PM)
Golden State should just take the best player and it's going to be a big. So if Turner and Wesley Johnson are gone, you're going to reach for a small forward? I guess you could take Babbit there, but that means you're passing on Monroe or Cousins.
Raymond (Baltimore)
Ryen, I have a bit of an issue w/ the sudden Luke Babbit love. I like him, and think he's a nice player and all: Good shooter, nice handle and passing for his size. But we didn't see this "athleticism" the past two years (when you are basically finger-rolling in your own highlights reels, thats not that good at 6'9). So when a player suddenly "tests" well, isn't that the equivalent of a WR who looked slow, suddenly running a 4.40 forty in Indy?
Ryen Russillo
(4:23 PM)
I disagree. I've watched him a ton and the more I watch him, I realize the scouts that said he wasn't athletic haven't watched him enough. He was asked to guard small forwards, power forwards and centers. Defensively, he's probably better closer to the basket in the NBA, but he's 6-9 with a 38-inch vertical and his shooting numbers are terrific. If he played at Wake, he might go top five.
Michael (Milwaukee)
you think the Bucks are serious about reaching for Stephensen at 15?
Ryen Russillo
(4:24 PM)
No, I hope not. I pray for your sake that they aren't. Not a very good athlete.
Mike (NJ)
Monroe more like Divac or Odom?
Ryen Russillo
(4:25 PM)
Way more like Divac. I don't know where you're getting Odom from.
steve (nj)
hey ryen what are you talkin about?? he didn't get SOME good number in GARBAGE time..he went through two months of consistent good basketball throughout the whole game and not to mention a triple double (27, 13, 10)
Ryen Russillo
(4:25 PM)
Every game for them after 40 games this season was garbage time.
gar forman (chicago. )
If you were the bulls, Which you would rather do? Jan anderson through the 17th? avery bradley? trade James johnson and the pick for Rudy fernandez?
Ryen Russillo
(4:26 PM)
I like James Anderson. I'd take him there. I'd think about Bradley, too. I like both better than Damion James. There were rumors a couple days ago that Portland might move in to grab #17 as part of a bigger deal. Apparently it died.
Chris (Lawton, OK)
Ryen what do u see the thunder doing with 3 picks in the first 32? Trade up for a good big man or hold what ya got and take them as they fall?
Ryen Russillo
(4:27 PM)
People need to understand that NBA picks don't work like NFL picks. Only twice this decade have we seen teams package up significantly. Memphis could offer up all three and they probably couldn't do better than the #8 or #9 pick, which if the draft goes big early (which it is expected to do), you might be trading all of your picks up for a big that you could have got at #12.
Ryan (Los Angeles)
What was the bigger Portland/Chicago deal that died?
Ryen Russillo
(4:28 PM)
Camby to Chicago for Deng and #17. It was a rumor. I think it's dead now.
Rhett (Toronto)
Ryen, what's your take on Cole Aldrich? The Raptors have worked him out twice. Would he be a reasonably good pick at 13?
Ryen Russillo
(4:28 PM)
I like him. I don't love him offensively. If your expectations are limited, I think you'd be happy with him on your team. He gets after it, challenges shots at the rim, love his outlet passes. He's going to be around for a long time but you'll always feel like you could upgrade offensively.
steve (nj)
ur a pretty bad expert dude
Ryen Russillo
(4:29 PM)
Why, because I don't like your team? Okay, how about this?: The Nets are awesome. They should lock everyone up now. I have them getting to the NBA Finals next year. I wouldn't trade Terrence Williams for Chris Paul.
Chris (Lawton, OK)
Ryen what do u see the thunder doing with 3 picks in the first 32? Trade up for a good big man or hold what they've got and take whoever falls to them?
Ryen Russillo
(4:32 PM)
I'm sorry, Chris. I thought you said Memphis. Trying to move fast here. The same principal applies as far as packaging picks, even more so for Oklahoma City. We're talking #21, #26 and #32. You'd be lucky to get to #14 or #15. I think you'll see a big, either Alabi or Orton, which no one agrees with me. Maybe an overseas big and it depends upon who's left at #32. Maybe they sell the pick.
Adam (Atlanta)
Is this the least compelling draft of the last several years because of the players involved or because everyone is waiting to July 1 for free agency? Or is it more compelling than I think it is for everyone else but my team is stuck in ownership hell.
Ryen Russillo
(4:33 PM)
This is the appetizer to the main course in the NBA offseason. It's not a great draft and free agency will have much more of an impact on next season than this draft will, so I agree with the first part.
Joseph (MS)
How high do you think Jarvis Varnado will be drafted? I know most are predicting him as a solid 2nd rnd pick, possibly sneaking into the 1st rnd. I happen to think he has tremendous upside in terms of potential. As for his defensive skills and athleticism, I do believe he is NBA ready. The question is: how will he fair at the 4 spot? What do you say?
Ryen Russillo
(4:34 PM)
I've tried but I don't really see it. The block numbers are fantastic. He's long, but he moves really slow. It just seems methodical. I don't know. I wouldn't take him in the first round. I don't have him in my top 30 players.
Joe (RI)
JJ Redick to the C's to replace Ray Ray?
Ryen Russillo
(4:35 PM)
I think he'd be a great fit but Orlando seems to want to punish him by keeping him on the roster and never letting him play.
Max Hays (Portland)
Do you see Pritchard making a major move as he is shown the door? If so, what are some possibilities?
Ryen Russillo
(4:35 PM)
I give him credit. He's trying and he's out the door as soon as it's over.
Cory (NJ)
Do the Knicks do anything interesting tomorrow?
Ryen Russillo
(4:35 PM)
Raise ticket prices?
dave (la)
what do you think about willie warren?
Ryen Russillo
(4:38 PM)
Bad stories out of Oklahoma about his commitment and attitude. He can get to the rim. Probably will go in the late first or early second. Not a lot of people out there are saying what a good guy Willie Warren is. I love that his agent compared him to Steph Curry. There may not be a worse comparison.
Wow (West Virginia)
No real love for Turner here huh? He's the most NBA-ready player in this draft and will be productive from day #1. What did Favors do to earn all of this #2 talk? His college numbers sure weren't that impressive for this kind of hype
Ryen Russillo
(4:39 PM)
Are we seriously still looking at college numbers? Favors is 6-10 and moves like a small forward. Turner is great. I don't think we ever dogged him in this chat, but let's not pretend that it's only about college production. Is this Vitale?
jeremy (Va) [via mobile]
Sorry to say this because I usually look forward to your chats but all these sports questions are very much a let down.
Ryen Russillo
(4:39 PM)
And this is the dilemma. Sorry, Jeremy.
Joe (Nj)
Any thoughts on the Zach Randolph Al jefferson umours which seems to be gathering momentum ??
Ryen Russillo
(4:40 PM)
It makes sense. Minnesota can re-do their financial books and Memphis has a guy who isn't accused of being a drug kingpin.
L.Staff (NC)
What are the chances that Philly takes Favors, NJ takes Cousins/Johnson, and the Wolves can land Turner?
Ryen Russillo
(4:40 PM)
Zero. Turner's not going to last until four.
Phoenix Fan (Glendale AZ)
Our star is walking away. We have no cap space and no desire to spend money. Out front office all quit in disgust. We gave away all our draft picks for cap space we didn't use. Can you give me a reason not to go drink bitter almond flavored Kool-aid?
Ryen Russillo
(4:43 PM)
One of your dancers named Jaclyn is hot.
David Lee (New York)
Where am I going to end up?
Ryen Russillo
(4:43 PM)
Waiting forever. I have no idea. I like your game, David, but man, I would hate paying you $10 million per year. Maybe the Bulls?
Steve (BU)
Growing up in Compton, did you grow up with any professional basketball players or rappers? And did you feel out of place because your white?
Ryen Russillo
(4:44 PM)
I was pretty tight with some of the guys from the Pharcyde.
Tim (VT)
Why is there so much hate for David Kahn from ESPN analysts? The guy inherited a dumpster fire and needs to have more than 1 draft on his resume before guys like Ford and Simmons trash him daily. He might have McHale like potential, but give the guy some room to grow.
Ryen Russillo
(4:44 PM)
Hey Tim, read the beginning of the chat.
Aaron (Toronto)
Who's the better prospect to impact both sides of the ball immediately? Bledsoe or Bradley?
Ryen Russillo
(4:45 PM)
Bradley's a better defender. Nine out of 10 NBA people will tell you Bledsoe is easily the better point guard prospect and tougher, but I like Bradley better. He's not a point guard, but he's not afraid to pass without dribbling. So many young players aren't aware that you're allowed to pass without dribbling.
Jerome (Chicago)
How about Hassan Whitside? He loves to play D, has an incredible Wingspan, and has a ton of potential. Who, at the highest, will take him?
Ryen Russillo
(4:45 PM)
Loves to play D? I didn't see that. His block numbers are good but that's not all there is. He's probably one of my least-favorite players that I've watched on tape. He takes some of the worst shots ever, heels on the three-point line. He is huge, though, but he seems like he's outside the lottery.
Mark (Madison, WI)
Once he shown the door, where will Pritchard rank among the rest of the free agents?
Ryen Russillo
(4:46 PM)
Behind LeBron, ahead of Kwame Brown.
Cavs fan # 1 (Ohio)
You mentioned in your podcast that in a sign and trade the player basically has most the power. Is it possible for a Bosh sign and trade to the Cavs ?? Looking from the raptors view there isnt anyone in the cavs roster that i'd want .
Ryen Russillo
(4:47 PM)
Yes, the player calls the shots, the team doesn't. But then the team can say "Wait, we don't want to sign and trade you to bring back garbage," which is most likely what Cleveland would be offering. Deng still makes a little bit of sense, or some combination of Houston players that I've heard makes more sense than Delonte West and Mo Williams.
Josh (Knoxville, TN)
Hey Ryen, what's going on with the Spurs?
Ryen Russillo
(4:48 PM)
I heard they like Alabi. I've also heard he has promises everywhere from the late teens to the early 20s, but that usually means he's an either/or guy, meaning it's him or it's somebody else so it's not a straight promise. But teams really like Alabi. San Antonio needs to add some size unless James Anderson fell to them.
Trini (NM)
What round will Darentent Hobson go in.
Ryen Russillo
(4:49 PM)
His brother Darington Hobson will probably go early second. Not sure about Darentent.
Matt ("Work")
_______ was drafted in the 2nd round and had a successful NBA career.
Ryen Russillo
(4:49 PM)
Manu Ginobili.
steve (nj)
hey ryen let's talk about the nets
Ryen Russillo
(4:51 PM)
This is funny. To be totally fair, the Nets are much more talented than their record indicated. They have a lot of options. I heard they're going to do anything they can to trade Harris, Courtney Lee wants out, Yi could be gone, but there's a chance Friday morning and mid-July you have a really nice team. I just really have no idea what that is right now.
Michael (Milwaukee)
Who's going to drop this year?
Ryen Russillo
(4:51 PM)
I could see Paul George dropping. I don't love him, but he'd only drop based on speculation that he could go as high as #8. If Paul George goes eight I will be shocked.
Kevin (New York)
Do you subscribe to the Wesley Johnson/Carlos Boozer package deal to the Nets cause they have the same agent? If not Which PF from the FA do you think would fit the best with Lopez?
Ryen Russillo
(4:52 PM)
Yah, Rob Pelinka is the agent who reps both. Easy to just connect the dots. Still don't know if this is going to happen. I would just draft Favors.
Brad (Boston)
What do you think of Marqus Blakely of UVM's pro prospects????
Ryen Russillo
(4:52 PM)
There is a chance he gets drafted in the second round.
Kevin (New York)
Why would you hate paying a 20p 10r 50+FG% 75 FT% 10mil per year. The other two 20p 10r players both made OVER 15mil EACH last season and david make ~7mil.
Ryen Russillo
(4:54 PM)
The other three (slight rounding up) are Gasol, Howard and Boozer. David Lee is not those guys.
Eric (DC)
Do you think the sixers can move Iggy to somebody like Phx for a late first round pick ?
Ryen Russillo
(4:56 PM)
I don't believe Phoenix can do this and just absorb the contract even with Amare opting out. If they wanted to get creative they could make it work. I'd love to see him with Nash and he's not a top 20 player, but he's an asset. Philly can move him but the price was way too high from what teams were telling me last summer.
Mike (Dallas)
Ryen, Rumor has it that the Pistons turned an Al Jefferson for Tayshaun Prince!!!! What the hell is going on!
Ryen Russillo
(4:57 PM)
Pistons want Cousins bad. They don't want to do anything that ruins their chances of making that happen between today and tomorrow night.
junior j (Los Angeles )
Ford said, Willie Warren would be a good pick for LA Lakers at #43. Will the influence of D-Fish and Phil (if he's coming back) help him out with the attitude and commitment?
Ryen Russillo
(4:58 PM)
I don't know if Willie Warren's a bad guy, I just know there are bad stories about him. If you are (in general terms) a bad guy, I don't care who you play with. But if you're just immature, then being around established winners can help you. I don't think Nate Robinson is a bad guy, but he's a better fit on a team with stars than he is on a team that isn't any good and has to rely on him.
Ryan (Massachusetts)
What have you heard about the Celtics as far as the draft goes other than trading the pick?
Ryen Russillo
(5:00 PM)
I've heard Alabi for a while. With international players, I think the Celtics don't want to bring in somebody where there's a question of toughness. They like tough players. Maybe Damion James? But if they have Eric Bledsoe still available at #19, they may just take him. I don't really feel like they should draft on need at all.
Ryen Russillo
(5:00 PM)
Five minutes from my Mexican matador moment when I leave unexpectedly. Rapid fire.
Jordan (Houston)
I can not wait till tomorrow, I just know Darryl is going to do something crazy! oh and Danny Ainge too, he is even Crazier!
Ryen Russillo
(5:02 PM)
Ainge is one of the best drafters in the business. He is great and doesn't get enough credit for it. Darryl over the years has confused me with some of his moves, but so far he's winning. I do love hearing Houston Rocket rumors, though. Morey will package some garbage stuff for good players.
Ryen Russillo
(5:02 PM)
Todd McShay joining the chat. Who knew?
Ryan (NY)
1st pick in next year's draft is ________
Ryen Russillo
(5:03 PM)
Brandon Knight. Cal goes three-for-three.
Matt ("Work")
T or F....T'Wolves trade Big Al today/tomorrow?
Ryen Russillo
(5:03 PM)
That's really two questions. True.
Greg (Austin)
What is Darren Collison's trade value?
Ryen Russillo
(5:04 PM)
You could get a role big man or a pick in the teens.
John (MPLS)
Who's going to be a major, major reach tomorrow?
Ryen Russillo
(5:04 PM)
Paul George or Hassan Whiteside in the lottery.
Matt ("Work")
Biggest name traded today/tomorrow will be __________?
Ryen Russillo
(5:04 PM)
Devin Harris.
John (MPLS)
What could the Wolves realistically ask for in a trade for Rubio?
Ryen Russillo
(5:05 PM)
They could probably trade him for the #3 pick right now. Not that the Nets need him, but you get the point. He's going to be good.
Zach ((IND))
Ryen do you see the pacers getting a PG through a trade for the 10th pick any latest rumors for the pacers pick
Ryen Russillo
(5:06 PM)
It's going to be a bad spot for them to try and get a point guard unless they want to move back down. That's the reach story of the night: who grabs a point guard that has no business going in the first round? Maybe 5-6 real PGs in the top 60 players.
Adam (Atlanta)
Does Josh Childress play in Atlanta or Greece next year?
Ryen Russillo
(5:06 PM)
I think Childress comes back.
Matt ("Work")
What are your thoughts on J.Crawford?
Ryen Russillo
(5:07 PM)
I think Jordan Crawford is going to get picked in the early 20s. Very popular name right now. That'll do it for me. Enjoy the best day of the sports year. Bye.
ESPNRadio.com
(5:07 PM)
And there you have it, folks. Enjoy the draft and be sure to check back next week for Ryen's analysis of how it all played out. Have a good one.