Chat with Seimone Augustus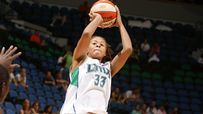 Augustus was the 2006 WNBA Rookie of the Year.
Welcome to SportsNation! On Wednesday, Minnesota Lynx guard Seimone Augustus joins the chat room to talk about the WNBA season.
Augustus, the first overall selection in the 2006 WNBA draft, has quickly established herself as one of the league's premier scorers, averaging over 21 points per game in her fifth year in the league.
Augustus, along with Tina Charles, was named WNBA Player of the Week, after averaging 21.5 ppg and 3.0 rpg as the team went 2-0.
Send your questions now and join Augustus Wednesday at 2 p.m. ET!
More Special Guests: Previous chats | SportsNation
Buzzmaster
(2:06 PM)
Lynx's forward Seimone Augustus stops by to chat about the WNBA season.
Buzzmaster
(2:41 PM)
Seimone here!
elissa (minny)
who are your top 5 favorite players in the WNBA to play against?
Seimone Augustus
(2:42 PM)
Good question! Diana Taurasi, Cappie Pondexter, Sylvia Fowles, Candace Parker and Sophia Young.
Zach (Atlanta, GA)
Which player did you base your game after growing up?
Seimone Augustus
(2:43 PM)
I liked Dr. J growing up. He was a finesse player that was always in control and from time-to-time he would do something spectacular.
Zeke (Seattle)
Why did you cut of the Locks? Will you grow them out again?
Seimone Augustus
(2:45 PM)
I had a lot going on in my life. From my dad being sick to being injured so I needed a change to bring in some good energy. Yes, I will grow them again. I'm getting them done tomorrow so hopefully it will start locking soon.
Leslie (Orlando, FL)
What did you think about this year's NBA Finals? Is Kobe the best player in the world?
Seimone Augustus
(2:46 PM)
I would have to say that he his, the rings kind of prove that. LeBron is in a close second along with Carmelo and Dwyane. But right now, Kobe has the juice.
Angel (Brooklyn, NY)
What did you take away from you experience on the Olympic team and winning a gold medal?
Seimone Augustus
(2:47 PM)
To just have perseverance. My run to get on the team wasn't an easy one. I had to go up against the best players in the world day-in and day-out to make the team. I learned to stay consistent and true to my game and everything will fall into place.
Sarah (St. Paul, MN)
Who do you need to step up with the absence of Candice Wiggins?
Seimone Augustus
(2:48 PM)
I lot of different people need to step up, specifically Nicky Anosike. Rookie Monica Wright will also have to step up and fill some big shoes. But overall, I think the entire team needs to step up and play well in her absence.
Brad (Gadsden,Alabama)
Seimone, Do you have any pre-game rituals?
Seimone Augustus
(2:49 PM)
I mainly just pray and listen to music before every game.
Lisa (New Orleans, LA)
What did it feel like being the No. 1 overall selection in the WNBA Draft?
Seimone Augustus
(2:51 PM)
It was like a dream come true. I've been playing basketball since I was five and it was one of my biggest accomplishments especially for my dad. He put the ball in my hands and to see him watch me walk on that stage was a great feeling.
Linda (Los Angeles)
Good to see you back Seimone! Did you get the opportunity to do anything that you normally wouldn't have time for while you were rehabbing for so long?
Seimone Augustus
(2:52 PM)
I didn't get to take a vacation if that's what you're asking. But I did get to spend time with my family. I don't have a lot of time to do that because we play year around.
Tesha (Prior Lake, MN)
What do you like best about playing in Minnesota?
Seimone Augustus
(2:54 PM)
Just the family atmosphere. Most teams have conflicts in personally and we don't have that here. We enjoy being around each other on and off the court. And of course we have the greatest fans in the entire WNBA.
Mary (Minneapolis, MN )
It is great having you back! What has been the most challenging aspect of your return?
Seimone Augustus
(2:55 PM)
I guess getting my wind back. Being off eight months to a year is tough and having to come back and play at a high speed is even tougher. You get tired easily but my knee feels fine. And that's what really matters at this point.
Seimone Augustus
(2:56 PM)
Thank you for chatting with me today. Sorry I was late. Continue to support the Lynx!